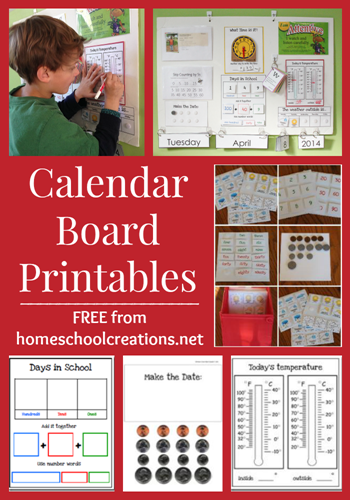 Over the past four+ years there is one thing that has been a constant part of our morning routine – our calendar board. Each of our kids has participated in learning from it, and it has been a fun way to add a bit of math, Bible, and other subjects into a start of our day. Our youngest is in first grade and we'll likely be using it next year with him as well for continued practice.
Our Current Calendar and Morning Board
The current setup for our calendar and morning board hasn't changed much over the last two years, but I recently realized that there are a large number of you that have never seen it before!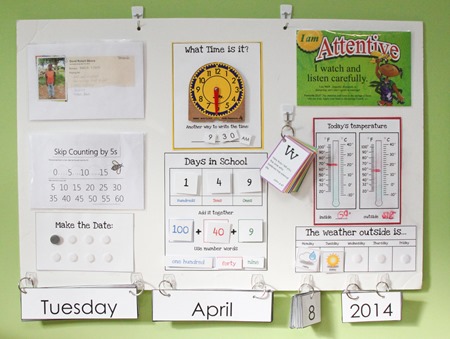 The calendar and morning board is essentially the size of a large posterboard. We used a piece of foam board to make it super sturdy and then used a mix of activities and things we wanted to include in our routine. On the board above you can see the following printables (linked below) – I've listed them from top to bottom by column (items with an * are included in the calendar printable pack):
Prayer cards for our Compassion children

. Each week we put a different card at the front. These are half sheets of paper that I made with pictures of the c

hildren we sponsor through Compassion

(and there is also a card for a missionary friend in the mix).

Skip Counting Charts

– we have charts from 1 to 12 that we rotate through and practice. The originals are 8.5" x 11", so I printed them off 2 to a page to make them smaller.

Make the Date

– we use plastic coins to make the date with money. For example, if it is the 24th of the month we could use 2 dimes and four pennies to make the date. (Find these

here

.)

What Time is It? * There is a mini Judy clock velcroed on to this part. Kaleb sets the clock to the correct time and then writes the time in digitally.

Days in School * – Each day we add another number to our days in school and learn how to break a number down and identify number words (match to Math U See program colors)

We Choose Virtues cards

– The teacher cards from the

We Choose Virtues character program

slide into half of a page protector (5 1/2" x 8 1/2"). We review one character trait and the 'catch phrase' each week.

Today's Temperature * – a little help to track and compare the indoor and outdoor temperature and learn how to use a thermometer

The Weather Outside * – a weekly weather tracker

Today's Date

(hanging from the bottom) – from

Mama Jenn
Below you can download all of the calendar and morning board printables that I've created and use them to put together your own calendar board. The printables are available for free!

How to Make a Calendar Board
If you'd like to make your own calendar and morning board, you might want to grab the following supplies:
Assembly and Storage:
I purchased a piece of foam board from Target/Walmart and used adhesive hooks to hang the board on the wall (and a pencil to poke holes through the board – grins). After laminating most of my pieces, I used double-sided tape to adhere the main pieces to the board. I also cut several sheet protectors in half to slide in other pieces (like the skip counting charts) that were not laminated.
There isn't a set way to put the board together – I just decided what pieces we wanted on our board and then rearranged them on the board before adhering anything.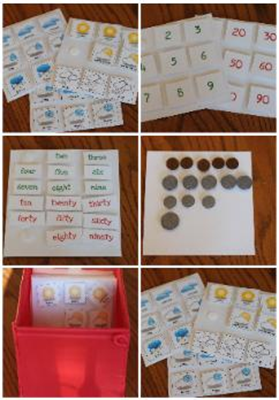 Velcro was my friend. Every coin and number card has a velcro dot attached to it in some way. Keep in mind that all of those little squares and coins need to be stored somehow. I laminated several pieces of cardstock and then attached the extra pieces to the cards for storage and keep them in a small bin from Ikea. We can easily find the pieces we need and return any unused pieces to the cards.
Follow up with the Daily Calendar Notebook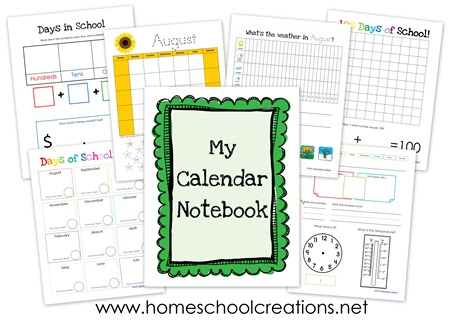 After we go through our calendar board, our youngest (first grade) works on his
daily calendar notebook
. It's just another way that we continue to work on various math, science, and handwriting concepts each day. From working on a monthly calendar, tallying the days in school, and graphing the weather, there's lots to work on. You see a bit more of the
Daily Calendar Notebook printables (including a video) here
.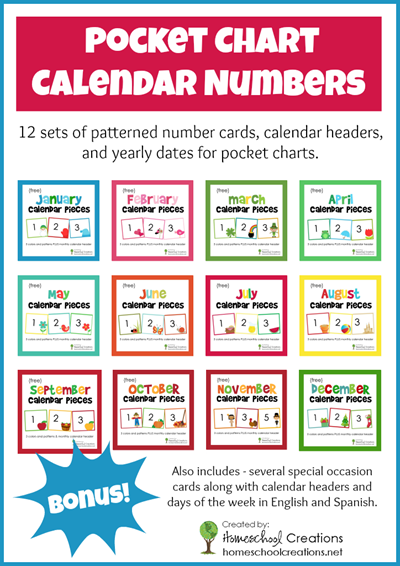 Past Calendar and Morning Boards
As I mentioned before, our calendar and morning board has looked different and traveled around the house with us. Here's a peek at another way it has been set up: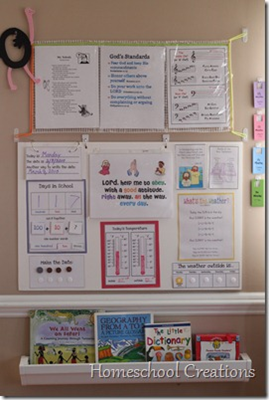 Take a peek at this calendar set up here
A Few Other Moms with Calendar and Morning Boards
You may also be interested in visiting these moms to see how they set up their calendar and morning board time: