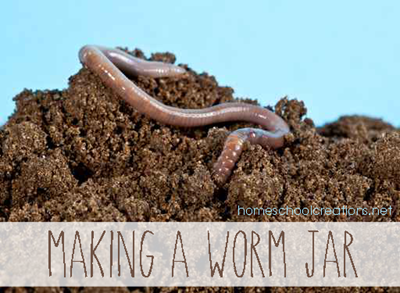 What kid wouldn't like the opportunity to bring a bunch of worms into the house? Especially when there is a little bit of science fun tied into it!
The purpose? To see how (and if) worms compost, dig tunnels and mix soils.
While I may not be as thrilled as the kids at the prospect of worms possibly being on the loose in the house, this is really a simple but fun science activity to do with the kids. (And don't tell the kids, but I think it's fascinating too!)
How to Make a Worm Jar
If you'd like to try making your own worm jar at home, you'll need to gather the following:
a quart size canning jar
a lid with holes in it
dirt/soil/hay/grass
worms
dark colored felt or paper
1. First, layer a few different types of dirt in the canning jar – rich soil from a garden (or potting soil), lighter sand, mulch and repeat the layers (soil, sand, mulch, soil, sand, etc…).
2. Once the jar is filled, have fun digging for worms outside! Add them to the top of the jar.
3. Add some food for the worms to compost: teeny tiny chopped carrots, celery greens, chopped apples, etc.
4. Make sure the soil is slightly damp. Put the lid on the jar and and wrap it in a piece of dark felt or construction paper so the worms have darkness to work in. You may want to consider putting it inside a cabinet to give it a cool, dark place (just don't forget about it!).
5. Every few days, for the next several weeks, continue to check on the worm jar and see how your underground friends are doing – and if they are actually working!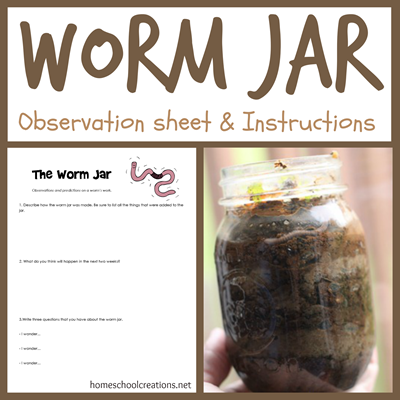 6. Use the simple worm jar science notebooking sheet to make predictions and observations on the worms' activities.

Books for Learning About Worms
Fun Worm Facts
Here are a few things that we've had fun learning about worms:
The only place where earthworms don't live are in the desert or where the ground is frozen.
Earthworm poop is called 'castings'.
Worms have two layers of muscles ~ one that runs lengthwise and one that runs around, helping its body stretch and contract.
Worms have a coat of slimy mucus that helps them glide through the dirt.
Sunlight can kill a worm because they are sensitive to the UV radiation.
Worms are sensitive to temperature and touch.
Worms do not have ears, rather they 'hear' by sensing vibrations.
Here is a peek at our jar after 3 days. Can you see one of our worm friends near the top of the jar? See how our soil is already mixing? We had to add a little water/moisture to the jar to help the worms out a bit.
After two weeks there were no obvious layers anymore. Our worms had been hard at work mixing and composting our soil. After we observed them, we took them back to our garden and let them do their work around our vegetables. :)
Additional Worm Learning Fun