January beginning means we are at about the halfway point in our homeschool year. Christmas break was a great time to evaluate what has been (or isn't) working, how the kids are progressing, and see if we need to make any adjustments.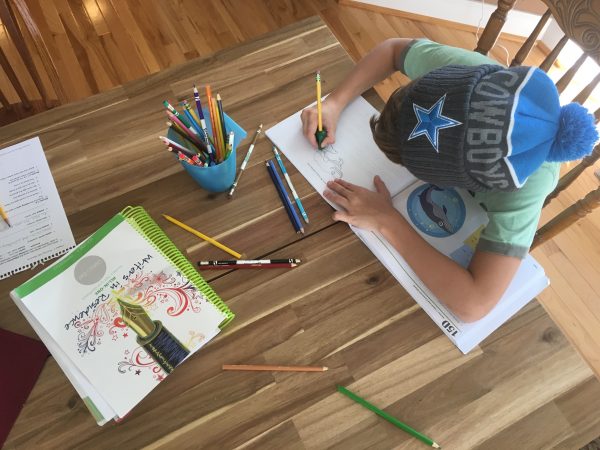 Overall, everything has been going well (we've been making minor tweaks throughout the weeks as we go), but I thought you might like to see what the kids are enjoying and also how it's working so far. I'll be sharing more on each grade level over the next week or two since it's a lot easier than doing one gigantic post with everyone.
4th Grade Mid-Year Curriculum Review
Overall each of our 4th grade curriculum choices have been working very well. We've been tweaking reading as we go along because the main goal has been to get Kaleb reading more confidently. We are still using All About Reading 3 as our core, but have pulled back from their readers. We do the lessons, but Kaleb picks out various readers at the library (with my approval) and we're using those books to boost his fluency (ironically, same words, but for some reason it flows easier).
History has moved up the ladder as far as favorites go, mainly because we are teaming up with another family once a week and doing some fun projects to go along with our studies. We work through a few lessons at home each week, and then on Thursday afternoons the kids and I, along with our friend's children, do an additional lesson and activity to go along (cooking, building, etc…). This has helped Kaleb find a new appreciation for history since he gets to see his friends too. :)
Kaleb has been working on several subjects fairly independently this year: math and handwriting (via Spelling You See). Otherwise, the bulk of his subjects are done 1:1 with me, and frankly, I rather enjoy that. :) With him being our youngest, I will savor each and every moment I have. He is loving science and anything that involves tinkering (Little Bits), and he also loves snuggling to read together with me (being read aloud to is a favorite of his).
4th Grade Homeschool Curriculum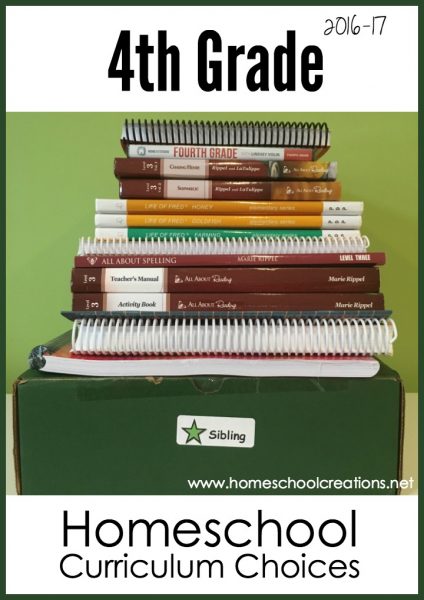 Here's a look at the overall curriculum plan for our 4th grade year…
What We're Adding (or Already Have)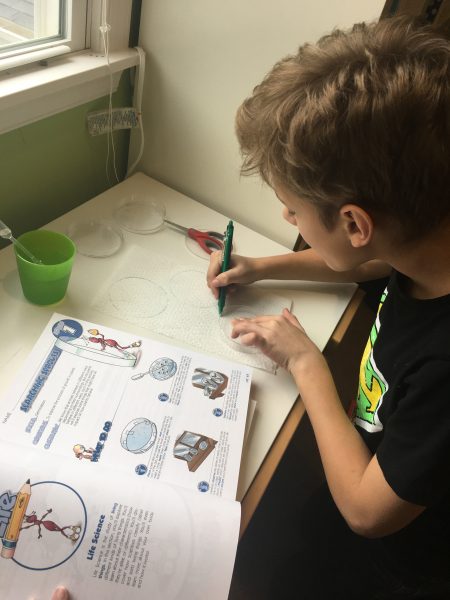 Handwriting – A few weeks into the school year we added in Spelling You See Level C, not as a spelling program, but more as handwriting and extra reading practice for Kaleb. He enjoys the handwriting practice (when ironically he hates writing) and it's one subject he also feels independence in.
Science – While we have worked on various science experiments over the last few months, Kaleb absolutely adores science and needs more structure in this area. For the last half of the year we are adding in A Reason for Science D. The program has 36 lessons (weeks), so there will probably be some we will either work through more quickly or gloss over based on what he has already studied.
What We've Slowed Down On or Put Aside for Now
Bible – we are still working through, but focusing on things that include all of the kids. Big Truths for Young Hearts is something we can read as a family at night and learn together. :)
Art – we've slowed down some on this because Kaleb loves to create (and does so during our other coop time as well). He has been picking/choosing the projects he wants to work on, instead of focusing on every single one. That also allows him more free time to work on other projects (like building).
What Mom Needs to Focus More On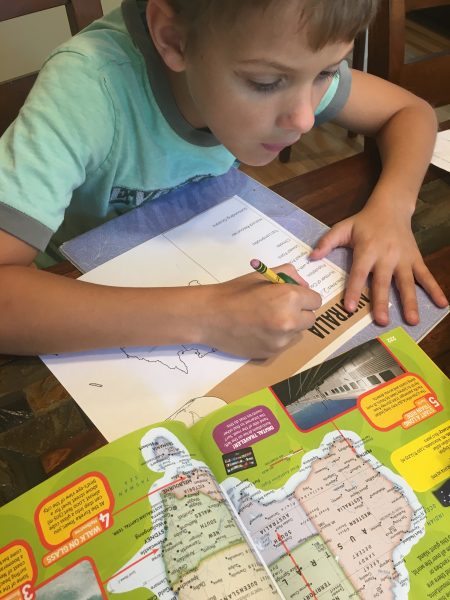 Reorganizing subject order – Each year we find a different groove that helps us get things accomplished more quickly or puts us in a better flow. The last month before we took a break, we reorganized Kaleb's workbox grid. This has been a great visual schedule for both of us to remember the various subjects that sometimes get pushed aside. (see the next item)
Geography – This tends to be the subject that gets shuffled to the end of the line, so it is moving up earlier in the day so we will get more accomplished. We aren't doing a super in-depth study this year, but have picked countries that interest Kaleb and working from there.
Writing Things Down – While the older three are all taking care of writing down their daily plans and then getting together with me, I have done a wretched job of writing down every thing that Kaleb has been working on (for my records). I know he is on target, so it's more for my brain and filling in the blanks, but it is helpful to see what he has been working on when there are tough days. Sometimes that visual progress helps me push on and through.
Reading with Kaleb – We started off well this year with read-alouds, but during the last bit of November and through December it all went out the window. He and I have been reading various books to go along with our history studies (just fun, light reading), but he loves it!
Family read-alouds – The last few months have felt very helter-skelter and our kids have gotten SO picky about audio books (once you find ones you love hearing, it's hard to listen to ones that are a bit 'meh'). They love it when I read aloud and with the weather chilly and swim season almost done for us, these will pick up for sure.
See What the Kids Are Up To…
Click any of the images below to see our homeschool picks for the current school year. You'll also find links to past years choices in each post.