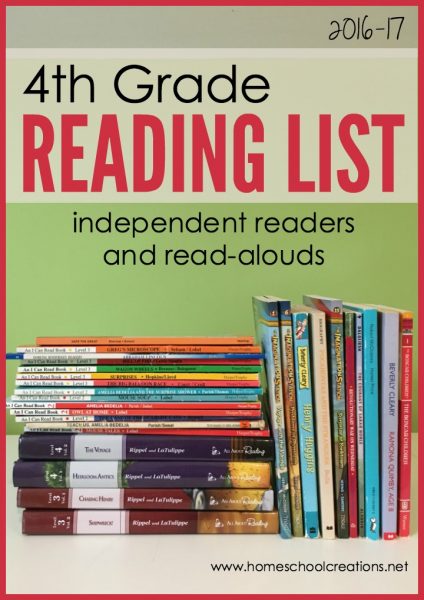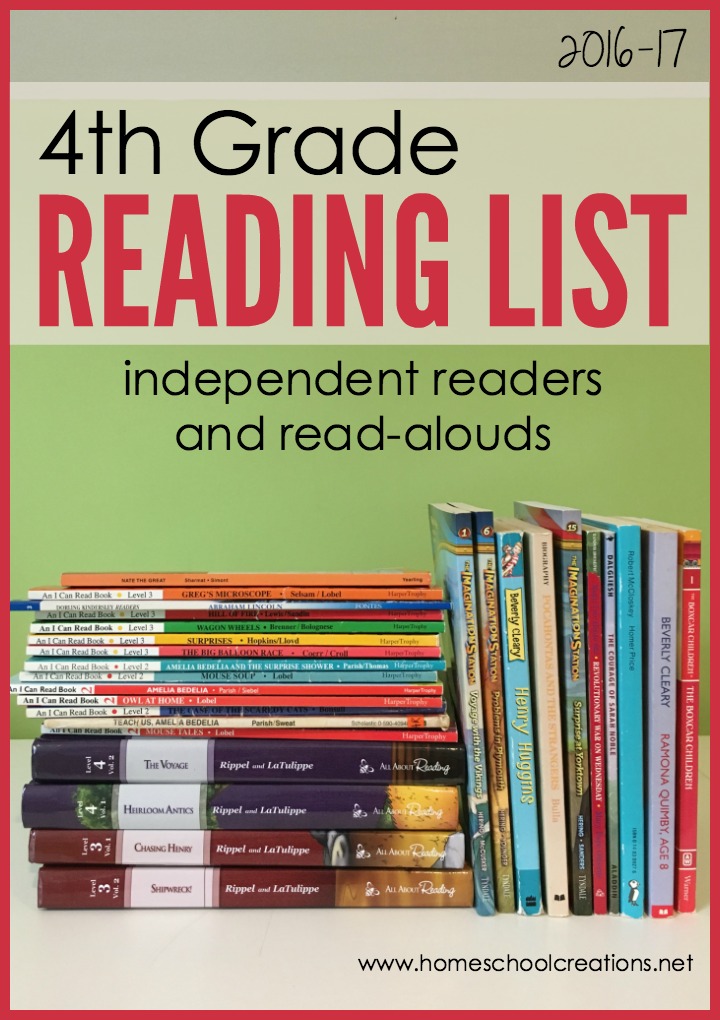 I'll admit that part of me is always hesitant to share reading lists or updates on our youngest. This is where that comparison issue rears its ugly head – comparison to our other children – or even friend's kids. Reading is just harder for him and sometimes that's really hard to accept, remember, and not become frustrated with – especially with myself as the parent and teacher. Sometimes I want to cry and other times it's a mental note to be patient, patient, patient so we can celebrate every little milestone and keep reading fun and not something that is another check on the "to-do" list for his subjects. Already there have been several moments to cheer and celebrate – and that's a gigantic YAY!!
This year, reading is the primary focus of all we are doing and we are trying to incorporate as much as we can into every area. Our 4th grade reading list is almost equal parts independent reading and read-alouds (and hopefully eventually read-togethers). While some of the readers are definitely easier reading, part of the goal is to keep his confidence boosted and go with what he loves (and the boy absolutely adores anything Amelia Bedelia).
A Peek at the List
The core of everything we are doing is All About Reading 3 and we are working through two lessons each week. If we finish that level before the end of the year, we will move onto Level 4, but his mastery and fluency are our major focuses this year. These is such a solid program with constant review and I absolutely love it! While it may be more than he is often happy with, he is definitely learning through the review process.
Rather than listing out every single smaller reader, let's just say there is a large collection of I-Can-Read books we've gathered over the years that we are pulling from. We have some of the simpler level 1 all the way through level 4 books, but here's a peek at some of the ones in our pile:
Read-Alouds and Read-Togethers
Several of the books in our pile are tied in with our history learning this year. Kaleb has really enjoyed our time to sit and read at least a chapter out of one of the books in his pile. While I didn't use any specific guide for choosing these books, they will either match up with the historical period we are studying or be a 'just for fun' book.
We will likely hit the library over the course of the year as well (we try to go every 3-4 weeks and stock up). Our library has a crazy-huge assortment of early readers (and Amelia Bedelia books) that will keep him going when this stack runs out!
One thing we started doing last year was buddy reading. When Kaleb is feeling overwhelmed or needs a little help, we take turns reading pages in the book – and then the next day switch to read alternate pages. Check out this post for more information on how it can help out (be sure to read through the comments as well – there are some additional great tips to try with your kids!). This year as we progress more, I'm definitely hoping we can use this approach in our 'harder' read alouds. The books on our list vary in difficulty, and Kaleb knows/comprehends more than he lets on at times, so hopefully as his confidence grows our buddy reading will as well.
What books are on your kid's reading list for this year?
Additional Reading Lists