It's hard to believe that in a few short weeks our homeschool year will be done!! The pictures I have from the last month are fairly scattered, but I'll try to give you the quick run-down on what's been happening with each of the kids. We have testing coming up in a few weeks, and one by one the kids are wrapping up subjects (some a little more quickly than others).
And while I did consider doing a vlog for some other stuff, a) it's too noisy in the house and b) sitting down for more than five minutes has been hard the last few days because there are a ton of things going on right now. My mom is scheduled for her next hip replacement Wednesday (tomorrow), so I've been trying to get things lined up here (rather unsuccessfully to my aspirations) before I have to spend at least two nights with her at the hospital. Add in the rest of life and some other things happening (swim team restarting soon, etc…) and I feel like I'm being pulled in a million different directions. Feel free to remind me that I did say "yes" to these things, so I heaped it on myself, ok?
That said, here's a peek at life in our house the past month.
4th Grade (Kaleb)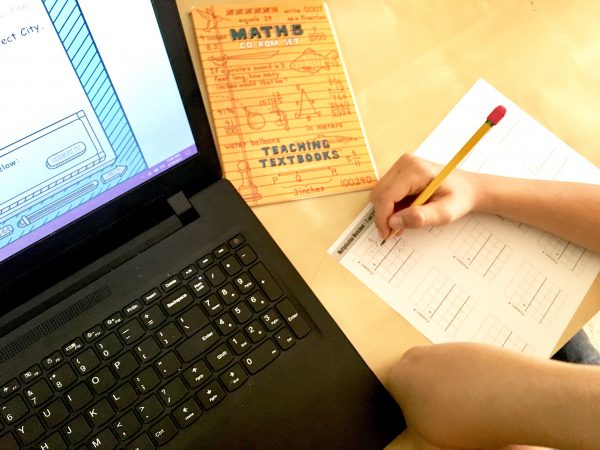 Kaleb has been working hard on his math and is eight lessons shy of finishing up his Teaching Textbooks Level 5 for the year. The multiplication worksheet that I put together for him has been a definite help and I'm working on a division one as well to keep those numbers lined up. That said, decimals may be the death of me. (grins) On the bright side, once he fully grasps the concept, this will be the last time it needs to explained. So there's that.

Two weeks ago something rather fun showed up on our doorstep, which the boys were completely thrilled to help me open and expand it. I haven't shared a lot about this yet (but you all – I will be soon)! The kids were fascinated by the memory foam aspect of this convertible beanbag from Cordaroys. They are especially excited since it means we will have a queen size bed for sleepovers with friends! See the picture below for what it's like in beanbag form (and if you are interested in a coupon code, let me know).

The very best news of the month though??? Kaleb finished up the first book in The Boxcar Children series. Can I tell you how much rejoicing there was in the house – and how proud Kaleb was to have read it?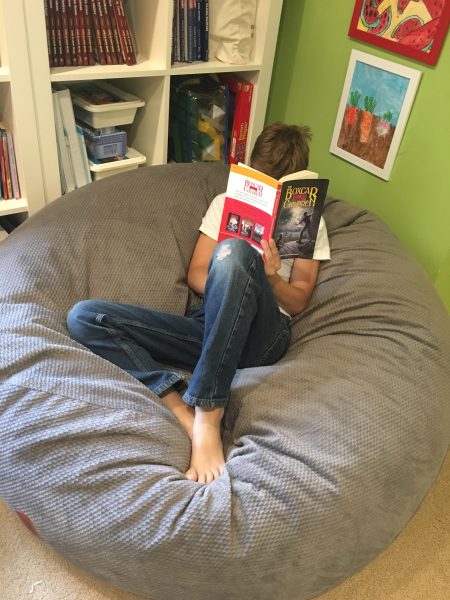 After he finished reading The Boxcar Children book, I pulled out the other books from his 4th grade reading list for him to look over. Admittedly, it was one of the harder books on his reading list for the year, and I assumed he would pull out one of the easier ones to finish up in the next few weeks. Instead, he asked if we could find the next book in the series and read that one. Inside I may have been jumping up and down. For him to make the choice on his own, rather than my telling him what he was going to read, made reading that much better and easier if you will. His attitude toward reading changes when he has "control" over it, and his reading improves. And that I love.
In other subject areas, Kaleb has finished his grammar and science, and we are getting close to finishing history as well. Math should be wrapped up in the next two weeks and we are continuing reading, writing, geography, and spelling until the end.
6th Grade (Zachary)

Zachary has been working overtime in a few subject areas, especially writing and math. He isn't super crazy about writing things out by hand and we have had some software issues (we finally broke down and subscribed to Microsoft online). With all of the laptops that have broken the last two years, they haven't been de-registered from our previous software programs – and oy. Now Zachary has no excuse in the typing department (wink).
Math is one of those areas that Zachary has gotten a little bit behind in. To make up, he has been working on two lessons a day to stay on top of it. We had to go back through some of his past lessons together and have him re-work through them with me. While he isn't thrilled at the doubling-up, much of that is due to his wandering (literally). He gets 2/3 of the way through a lesson and gets distracted. And I haven't been doing a great job following up on his completion, because he "said" he did math, but left out the fact he hadn't finished it. So, we've been working through those to get it all done. :)

With the weather warming up, we've had some fabulous days for sitting outside and learning from the lawn or porch swing. Whenever possible, our history and read-aloud time has contained sunshine in some form.

That said, he took one of his writing assignments from Writers in Residence and went crazy (in a good way) on it. Rather than keeping it simple, he turned an autobiography assignment into a fourteen page paper. We are still working on editing the assignment, but I didn't want him to fly through the assignment to complete another one if he was taking this one so seriously. (sidenote: it's hilarious – and good, so win-win)
Outside of school, Zachary has been participating in Boy Scouts and wrapping up requirements to reach First Class (should be soon). He is loving the camping – even in the rain – hiking, and all the other fun stuff that goes along.
Zachary has wrapped up his Rainbow Science and both Who is God? and Who Am I? so far. He is reading the last book on his 6th grade reading list and history will be completed soon as well.
8th Grade (McKenna)

McKenna is *this* close to finishing up her Literature class and Algebra 1. She should be able to wrap up the remainder of her classes by the third week of May.
We are fortunate to have an incredible Shakespeare theatre not too far from us. Each month they offer student matinees and a "talkback time" with the actors after the show is over and we love to take advantage of their acting and knowledge. The theatre we visit is a recreation of Shakespeare's indoor theatre and the actors and actresses are fabulous.
Our high school co-op group laughed and followed the bulk of the performance we saw, but at times the dialogue moved so quickly some parts were lost on the kids. Still, it brought a deeper level of respect and understanding of Shakespeare to the kids. One more paper to write and she is done!!
10th Grade (Laurianna)

This is one of the only pictures I have of Laurianna recently (her 16th birthday), but she too has been working hard in her studies. There will be some subjects that will carry over into June (Constitutional Literacy, Visual Latin, Art, and DriversEd.
Her co-op classes will be ending mid-May, so history and literature will be finished then. She only has about ten lessons remaining in math (woot!) and then the extra free time she has will be poured into focusing on her remaining classes. Although it hasn't been the optimal year for her health-wise, she has worked hard when she can and is determined to finish strong.
In Other News…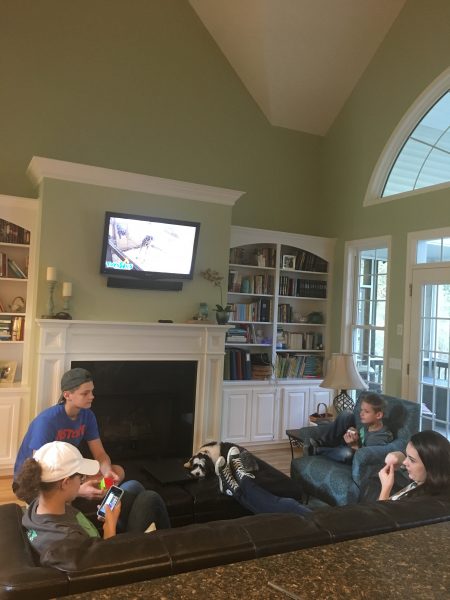 April the giraffe finally had her baby!! We were getting ready to head out the door for an Easter event at our church when I happened to turn on the live feed and saw that labor was happening. We watched as much as we could before we left and the kids had the live stream on all the way to church. We had to pause the feed during the egg hunt (we were helping with face painting, etc…), but we saw everything once we returned home. And then it was too much fun watching that little baby giraffe walk around.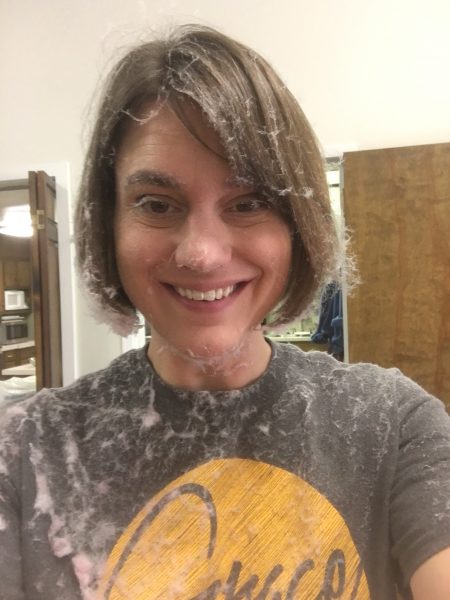 Speaking of the Easter event – this is what 3+ hours of making cotton candy can do to a person. And this is after I spent time wiping off my face. This pictured doesn't honestly do it justice, but I was rather sweet until we were able to get home and clean up. Sticky, sticky, sticky.
That's about it for the last few weeks – how are YOU all doing? Close to finishing up the end of your year?
A few links for you: