The last few months = crazy town in our house. Since January we've had a lot of stuff happening. Doctor's visits with our oldest to try and figure out what is going on with her health. Surgery for my mom (today she is undergoing a second hip replacement – the first was at the end of January). Lots of traveling and well, life in general – because the laundry and cleaning NEVER let up, friends.
If there's one thing I can say, it definitely helps to have systems in place to make life easier on everyone in our household – from meal planning, cleaning up and organization, spending time with my family, balancing homeschool and mom time, to even managing my emotions when things are overwhelming.
During that time, I was squirreling away small chunks of time to read, rest, and enjoy some of the many fabulous resources that are included in this year's Ultimate Homemaking Bundle. Maybe this is the first time you've heard of this bundle and you're wondering what it is (read on for more info), and I am SO excited to be a part of this goodness again this year!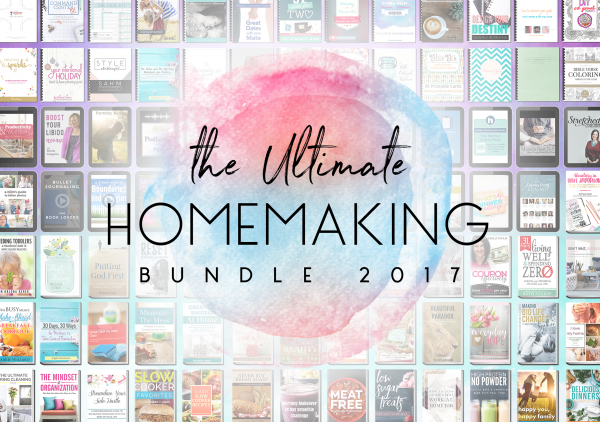 Each year, this gigantic bundle is made available for only one week, and that something very special is happening right now – The Ultimate Homemaking Bundle 2017.
The 2017 version is FULL of ALL NEW, amazing, high-quality resources to take some of the stress, overwhelm and difficulty out of homemaking and mothering.
The Ultimate Homemaking Bundle includes hand-picked eBooks, eCourses, and printables, on topics that matter to moms such as:
organization, routines & creating a cozy home
recipes, grocery shopping, and meal planning
budgeting and saving money
creativity
motherhood (no matter what age your kids are)
cultivating a strong marriage
faith (for you & your kids)
and even self-care (like exercise, weight loss, life planning and coloring books!)
and so much more…


Personally, there are six books and courses in the bundle (not including the three bonus offers I highly recommend) that make this more than worth it for me and purchased separately the six are worth over $200, but are all in this $29.97 bundle! Here's a quick look at what I'm excited about:
The Temper Toolkit by Lisa Jo Baker ($29) – The Temper Toolkit is a collection of practical strategies, honest stories, and Biblical resources from one mom to another to help you take control of your temper BEFORE you lose it.
Steady Days by Jamie Martin ($8.99) – teaches you how to apply the same techniques of efficiency, intention, and purpose that you've used in other careers to your most important position in life–motherhood.
The Cozy Minimalist ecourse ($39) – decorate your home with confidence, starting today, using just the right amount of stuff without wasting your hard earned money.
Delight in the Word of God ($8.99) -tool to help you connect with Jesus and hide God's Word in your heart in a relaxing and fun way.
Adventures in Bible Journaling ($18.97) – designed with beginners in mind giving detailed descriptions of any supply you could possibly want and also helps you learn how to use each of those supplies in your own journaling.
A Mom's Guide to Better Photos ($99) – teaches beginning photography to moms with any type of camera – smartphone, point & shoot, or DSLR on automatic – without using manual mode. Laurianna is going to use this course!
The three bonus offers I am REALLY loving: the Molly Green membership ($29), the Strawesome $15 credit, and the HomeBinder lifetime membership ($120) – see more on those below!
Tomorrow I'll be sharing more about one of my personal favorites in the bundle, The Temper Toolkit from Lisa Jo Baker. It was something I purchased several months ago before even knowing it would be a part of this year's bundle, and I was so excited to see it because I know it will resonate with many of you.
2-DAY eReader Bonus Offer

On Wednesday and Thursday only (4/26 – 4/27), anyone who purchases the bundle will receive a FREE e-Reader upgrade (a $10 value). Personally, my Kindle is one of the devices in our home that is used every single day, and having the books available to read on the go is a huge help!
PLUS Over $250 in Bonuses!
In addition to the multitude of ebooks and ecourses in the bundle, there are FREE bonus offers from amazing companies! Our family has already taken advantage of several of these, including Strawesome, Molly Green, and HomeBinder. Some are 100% free; other are yours for the cost of shipping only.
You'll get:
$15 credit and 3 art prints from Hope Ink Shop or a free digital calendar
FREE 1-Year MollyGreen.com Membership ($29 value)
$15 credit to Strawesome – reusable glass straws (we have these and LOVE them)
FREE lip balm kit from Orglamix ($15 value)
HomeBinder lifetime membership ($120 value)
1 month subscription to BookRoo for kids ($18 value)
1 month subscription to MightyNest ($17 value)
FREE Detox project box ($25 value)
1 month subscription to Kiwi Crate ($20 value)
1 month membership to Cultivate What Matters | Powersheets ($15 value)



This bundle is available for just 6 days – from now until Monday, May 1st, 2017 at 11:59pm EST. The Ultimate Bundles team can offer so much, because they only have permission to sell it for such a short period of time.

The total value is a over $2000+ (plus over $250 in bonuses), but you get it for just $29.97. That's 97% off what it would cost to buy everything individually!

Learn more or get your bundle now!

Note: You have a full year to download the eBooks and printables and take the online eCourses, and everything you've downloaded becomes part of your permanent library, so you can go back to it whenever you need it. And the folks at Ultimate Bundles stand behind their bundle 100%. If for any reason you don't feel the bundle is a good fit for you, email them within 30 days for a full refund.