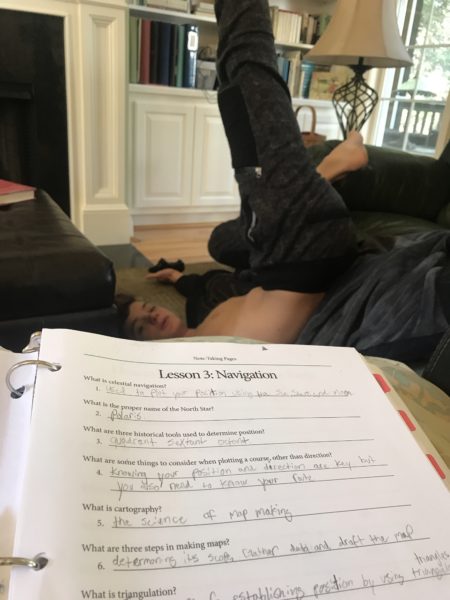 We had some company this week, so our schedule was thrown off a little bit for a few days, and Kaleb has been meeting with his LEGO League group extra this week because of his upcoming competition. Overall though we were back into the normal swing of things – and yes, the above picture is fairly normal in our house, especially for boys of the teenage variety. No shirt is the typical dress code of the day and furniture is apparently not for sitting in, but hanging off of.
Zachary is working through North Star Geography and doing really well. It's been a great opportunity for him to understand following a syllabus – well, that and learn a lot about geography. :)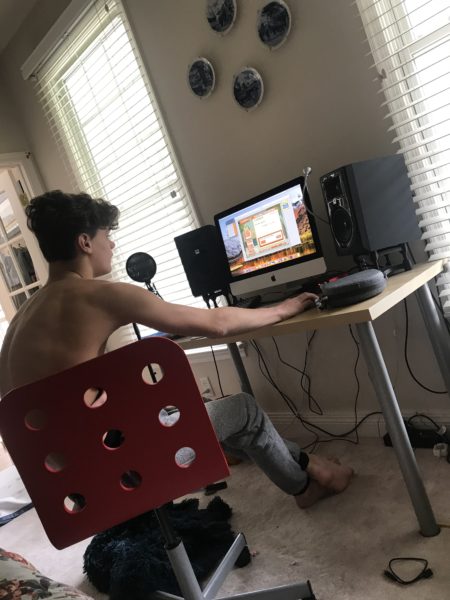 Again, the dress code follows us throughout the day. Zachary is really loving Algebra 1 from Teaching Textbooks 3.0. I'm really loving the online version this year as well since we don't have to use the same computer. We'll be sharing more about the online version (Teaching Textbooks 3.0) very soon, but it has been a fabulous upgrade for our family.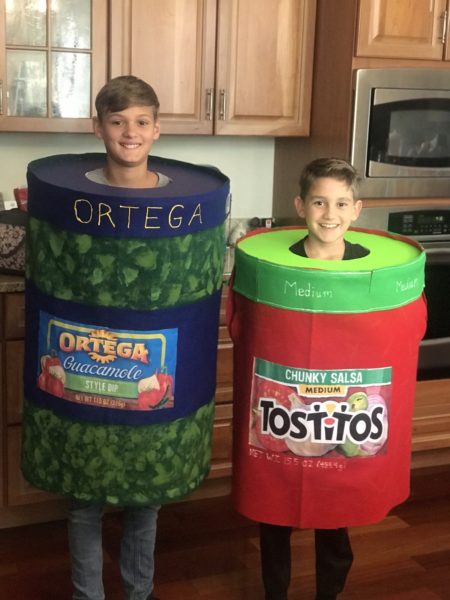 The last few years one of our friends has put together fun costumes for our boys – and this year was no different. There was a third member of the group as well (a bag of tortilla chips). Really, this was a perfect trio for our boy since he has a ginormous love for eating chips, salsa, and guacamole. :)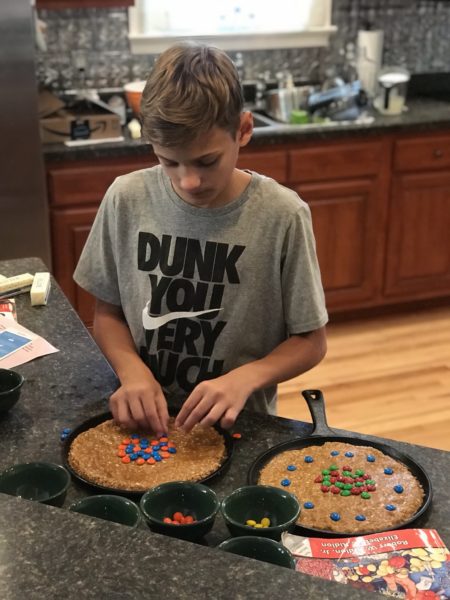 With all the trick-or-treating candy (yep, I'm maybe a bit too cheap to go buy a big bag of M&Ms), we divided out the candy by color and made our Atomic Cookie Skillet models. As we have been learning about the periodic table, this is one of the best hands-on ways to learn about electrons, neutrons, and protons.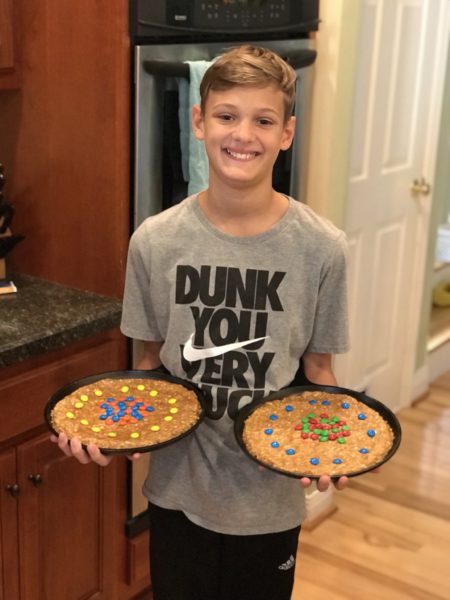 Since we had a plethora of certain colors, we decided to skip some of the lower numbered elements and create a few that allowed us to use more of the candy (and eat it). Kaleb has been looking forward to this part of Christian Kids Explore Chemistry since we started the book. He remembers Zachary making these several years ago and couldn't wait.
They were delicious!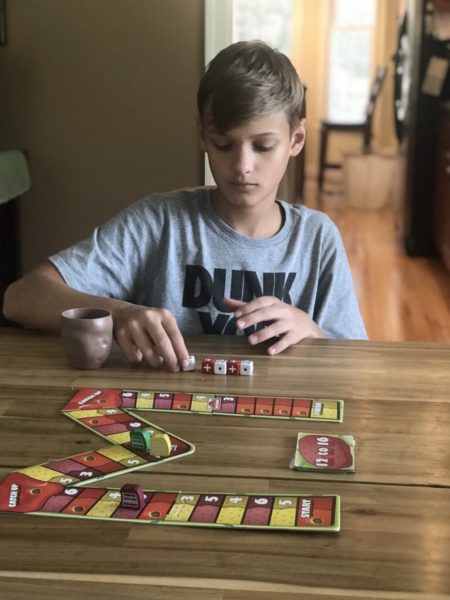 We spent some time playing games together – the boys are always thrilled to play games even though I am, so we compromise and I let the boys skip their independent reading if they played a game with me. Math'd Potatoes was the first one. Essentially you have to roll dice to come up with a set of dice, using addition or subtraction, that matches the numbers on a card.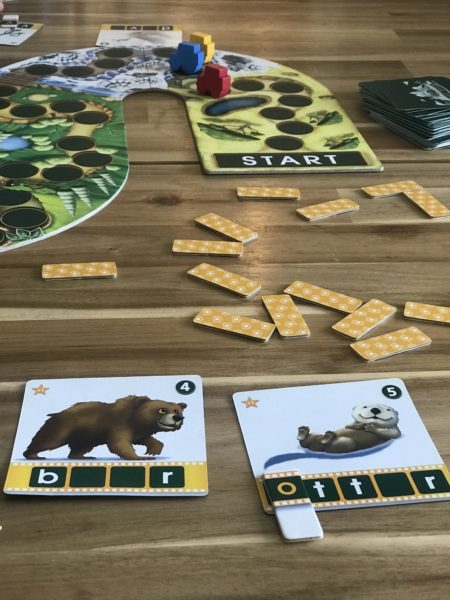 Second game up was Spell Trek, really easy for Zachary, but great practice and reminders for Kaleb. The biggest thing – we all had fun together and there was some friendly competition along with a lot of laughter, so it was a big win.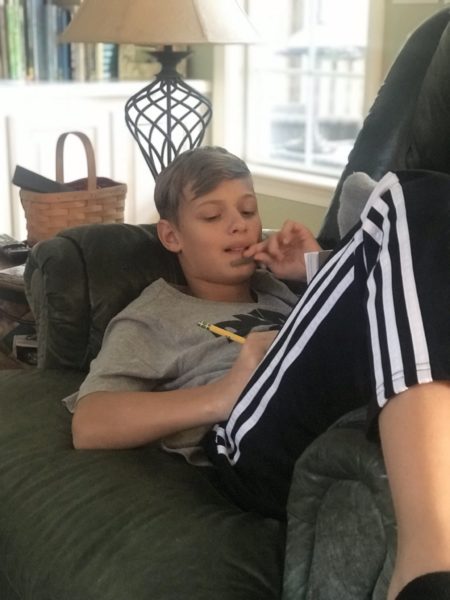 A little something new we're trying this week with Kaleb is journaling. I've shared in the past that he really struggles with his spelling and reading, so writing/journaling isn't high on his list of "things to do" every day. As much as he dislikes writing and is uncomfortable with it because of his reading and spelling, we sat down this week and had him set a timer for 5 minutes (or a little more) and write at least 3-4 sentences in that time about anything he wants to, with no worries on spelling or grammar mistakes.
I predict much Fortnite reading in my future.
This week he wrote about all of his candy haul and costumes adventures. I was rather amazed that he spelled the word guacamole correct and realized that he was asking Siri how to spell things. :) I honestly can't fault him for his ingenuity on that one.
Even though it hasn't been his favorite thing, I'm really hoping that it will get him more comfortable with writing in general and being a bit more creative.
That's about it from this last week! I hope you all are doing well and would love to hear about your homeschool time – feel free to leave a comment and let us know what you've been up to.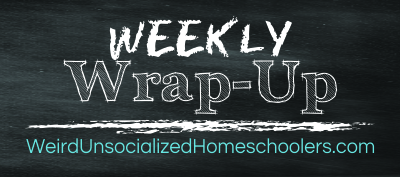 Be sure to stop by WeirdUnsocializedHomeschoolers.com and hang out with some other moms who are sharing their day-to-day happenings.
Our Curriculum for 2018-19