It's amazing how there are times when life can seem to fly by and at the same time go ever-so-slow.
The last two weeks have been like that in many ways. We've been plugging along with school, but we've had a whirlwind of things happening both in and out of the house that made it really hard for me to sit down (both physically and mentally).
Between getting the day-to-day school done and then juggling some parenting stuff heaped on top of it, it has really been an exhausting two weeks.
We've been dealing with good days of school (everyone happy and working hard) versus days when there have been tears (from child and parent), self-doubts on my part, and moments of crazy fun and laughter together. The roller coaster of it all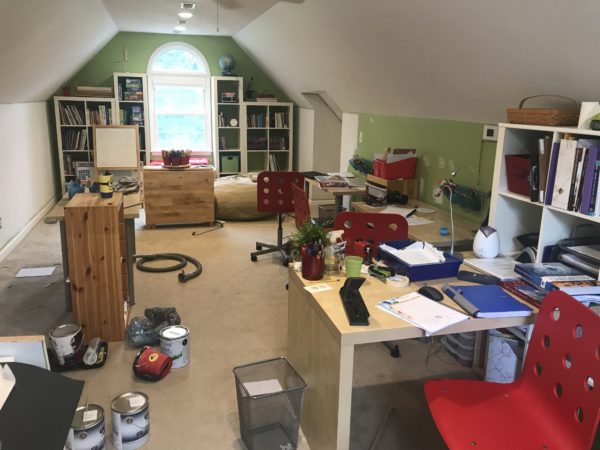 Keeping it real – this is the current state of our school room. McKenna has been working off of my desk since the wall behind hers in being primed. We haven't even started painting yet because life has just been so full.
Because of the disarray, it's meant we've been all over the house with our school time (even though we are more focused when we are in one room).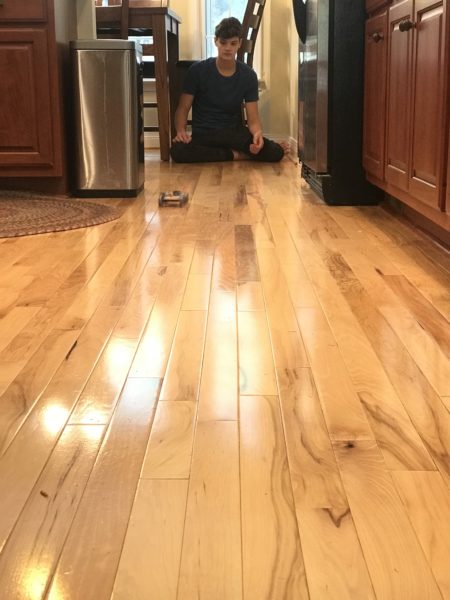 Zachary has been working on several science labs/projects with Exploration Education. His first one was building a racer (battery powered) to help us measure mph (speed) (measuring the distance traveled and the time it took).
Something fun in this experiments was seeing the difference a battery makes. Apparently some of the 9 volt batteries in our closet are used/old and the car was moving rather pitifully. We recently purchased new lithium 9v batteries and the speed on the racer was hilarious in comparison!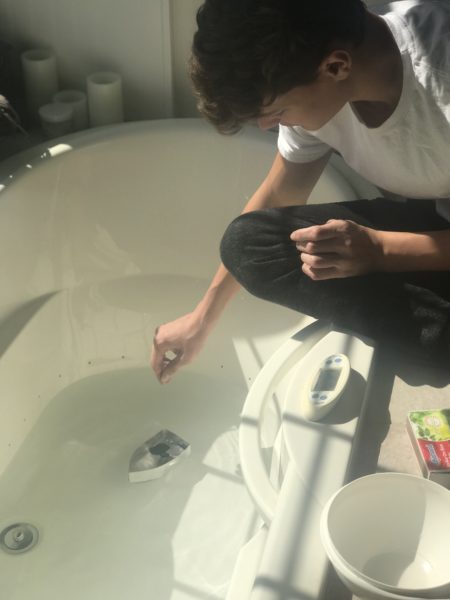 The second project Zachary built for physical science was a steam boat. His vessel wasn't 100% sea-worthy, but it did putter around the tub for a bit without taking on too much water.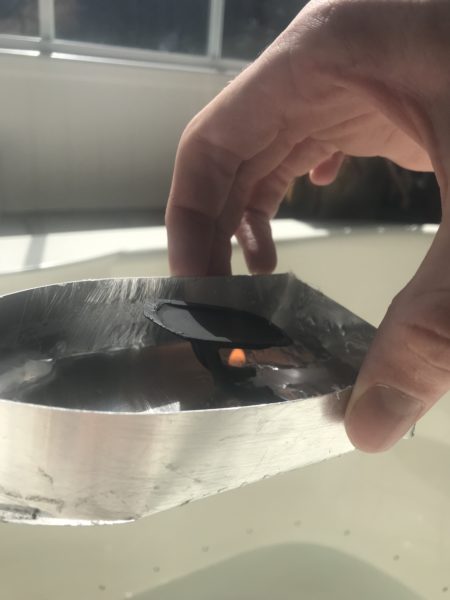 In this experiment, he built a boat using a thin metal sheet, an excessive amount of hot glue (grins), attached a small boiler plate, and then used a small candle to heat the boiler plate that eventually powered the boat in the water.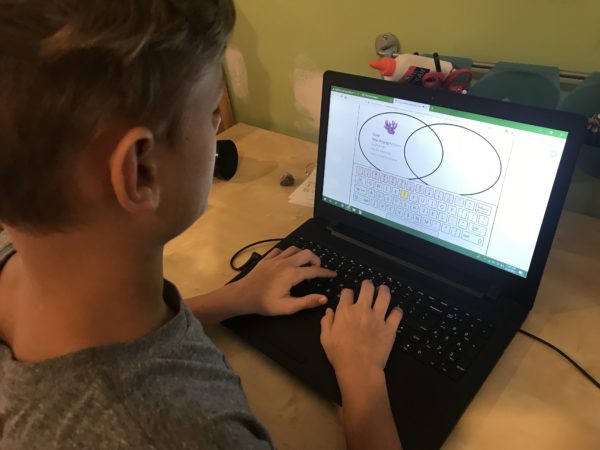 Kaleb started his typing program from Keyboarding without Tears finally (I may have forgotten for a bit). It's definitely a bit more intense for him than the level we used last year (and we've had to switch to another laptop since the boys' laptop is a bit glitchy at times).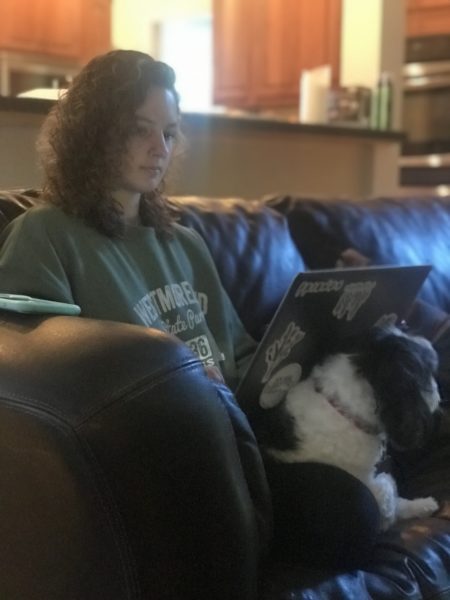 Laurianna has been working hard in her four classes at the community college and survived a microbiology test as well as her first paper for her English class. Something encouraging to me was having her professor comment on her knowledge of MLA (that may be an area we have drilled on over the last few years).
Later in the week we also visited another university to talk to them about their RN to BSN program and see if their may work with her current studies. Prior to heading into this visit, she was leaning very heavily toward attending another university, but is now reconsidering her options, especially because it would also cut back on expenses and offers some different options.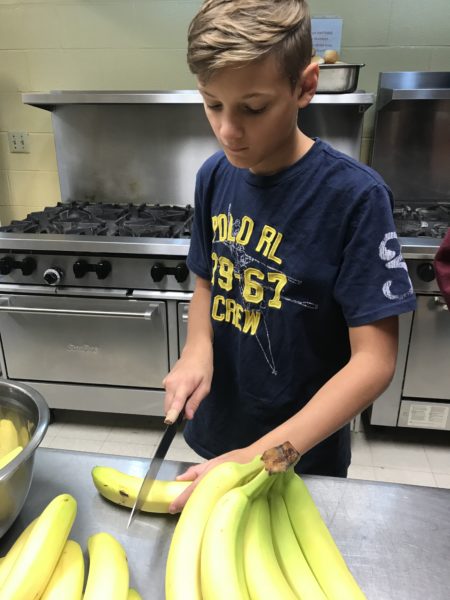 Once a month the kids and I help serve at a local church and serve a meal to those in the area who need a hot meal. The kids have become a huge help – but let me tell you something: they don't always want to do it and attitudes sometimes stink when we head out.
I get it. I don't always want to either, but regardless, we go and serve. If there is one thing we really do want to instill in our kids, it's that it isn't always about what we want to do, but more about putting the needs of others above ourselves.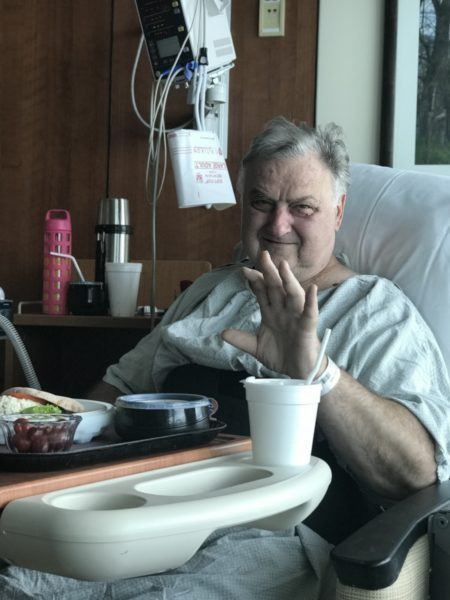 At the end of last week, my dad also had back surgery. Initially his surgery was scheduled for the following week, but he was bumped up last minute so much of my Friday was spent waiting for updates on his seven hour surgery, being with my mom or him at the hospital, and then hanging out after all was done. He is home and has a long recovery period over the next few months, but hopefully this will offer some relief for his back.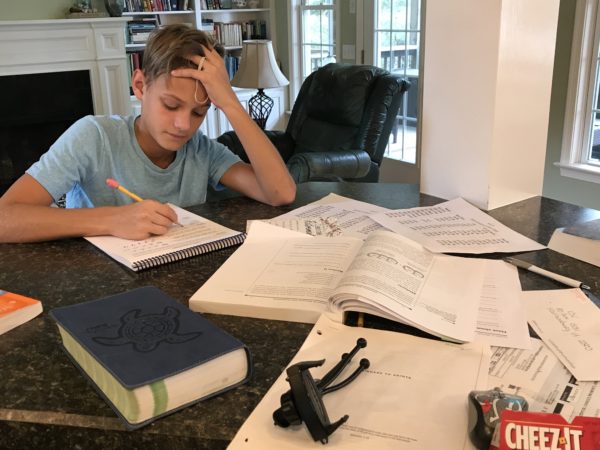 Earlier this week I shared a picture of how life feels at the moment: a bit messy. Kaleb was working on some of his schoolwork at the counter and they are covered with "stuff" – letters that need to be filed, bills that need to be paid, random junk and other things that need to be organized.
We do school and life still happens in the midst of it. So while he works and I talk him through things, I cleaned up (somewhat). It's one of the perks and downsides of homeschooling. We're home which means messes are made while we are living and working, and often those messes seem to multiply. :)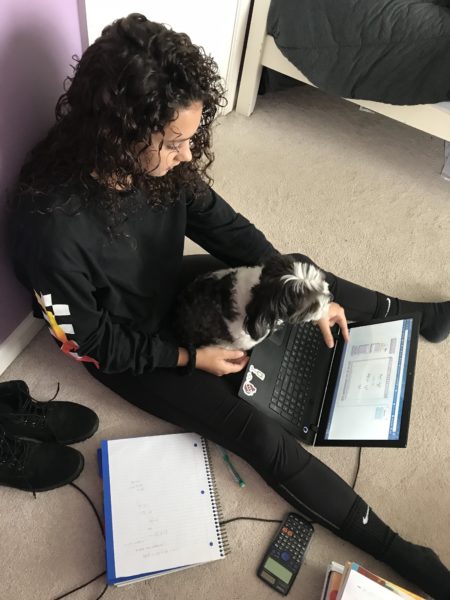 McKenna is plugging along to in her work. One thing I loved hearing the other day was that McKenna's favorite subject is Algebra. She wasn't a fan of geometry (I really can't say that I blame her), but Algebra is something she loves. (My inner math geek is rather pleased with this.)
Here's the honest part about homeschooling our teens: there are days that I get a lot of pushback. Different personalities sometimes result in my hearing things that can really hurt and cut straight to my insecurities as a parent/teacher. And the yuck in that area can be really hard to sort through.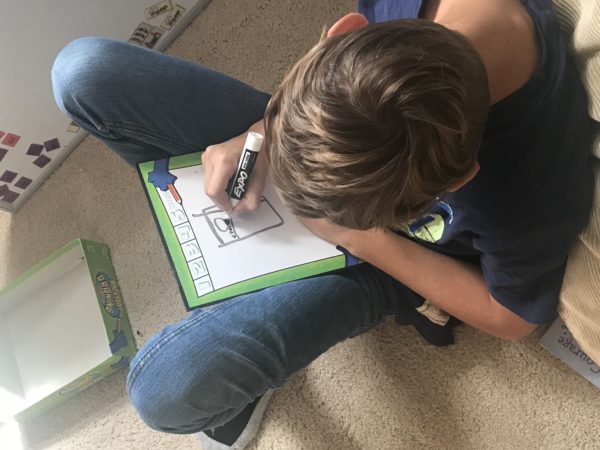 Mid-week I walked into the schoolroom to find the boys had pulled out our Backseat Drawing Jr. game (aff link). They were supposed to be working on a few other things, and my initial reaction was one of frustration and wanting to get them back on track.
And then I took a deep breath and instead sat down to play with them.
Games are something I love and the plan was to include them much more this year in our school time, and quite honestly – we needed some time of fun. McKenna came into the schoolroom after a bit and we all took turns giving directions.
One person has a picture card and everyone else tries to draw an object based on how the card holder describes it. So much laughing and quite a good way to show the importance of accurate phrasing and step-by-step directions (and following them). Also how people interpret things can be hilarious!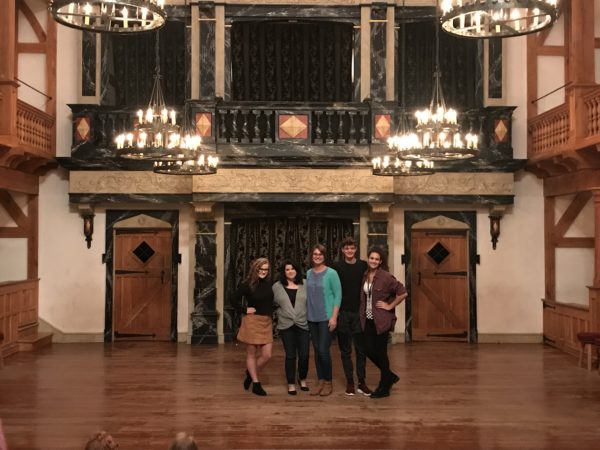 We wrapped up this week with a day-long Shakespeare workshop with Zachary and McKenna while Kaleb had the chance to hang out at a friend's house and work on his school work and also build some of the missions for this year's Lego League. We've been planning this trip since May and first saw the play As You Like It in the morning and then attended two workshops based on portions of the play: one on character interpretation/movement and another on poetry and learning how Shakespeare uses iambic pentameter throughout his writing (and how each line can be interpreted multiple ways based on inflection).
That's the bulk of our last two weeks – minus some parenting drama. I hope you all are doing well and would love to hear about your homeschool time!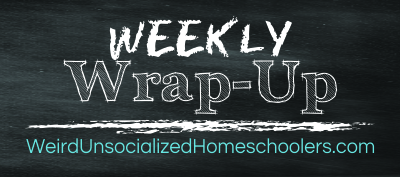 Be sure to stop by WeirdUnsocializedHomeschoolers.com and hang out with some other moms who are sharing their day-to-day happenings.