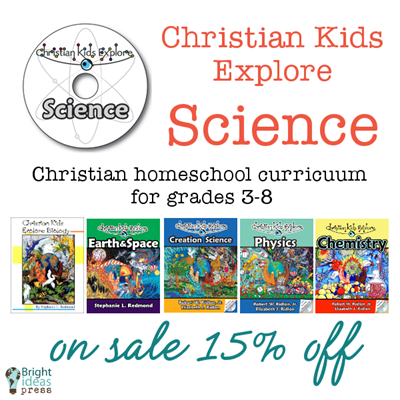 One of the programs that we've been using this year with our fifth grader, Zachary, is Christian Kids Explore Chemistry from Bright Ideas Press (aff link). He has been loving the hands-on projects that tie in with the program and learning so much about chemistry as we work through our text.
We work through one chapter a week: reading, review, and a hands-on project and it is just the right balance of independent work and learning. Our atomic cookie skillet model and atom models were both a part of our hands-on learning.
Save 15% on Christian Kids Explore series
Right now you can save 15% on the Christian Kids Explore books (aff link) – from Biology, Physics, Earth & Space, and Chemistry and beyond. No code needed as the prices all currently reflect the sale prices.
Both Biology and Earth & Space were written for students in grades 3-6, but the simplicity of the activities and clearness of teaching makes them easily adaptable for younger students as well. Every activity was designed using inexpensive and easily accessible resources. The book is laid out so the reading, worksheets, coloring pages, vocabulary, activity instructions and more all come in one book. This makes for a format that also works very well with co-ops.
The Chemistry, Physics, and Creation Science books were written for grades 4-8. These books can be adapted to fit third grade students, but because they are advanced enough to set a foundation for high school studies, you may wish to start with the Biology or Earth & Space editions with any student younger than fourth grade.
Learn more about Christian Kids Explore Science HERE.