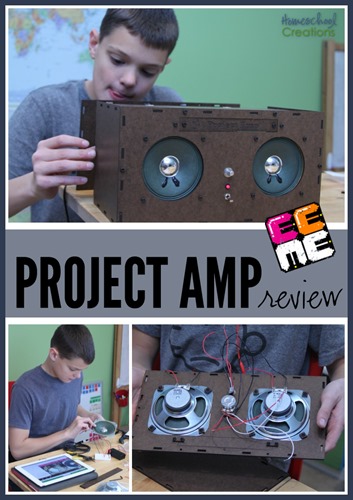 One of the best motivators for our 11 year old to get his schoolwork done the last few weeks has been the promise of working on his latest EEME assignment: Project Amp. He is a boy who loves listening music, learning about electronics, and enjoys building, so this project was PERFECT for him. 
We've worked on several smaller projects from EEME in the last few months, and Zachary honestly cannot get enough of them. The hands-on aspect and opportunity to get a behind-the-scenes look at how electronics really work (and understand the process) has been worth every moment spent on the projects.  Both he and I have learned so much about
When EEME released a larger electronic project and asked if we would be willing to try it out, the answer was a resounding yes – especially when Zachary found out he would have a full-sized speaker amplifier that he could hook his iPod shuffle up to and play his favorite music nice and loud! We absolutely love
What is Project Amp?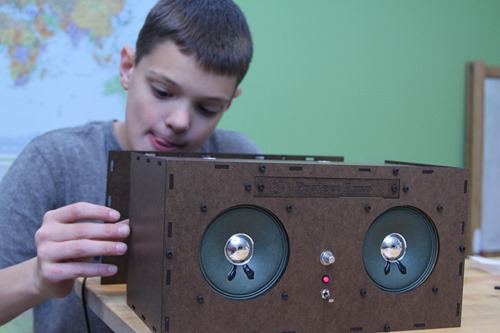 Project Amp would be a perfect gift for children 10 and up! When fully completed, your child can plug their mp3 or iDevice into the amp and play his favorite music. It is a full speaker amplifier system that is 12.5" x 6.5" x 6.5" – and it can be LOUD if certain children decide they would like it to be (don't worry moms, there is a volume control knob!).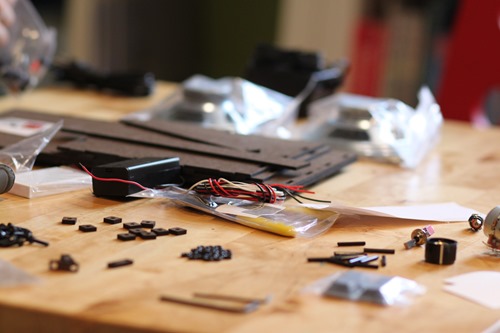 Everything your child needs to build the amp is included in the box – from wire strippers down to every last nut, bolt, and wire needed from start to finish. The lessons are all online video-based, so your child will need to have access to internet to follow along with the lessons.
There are 55 short lessons to watch on the EEME website in which your child will work through the building process for the amp and learn about:
amplifiers

how sound waves work

direct current vs. alternating current

capacitors as sound filters
The build time for this project is between 4-6 hours, depending on your child's ability and focus. Recommended for children ages 10+.
Our Thoughts on Building Project Amp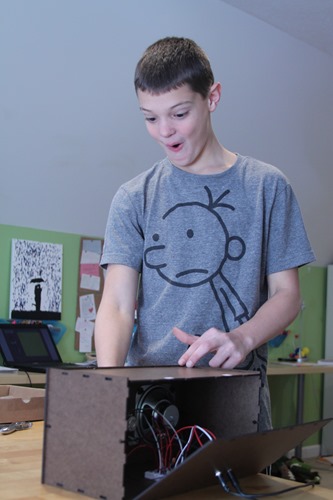 Zachary is completely thrilled with his finished amp. It has been continuously playing music (perhaps loudly) since its completion and has been proudly toted around to show his friends what he made. For real – the above picture made us laugh out loud because it was his real reaction when he had everything hooked up and was ready to put the rear panel onto the back of the amplifier. He had tested it at various stages during the building process, but hearing and seeing it all at the same time was so much more fun!
The overall building time and process on this project was a little more intense than past projects we've worked on for EEME, partly because it is a larger project, and partly because there were a few times that Zachary had to stop, re-watch a video lesson, check and re-check his work, and then move on when he figured it out.  Overall for us the build time was closer to the 6 hour timeframe, mainly because he would think he knew what to do and wouldn't listen to the lesson closely enough – and do it incorrectly.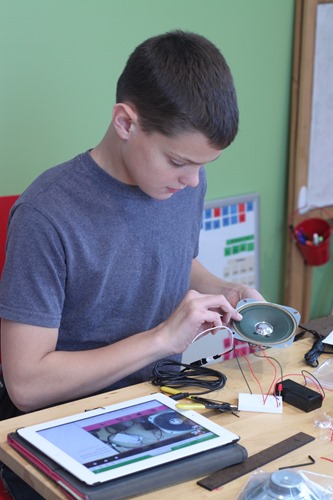 As with previous projects, the step-by-step videos and instructions were very clear and understandable, each one was short enough (and could be paused to work on the step), and components were explained in great detail so Zachary was learning the how and why the amplifier works.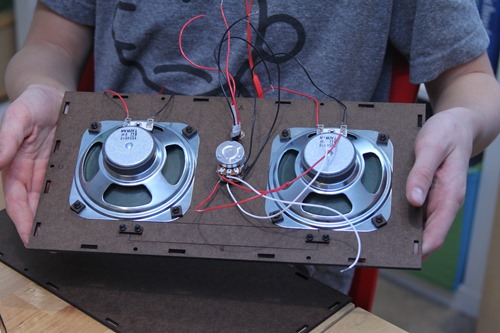 Along the way, Zachary had different opportunities to test out the amplifier and see how it worked, as well as understand the different concepts presented, such as how the sound waves work through the cones of the speakers.
Zachary wanted to share a little bit more about the amp with you all as well and give you a peek inside the amplifier to see how it is all put together. The video doesn't give an accurate depiction of the sound the amplifier truly puts out – the sound is much better than what you hear.
This is definitely a completed project we will be using and enjoying for years to come – and one I would recommend considering for a birthday or Christmas gift. It is one that would be not only used, but the recipient would enjoy the time learning and creating their own working amp!
Save 25% on Project Amp from EEME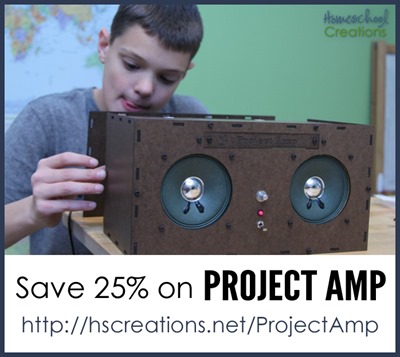 For a limited time, EEME is offering a 25% discount along with FREE shipping toward Project Amp to my readers. All you need to do is follow this link.
Learn More About EEME
We've worked on several other projects from EEME. If you're interested in learning more about their monthly subscription program, be sure to check out the below posts for more information:
The projects from EEME are perfect for 7 to 12 year olds ready to learn about real electronic components – no experience required!