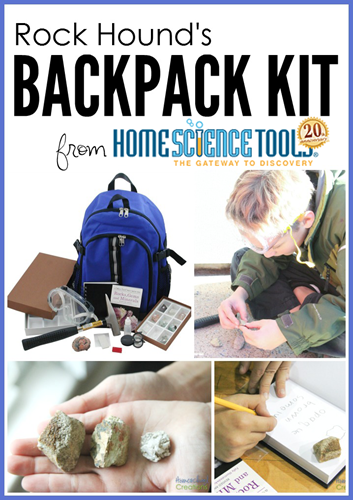 Getting our kids outdoors and exploring the world surrounding them is something we definitely want to encourage. When we take nature walks we might often pick up leaves or talk about the different trees, animals, or bugs we see along the way, but rocks aren't typically something we do a lot of research on. We have picked up ones that look interesting, but usually that's where it ends.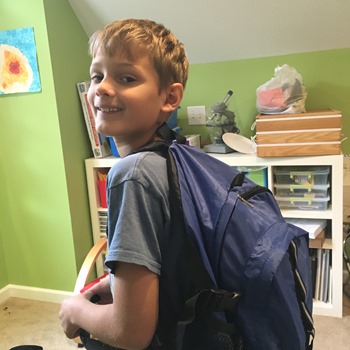 The last few weeks though, we've had a little boy intrigued by rocks in our midst! Kaleb received the Rock Hound's Backpack Kit from Home Science Tools – full of everything he needed to start a rock hunting exploration – and was quickly out the door on a search for some different rocks.
Inside the Rock Hound's Backpack Kit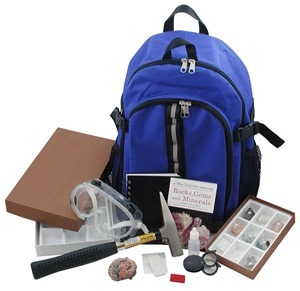 The Rock Hound's Backpack Kit is ready to use within minutes of opening up your box. There are so many pockets and storage places in the backpack – plenty of room for a growing rock collection! Included in the kit are all of the items you see pictured above (and listed below).
Nature Backpack – store all of your tools and collection in this comfortable and compact pack. Padded shoulder straps and back.

Rock Pick – This heavy-duty steel rock pick has a hammer on one end and a pointed pick on the other for chiseling off specimens.

Safety Goggles – protect kids' eyes while using the rock pick.

Rock and Mineral Test Kit – instructions and materials to test for properties such as color, hardness, acidity, and magnetism. Includes a 5x/10x double-lens magnifier.

Mineral Hardness Scale Set – set of nine Mohs Scale of Hardness minerals lets kids test the hardness of their specimens and see how soft or hard rocks can be.

Crack-Open Geode – a fun specimen for kids to open using the rock pick and discover the crystals or mineral deposits inside!

Nature Notebook – A small notebook with blank pages that is great for keeping notes, recording test results, and making drawings of rocks and minerals that are too large to collect.

Rocks and Minerals Golden Guide – With full-color illustrations and easy-to-read text, anyone can use this guide to learn about and identify common rocks and minerals.

Rock and Mineral Display Box – a box with 15 compartments to store or display a growing rock and mineral collection.

Specimen Collection Bags – 15 plastic bags of varying sizes for collecting and sorting rock samples on the go (and keeping the backpack clean!).

Instructions – information about the Mohs hardness scale, plus tips on collecting, identifying, and labeling rocks and minerals.
Exploring and Learning About Rocks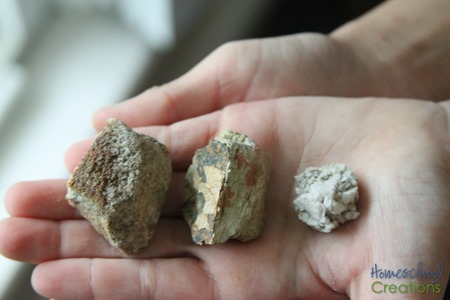 The first step in our rock exploration was finding different rocks. Kaleb went on a little adventure with his Rock Hound Backpack and decided to take a nature walk in the woods around our house, returning with these three rock samples. He thought they looked cool (grins).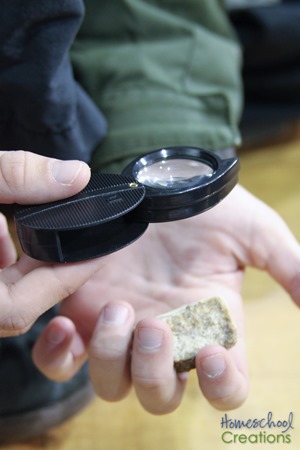 We dropped the rocks into one of our collection bags and later pulled them out one by one to examine them. The Rock Hound Backpack includes a collapsible hand lens. Before doing any other tests on the rocks, we made observations about each of the rocks gathered.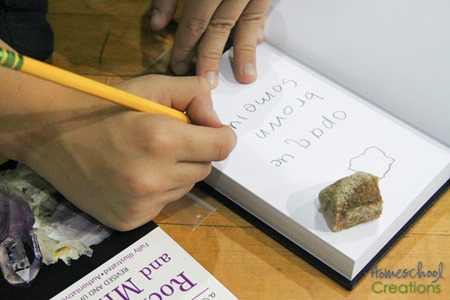 One of our favorite things included in the kit are the nature notebook and Rocks and Mineral guidebook. The notebook is a simple sketchbook, but has plenty of room to take notes, draw pictures, and keep records of all we are observing and discovering. The guidebook is full of wonderful pictures and tips for learning about rocks (a definitely keeper for the bookshelf too!)
Kaleb drew a picture of each of the rocks collected and took notes on them as well, making notes about their color, luster, if they were opaque or translucent, etc… and left room for some additional notes. This is one thing that I loved watching. It's funny how writing can be such a chore in some instances, but when a subject of interest comes along, writing suddenly becomes something enjoyable – and even attempting to spell and sound out words isn't as painful.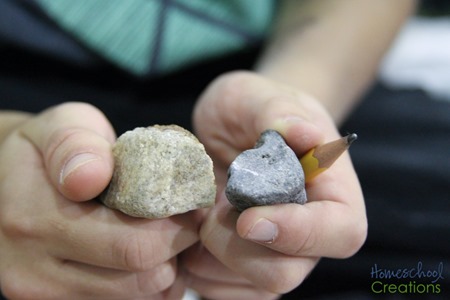 Our next step was testing the hardness of each rock gathered. The kit included a set of nine Mohs Scale of Hardness minerals, so one by one the minerals were pulled out, scratched against each other and the final hardness of the specimen was recorded in our notebook.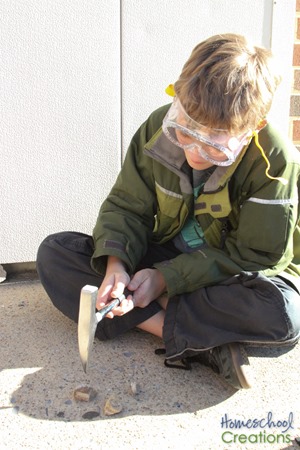 Kaleb's favorite part of everything was definitely using the rock pick! (I know, shocking, right?) With safety goggles on, we took the rocks outside and cracked them all open.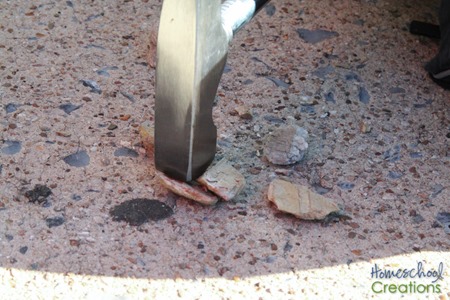 Some of our rocks broke open a little more easily than others and allowed us a chance to see the different variations and texture in the rock, other than just the external part of the rock.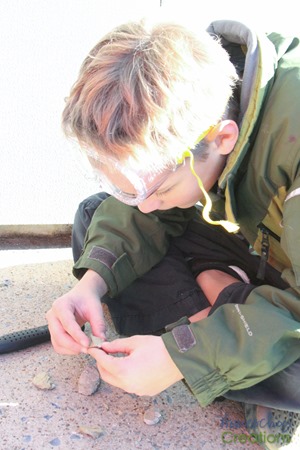 We traveled recently and grabbed our Rock Hound's backpack to take along with us to a swim meet. I knew we would have a block of time during the afternoon where we wouldn't have anything to do, and this was a perfect activity to get us outside and working on something hands-on. What you don't see in this picture are the other children that gathered around us to watch what we were doing. Everyone was chiming in about different rocks, what they observed – it was so much fun!
We also tested the magnetism of the rocks once we cracked them open (none of ours had any magnetic properties),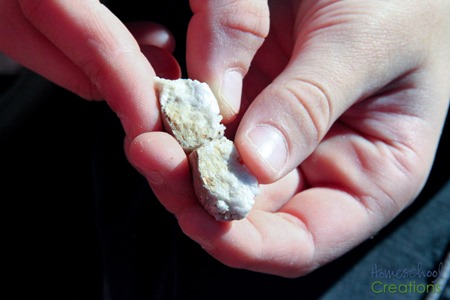 The small white rock was definitely the favorite rock to examine and break apart and has been made it's way into the collection box to save. Not that all rocks aren't special, but this one was the prettiest and most interesting to him.
Having specimen bags and everything handy to test and examine the bags was a huge help. We still need to run an acidity test on each of our rocks and the fun this week will be narrowing down even further what type of rocks and minerals we collected. We are taking our time on this step, mainly because we have been distracted going through the Rocks, Gems, and Minerals book – too many fun facts and pictures!
The convenience of having everything in one backpack, easy to grab and take along on a nature hike makes this a perfect addition to our homeschool learning! We already have a special spot in our schoolroom where our Rock Hound's backpack is hanging as a reminder to use it often! Our kids would definitely recommend it as well – and several other kiddos are anxiously waiting their turn.