This Friday there are some fabulous deals coming from various homeschool and education companies that you definitely want to take note of – some with savings up to 60% off! I don't know about you, but I'm all about being able to stay home in my pjs and take advantage of savings on Black Friday. Life is much happier sitting in a comfy chair with a nice warm beverage – and no lines!
While this isn't an exhaustive list, these are all from companies we are using this year during our homeschool time, or have used recently. Hope one of these will be a help to you!
20% Off North Star Geography (and other Bright Ideas Press Products)
You all – I cannot tell you enough how much we LOVED using North Star Geography for a full high school credit last year. The new online course is 20% off ($99.99) and is a HUGE deal!! Use the code fridayblack to save 20% on North Star and other additional products from Bright Ideas Press. (p.s. I would HIGHLY recommend pairing it with Wondermaps, a program you can use with any grade level).
Up to 50% Off Compass Classroom
From Homeschool Made Simple, WordUp! The Vocab Show, to Visual Latin, all products at Compass Classroom are up to 50% off from November 27 – November 30.
Grapevine Birth of Jesus 30% Off
Now is the perfect time to try out Grapevine Studies with their Birth of Jesus study – AND save 30% – from Friday, November 27 through Monday, November 30.
Save 10% + FREE Shipping at Educents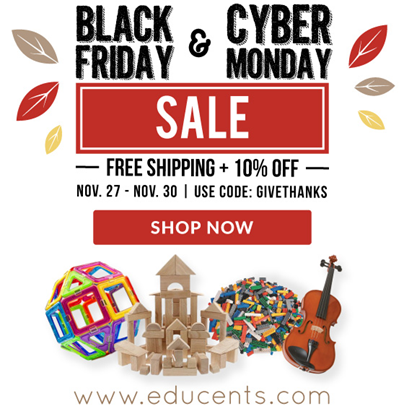 Educents is offering some wonderful educational toys and downloads at a 10% savings and free shipping with coupon code GIVETHANKS.
Up to 60% off Kiwi Crate
Black Friday offers some great savings for Kiwi Crate as well – up to 60% off a monthly subscription of Koala Crate, Kiwi Crate, Doodle Crate, or Tinker Crate. These would be perfect subscription programs for grandparents to give to kids! Save 60% with code SUB60 on a first month's subscription, or save 50% on any shop orders with code SHOP50.
If you have any other companies you know of, feel free to leave a comment. I'll be adding any additional deals I find as the week goes on as well, since some companies are still sending out their specials.