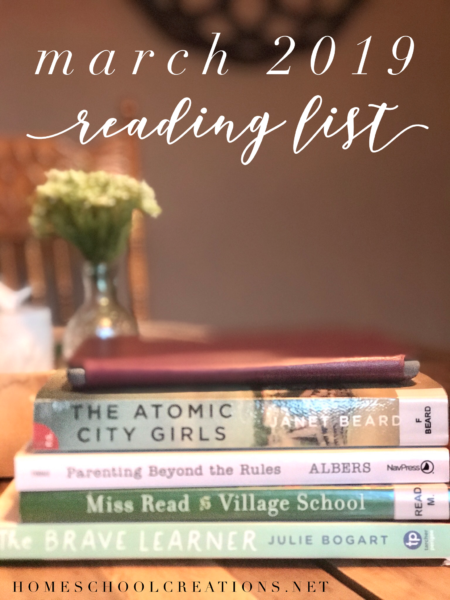 February seems to have flown by (don't the months always seem to lately?), but this upcoming weekend there should be some PRIME reading time as we will be headed to the boys' state swim meet. I will be parked in the stands all day long, so I plan to have some good material with me.
A few of the books in my pile have been sitting there for a bit, which is making me a little antsy. I really do love having a physical book to read, but paperback fiction is a little harder for me to read while trying to fall asleep at night since I need to wear my glasses. Using my Kindle makes it a little easier because I can increase the font size (cough) and also I don't have to hold the book "just so" – or worry about dropping it.
After February's reading, I put a sizable dent into my 2019 Reading List. The list started off a little smaller with twelve books (and has grown a bit as I've added some new releases), but that was to be expected. I often get distracted by the new stuff. :) At the moment though, seven of the now 14 books on the list have been marked off – so YAY for progress! This month NONE of the books in my pile are from my core list – they are from my "if there's time" pile, but they look so very good.
*all links are referral links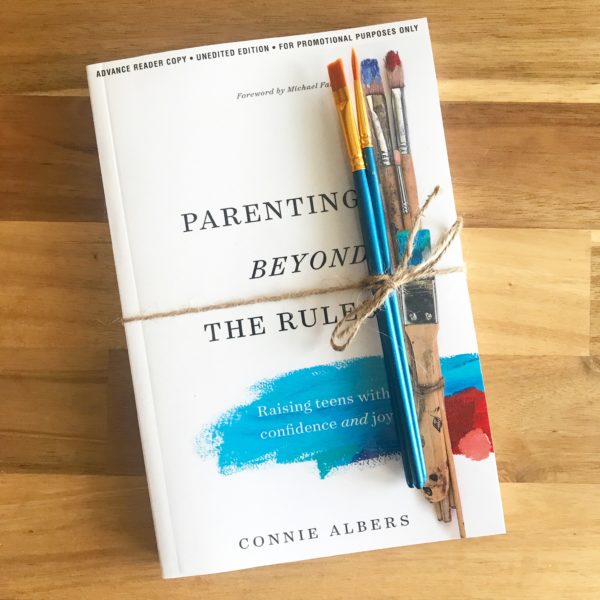 What the Kids are Reading
We're switching things up a bit for Kaleb for the remainder of the year and really hitting reading fluency hard. In addition to using All About Reading 4, we are working through some Before Five in a Row titles with a friend (so his pain can be shared and commiserated – grins), but also so we can work on some FUN tie-ins with the books we read together. For example, in reading Homer Price, we are building an AM and FM radio because that is something Homer does in the story.
What I Read Last Month (and Quick Thoughts)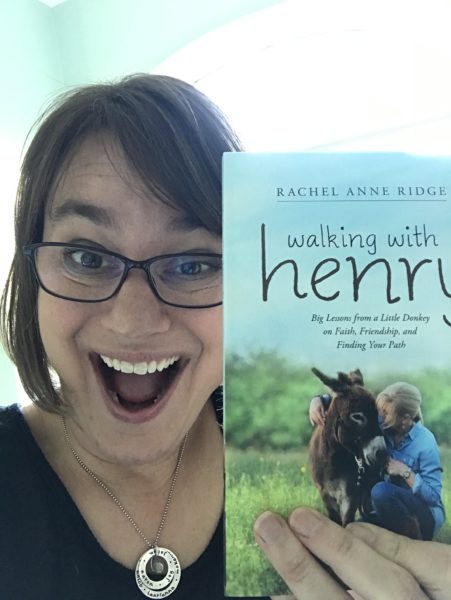 Here are the books I read in February along with a more detailed look at four of them – three that I absolutely loved for very different reasons and one that I don't think you should waste your time on.
Walking With Henry by Rachel Anne Ridge – Reading this book is like sitting down with a friend over a cup of coffee and having a heart-to-heart talk together. Rachel's writing style is not only relatable, it is one you will quickly fall in love with – along with her sweet donkey. Through the antics of her second donkey, Henderson (or Henry, for short), Ridge shares her grapplings with a new season of life and the searching it opens in her spiritual walk. As she coaxes this little donkey to understand his worth and value, spiritual truths are gently spoken to her heart. Their walks become a time of developing a new prayer life and her intimacy with God is deepened.
This book spoke to my heart on so many different levels. I appreciate Rachel's candor and honesty in the things she questions and begins searching for deeper understanding and meaning. She is gentle and open – and incredibly relatable.On a side note, it is so sweet to read this story, having met Rachel and both Flash and Henry (and Tom!) in person as well as walking with them through the fields where she pondered so much. For me that added an extra special touch since I can envision their faces and personalities. ❤️ Note: I received a complimentary copy of this book from the publisher. I was not required to write a positive review. All opinions expressed are mine alone. (5/5 rating)
The Road Back to You by Ian Moran Cron – it seems like everyone is reading and learning all about the enneagram types. After a weekend with friends where we discussed so many various things together, along with this specific book, I bought it and read it in a few days. It's really rather fascinating. While I haven't pinpointed my specific "type" quite yet, this specific book offers some valuable insight into how individuals function in their types when they are "healthy" vs. "unhealthy" – where they tend to divert their focus in either direction. Definitely worth the read. (5/5 rating)
It's Not Supposed to Be This Way by Lysa Terkeurst – this is one of those books that you want to keep on your shelf to refer to when you are going through a season of difficult. Reading through the various circumstances happening with Lysa and her family – just crazy. But God. Well worth the read if you are in the midst of trying situations and need encouragement or if you want to store some information for the future. 5/5 rating
The Light We Lost by Jill Sanopolo – I had such high hopes for this book. It started out great (minus one scene at the start of an earlier chapter 🙄), but as the book progressed it began to unravel. The premise of a love lost/the road not taken is understandable, but at some point along the way this derailed into nothing more than a girl who never grew up emotionally and cannot make up her mind and see what is right in front of her face because she is too busy pining away for what could have been. 2/5 rating
You can follow along with me via the Goodreads app where I share my reviews and additional thoughts. What have YOU been reading this month?