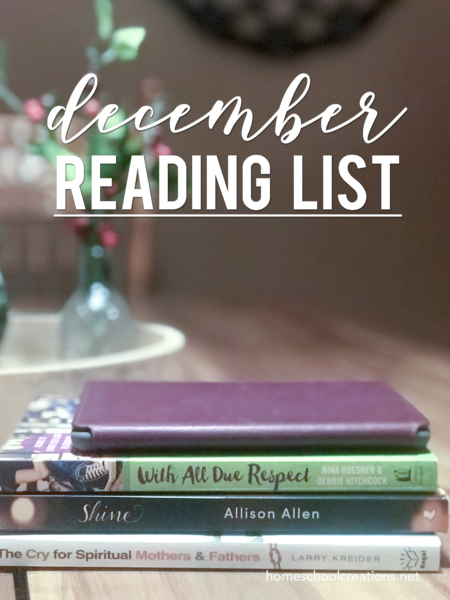 I'll admit that I've gotten a little distracted from my reading pile the last bit – ever since all the new Hallmark movies started airing. (cough) And this month with baking and getting ready for Christmas, it's definitely easier to have a movie playing in the background than to sit down and read (and rest).
The week of Christmas I'm hoping to have some time to just sit, put my feet up, and do NOTHING at all – other than read.
Right now my 2018 Reading List is close to wrapping up, which I'm excited about! I'm also getting a bit distracted and have far too many Amazon tabs open as I am looking forward to my 2019 list and keeping it diverse (personal growth, family, marriage, and other learning).
If you have any suggestions to add to my list for next year, I'd love to hear!
Feed readers can click here to see my books for December.
*all links are referral links
What the Kids are Reading
One of the best things happened this past month: Kaleb saw the newest Diary of a Wimpy Kid book at Costco, picked it up, immediately started reading it, and has been busy reading the rest of the series since then. Meanwhile, Zachary started reading one of the Harry Potter books and has been pulled into that series as well, reading well past his bedtime several nights now (WIN!).
What I Read Last Month (and Quick Thoughts)
Overall I didn't read too much last month (five books), managed to shelf a few (they just didn't "click" with me and one was a little too much for me), but there was one that I did get to read and love.
Fiercehearted: Live Fully, Love Bravely by Holly Gerth (finishing up from October) – I'll confess – when I started, it really took me about eight or nine chapters to get into the book. For a few weeks I had picked it up, read a chapter or two, and put it back down again. Then I picked it back up, flipped forward a few chapters, and decided to just get it over with. I later went back and read the chapters I skipped. Underlined and dog-eared pages. While it isn't a sequential writing, per se, it's written in short snippets with various life lessons focused on in each chapter. Gerth shares life stories and weaves in lessons of faith into each one, encouraging women to embrace who we are each created to be, as we already are. Hugely encouraging. (5/5 rating)
You can follow along with me via the Goodreads app where I share my reviews and additional thoughts. What have YOU been reading this month?