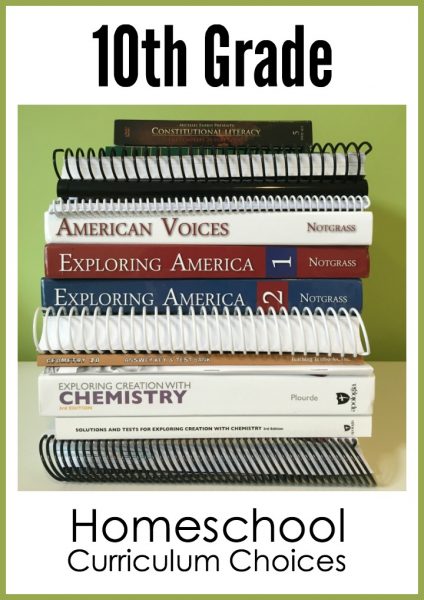 Our poor girl may not have found it humorous when I texted her a picture of her HUGE curriculum pile. Granted the textbooks seem to grow astronomically each year the kids progress in school, but it definitely can seem a little daunting – especially when there is no way she'd be able to fit them all into one backpack without tipping over backwards. I honestly think the pile of books might weigh about half as much as she does. (gulp)
Laurianna has matured so much this last year, especially over the summer as she took on her first real job as a lifeguard and swim coach, also teaching swim lessons and participating in swim team. Overall, she was rather busy, but it was wonderful to see her really step up to what was asked of her and step in when something needed to be done. She is anxiously waiting for the day in September when she will be able to start driving. Please pray for me. (deep breaths)
10th Grade Curriculum Choices
Credits to earn: 7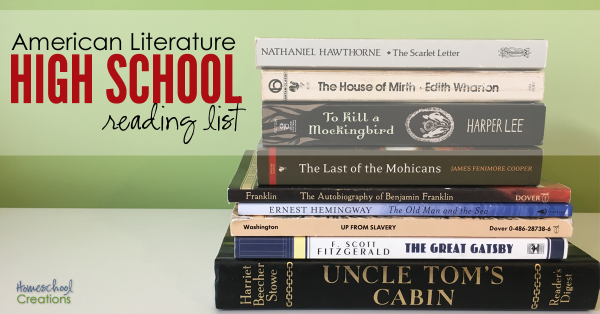 So far, Laurianna has earned a total of 13.5 credits, so at the end of her 10th grade year she will have completed a total of 20.5 credits toward her diploma – meaning a somewhat lighter year for her 11th grade year and the option of dual enrollment classes.
Laurianna did a great job figuring out her own routine last year (it may not have always been the way I liked it, but it worked for her). Learning to let go (on my part) is probably the hardest aspect of this, but we are encouraging her to take as much responsibility as possible to prepare her for dual credit classes in the upcoming future.
Her dad and I are planning to sit down and go through the Constitutional Literacy class along with her. While we had considered putting that class off for another year, with her working through American History this year and also the election process, we figured it was the perfect time to jump in.
Co-op Learning
We have a small group of high schoolers that will be meeting weekly to work on literature and American history this year. She will also be getting together once a week with a friend to go over Chemistry labs and assignments.
In addition, one of the moms and I are planning some 'girls only' and family trips to a few historic places that will tie in with our history learning: Williamsburg, Biltmore (girls only), Washington, DC, and Philadelphia to name a few. We'll see if we can squeeze in any more (maybe a trip to NYC??) but otherwise, those four will keep us plenty busy.
Curriculum in Year's Past
In case you are interested in seeing the curriculum that brought us to this point, here's a peek at what we've used with Laurianna the past few years:
Does High School Have You Scared?
If homeschooling high school is worrying you, don't miss the free middle and high school planning printables and map out your middle and high school years!
If you are new to homeschooling and aren't sure where to begin in choosing homeschool curriculum, please don't let this post overwhelm you! Here are a few posts that you might find helpful as you discover what is best for your family. Be sure to check out the entire Homeschool Basics series for answers to more frequently asked homeschool questions.
See What the Other Kids Are Up To…
Click any of the images below to see our homeschool picks for the current school year. You'll also find links to past years choices in each post.