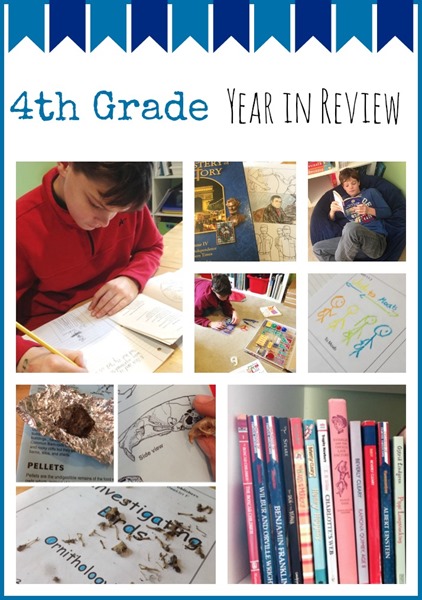 While getting all of our curriculum lined up for the year can be overwhelming, sometimes putting it all into practice can be equally as daunting. Choices that may have seemed great at the beginning of the year might not pan out by the end of the year. It's fun to see all the different options that we share when we start, but I also love hearing how programs worked out for families during the course of the year – and hope you do as well.
You can see all of the homeschool curriculum choices for the 2014-15 here, but below you'll get a good look at what we used for Zachary's fourth grade year and what we will be (or won't be) using again next year – and why. Many of Zachary's subjects this year were more independent, but he still struggles (cough) with staying focused on what his assignments are. Part of it is my fault – and part of it rests with him. There are always things more interesting to do. Like watch dust in the air. Just sayin'.
Science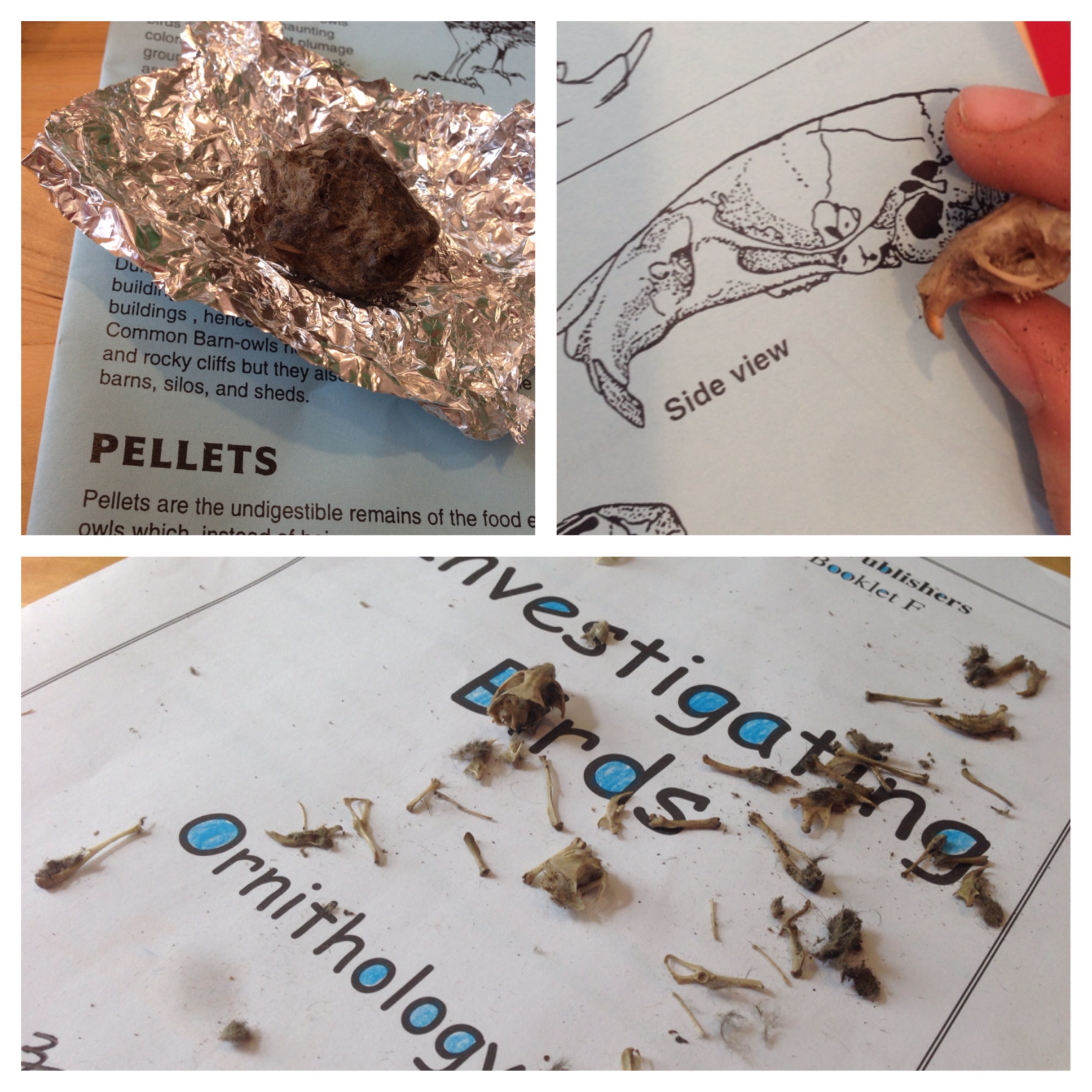 Zachary worked on Science 2 together with Kaleb. Although he has worked through the level before (several years ago) he really enjoyed doing it with Kaleb. Because of the way the program is laid out (lesson plans already in place), there were a few days when he offered to do the lesson teaching with Kaleb (I may have enjoyed that a lot!).  Above you see the end results of dissecting an owl pellet (something both boys enjoyed much).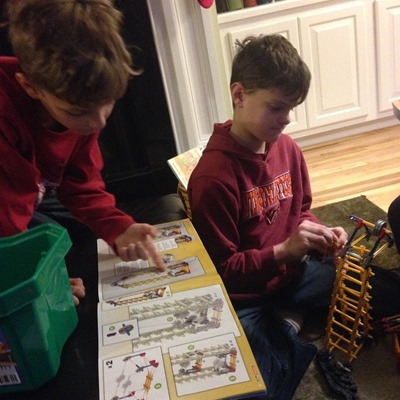 We added in some fun simple machine projects using our Simple Machines from LEGO and also our K'Nex Simple Machines set. When we were learning about pulleys and levers, Zachary built a 'working' elevator using the K'Nex set (he may have been very proud of that!).
The initial plan was to have him work on 3 Snap Circuit assignments each week, but in truth that ended up being when he wanted to work on them. There were days that he did between 3 to 5, but he did work on most of the projects in the box over the course of the year. This was one of those "I'm really glad that we purchased it" items for the year. He loves hands-on projects like the ones included and it keeps him away from other things…such as my vacuum cleaner. (ahem)
History
The plan: Mystery of History 4 combined with Story of the World 4; Liberty Kids dvd series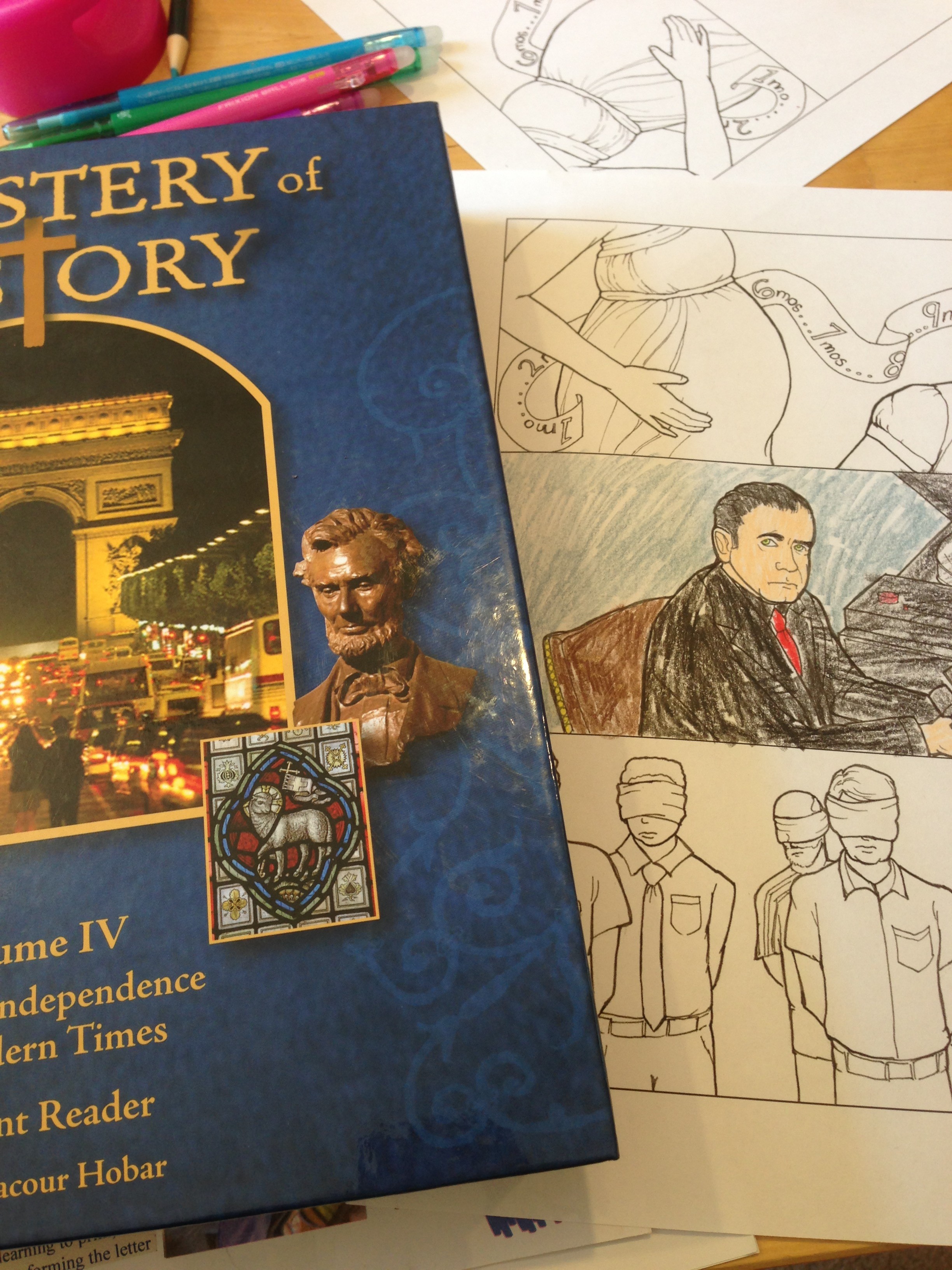 Although the lessons were longer in MOH 4, the kids loved this year because we were able to add in so many REAL videos from recent events and see pictures of things as they happened. Zachary in particular absorbs so much of history and especially enjoyed when we started getting into recent wars and learning all about them. We did fill in here and there with Story of the World, but primarily focused on Mystery of History.
While the coloring pages are ok for Zachary, he prefers making his own drawings or LEGO creations to go along with the stories we are reading.
Spelling
The plan: All About Spelling Levels 3 (finishing) & 4 and All About Homophones
We typically worked on one lesson a week (although not always). We finished up Level 3 this year and are almost finished with Level 4. All About Homophones ended up being put to the side for the year since we were working on a lot of the same stuff in our literature program. We are both ready to get into a better swing with spelling next year as we change our grammar program and it will merge better with it.
Language/Writing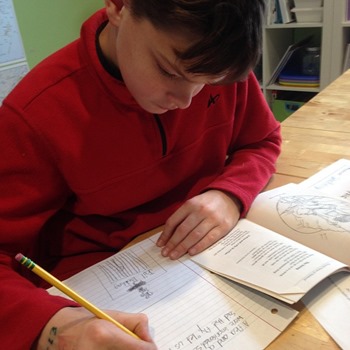 Switching to
Learning Language Arts
was a huge change for us – different format and style, but the main reason for the move was to include more book studies for Zachary. Truly this has been the BIGGEST area of improvement for him over the year. Because of several of the book choices (that he had to read independently), he was pulled into the stories and completed his first book this year, and then he subsequently read several more that weren't a part of the program, but on a
reading list I pulled together
for him (see reading section below).
Personally I would have liked to see a little more consistency in grammar rules in the LLATL program (I understand that it is a little more informal). We could have used
Daily Grams
to go along with it, but I held off on that this year. Next year we will be switching to a different program, but still following a similar format for book studies since that is something that I did really appreciate about Learning Language Arts Through Literature.
Zachary's confidence and love for reading has definitely been pushed this year! In addition to the books that he had to read for school, he also read all of the
Diary of a Wimpy Kid series
and several other books of his own choosing (yay!!)
As for book reports – ummm, other than the reviews that we did for the four books as a part of language, we didn't do a single one. Oops!
Reading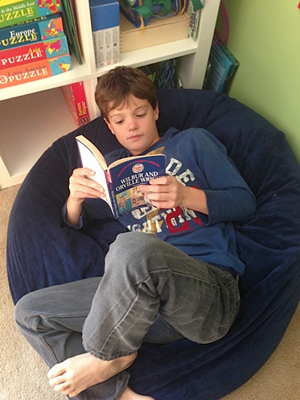 Zachary really enjoyed finishing up the Level 4 program this year (I'm sad that's the highest they go!). He's received such a strong foundation in reading with the program and really can read well, but half of the time it's mentally convincing him that he can.
The reading list I put together for him at the start of the year included four books to go along with the Learning Language Arts Through Literature program and then nine others that I picked out, so thirteen total. Out of those thirteen books, he completed TEN of them and truthfully I am beyond thrilled with that! Considering that he read his first actual book from cover to cover at the beginning of the year (September), this is HUGE for him and then to read nine more almost makes me cry with joy.
If anything, this year has put confidence in him. He is picking up books independently to read, choosing and wanting to purchase books, and branching out beyond the typical 'easy' books that you can flip through when we go to the library. So – hugely successful overall.
Math
The plan: Teaching Textbooks 5 and Life of Fred
We were rather sporadic with Life of Fred this year with Zachary, which was ok since he was primarily focused on Teaching Textbooks. Our biggest issue is staying focused. We've had multiple headphone issues this year (someone keeps leaving them on the floor and they break…and then needs them when working so he isn't distracted by all the noise/talking in the room). I won't mention any names.
Bible
The plan: Picture Smart Bible – wrapping up our Old Testament Studies and 90 Devotions for Kids – morning devotions.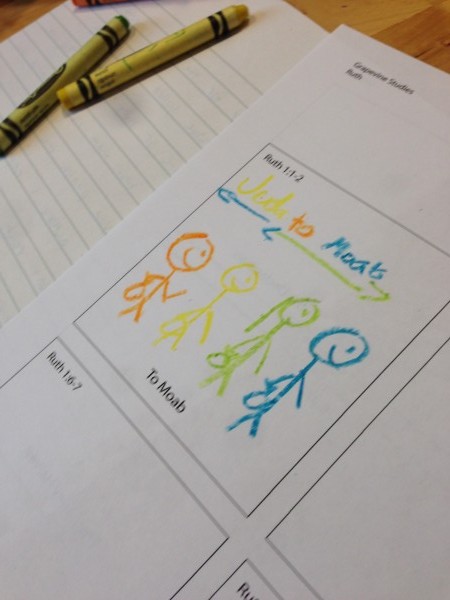 We did work through most of Picture Smart Bible and at the end of the year switched over to Grapevine to work on a unit on the book of Ruth. All of the kids were in agreement that they want to do more Grapevine next year again. It's not that we don't like Picture Smart Bible, but Grapevine is just a better fit overall, and if the kids enjoy it, I'm all game!
Almost every morning we started off with a quick devotional from 90 Devotions for Kids. Short and sweet, so we purchased the next devotion book because we loved it so much!
In November and December we took a break from Picture Smart Bible to focus on Unwrapping the Greatest Gift. We loved the Advent study from Ann Voskamp – those coloring pages just seal the deal!
Handwriting
While this may not be Zachary's greatest joy in life, his handwriting is neat (when he wants it to be) and he has the basics down. (grins)
Art
Zachary completed about 60% of the art projects in the Home Art program, but also participated in art during his co-op time, so I didn't push too much with it. He's a boy that would rather work on Snap Circuits or
K'Nex,
and that's okay too.  We also managed one pastel from HodgePodge (the kids always love those!).
Co-op
PE, Art, and other electives
We participated in two different co-ops this year, and Zachary really enjoyed both. Although our kids are active with swim team and life in general, PE at co-op is always fun, some of his art happened via co-op, and Zachary was also able to work through a human body class (he rather enjoyed that one!).
I'll be sharing our year end review of 6th, and 8th grade soon, so be sure to check back! Click the image below to see our
2nd Grade Year in Review
.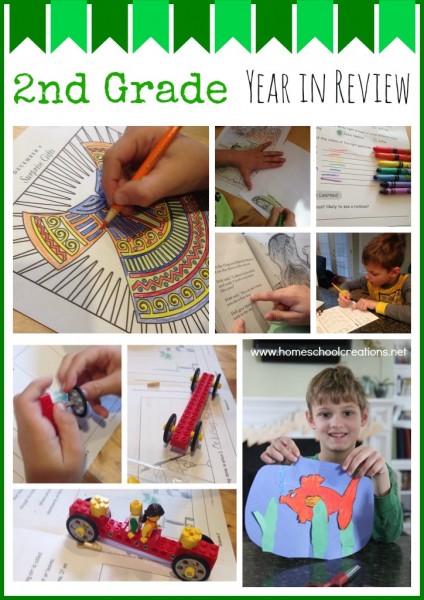 New to Homeschooling?
If you are new to homeschooling and aren't sure where to begin in choosing homeschool curriculum, please don't let this post overwhelm you! Here are a few posts that you might find helpful as you discover what is best for your family. Be sure to check out the entire Homeschool Basics series for answers to more frequently asked homeschool questions.
Additional Resources: Unfamiliar with some of the curriculum choices above? Follow the links below to learn more about the companies and resources:
Curriculum Choices from Years Past…
If you'd like to see what curriculum we've used in years past, click on one of the posts below. Grade levels taught each year are listed with the posts.
2013-2014 Curriculum Choices – grades 1, 3/4, 5/6, and 7
2012-2013 Curriculum Choices – grades K, 3, 4/5, and 6
2011-2012 Curriculum Choices – grades PreK, 2, 4, and 5
2010-2011 Curriculum Choices – grades PreK, 1, 3, and 4
2009-2010 Curriculum Choices – grades K, 2, and 3