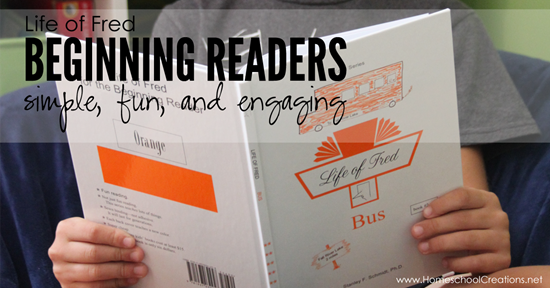 A four year old named Fred has been a long-time friend in our house. Fred typically visits when it's math time, but the last few weeks he has also been a part of our reading time with our youngest.
Time and again I've mentioned that our boys are very cautious readers. That's the nice way of saying our girls started reading just.like.that and our boys, using the same techniques and such, get frustrated, think they can't read, fuss, cry, or all of the above when it comes to reading time. It's been trying to say the least.
Don't get me wrong, they both made progress and our reading program really is fabulous and works, but last year it was a million loud cheers when Zachary finally decided to sit down and really read a book all by himself. And he hasn't stopped since. Some kids just aren't wired the same. (There's a shocking newsflash, eh?)
Kaleb is pushing along the same path as his brother. Despite encouragement and the fact that he can read, there are days when it is a struggle. A huge struggle. We sit down and cuddle up, work on a lesson, and again starts the cycle. We'll stop when needed and continue with encouragement, but it's just hard.
The Life of Fred math books are a huge hit in our house and something we have enjoyed for years. When Educents asked if I would be willing to take a look at the Life of Fred Eden beginning readers…well, it wasn't a very difficult choice. I'll admit that even I was a bit curious about what exactly was inside the pages of these books. (Incidentally, they have some great deals on Life of Fred products right now!)
Here's a peek at one of our favorites that I shared on Facebook (you can also watch it via YouTube).
We have been LOVING the Life of Fred Beginning Readers we received from Educents earlier this month. Here is a quick peek inside and a little more on what we are loving. Stay tuned for a blog post today with more (and a giveaway!)! (Sponsor)

Posted by Homeschool Creations on Monday, 28 September 2015
More About the Life of Fred Beginning Readers

The Life of Fred beginning readers set 1 contains the following six books: Blue, Bus, Lake, Potato Dreams, Ducks, and Rain. Each of the books is focused on a specific color (you'll notice the cover titles are all done in the color they feature), so children learn eighteen color words when working through the books in the three different sets. (See sample pages here.)
The books all follow Fred, a four year old genius boy who has a doll named Kingie. Together they go on adventures. In this series, you follow Fred and Kingie as they take the bus to Fall River Lake, learn about different colors (blue, orange, red, brown, pink, and gray), meet ducks, talk about emotions, learn how to cook potatoes, and so much more random silliness.
Each hardcover book features a combination of real pictures and images along with drawings of Fred and Kingie, other creatures, and cartoons. They are completely non-sensical stories that children l.o.v.e. to no end. In short, the stories are simple and engaging. Silly, yes, but in such an amazingly fun way.
Targeted toward children ages 4 and up.
Our Thoughts on the Life of Fred Beginning Readers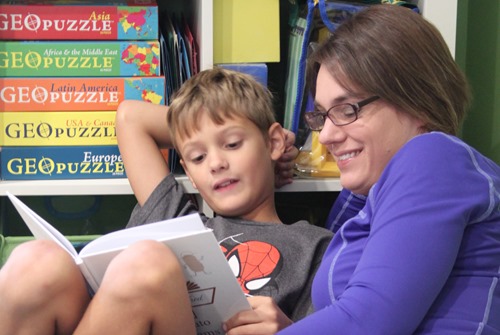 We have the first six readers (Eden set 1), but Kaleb has been toting around his reader pile for the last two weeks. Every day he pulls out two or three of them and we read and re-read the stories together. And it isn't just Kaleb who has been engaged with the books! As we have curled up and the laughter begins bubbling from him, the other three kids are soon crowding around to see what is happening with Fred and Kingie. (Yes, they all love Fred – even the high schooler.)
Where this boy normally reads with ZERO voice inflection (i.e. questions don't sound like questions and he has completely flat tone overall), he is giggling, reading with different voices, speech rate patterns, and truly engaging with the stories. It has been so amazing and fun to watch the process.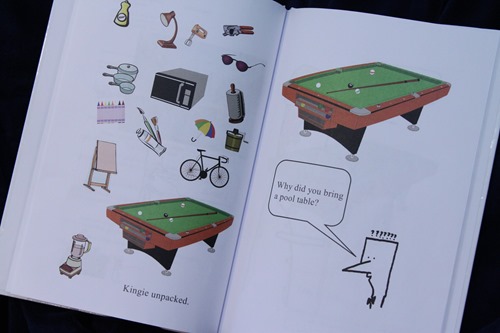 These silly, non-sensical stories are bringing this little boy to life. Yes, he still gets a little frustrated here and there reading, but he tries so hard. We had intended to videotape him reading a story, but he was extremely nervous and after five tries – well, we decided that we'd just tell you that he thinks Fred is very funny. Very funny. Kingie even more so (especially when you see what Kingie packs to take to the lake). We've had more conversations about how Kingie could have even fit a pool table into his bag, never mind lifted it.
We laugh at the drawings (Fred does have a square head after all). We laugh especially hard at Kingie's paintings – because they are always amazing and completely ridiculous. Did I mention these books are funny?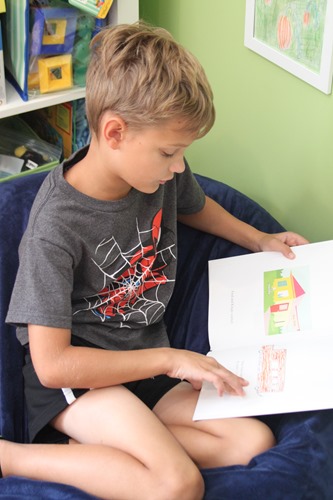 Text on each page is fairly minimal in the six books we have, and the books aren't overwhelming, wonderful for hesitant readers. Keep in mind this is not a full reading program (no teacher's guide or specific introduction of blends/words in any order), but readers for children to practice the skills they have already learned and help them further enjoy the reading process. They may likely pick up several new words and some added confidence in the as they go through the stories too.
While initially I wasn't sure what to think of the books, I did know how much our kids have loved Life of Fred for math, and these readers are no different. They are books I know we will go back to over and over again. Yes, they are beginning readers, but so often that confidence boost and added humor are needed to bring life to our reading!
Save an extra 10% TODAY ONLY!!
Currently Educents is offering discounted bundles for purchase. You can purchase the Life of Fred readers directly from their site AND save an extra 10% off with the coupon code HSC10. It's a special code JUST for my readers, so be sure to use it!!
The LIFE OF FRED SALE ENDS October 18th, so don't miss it!
Be sure to browse the rest of their affordable deals as well!
A Bonus Giveaway!!
Educents has also offered one of my readers the Life of Fred Beginning Readers Set 1! To enter the giveaway, follow the directions in the Rafflecopter widget below.