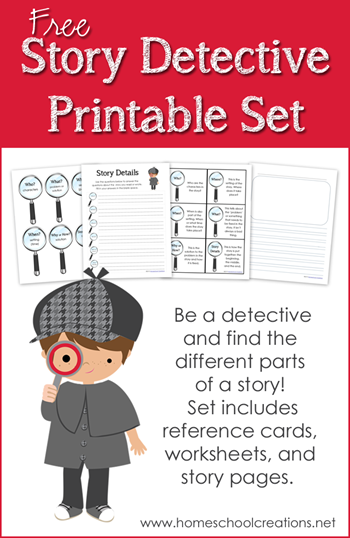 This year we are using WriteShop Primary C as a part of Kaleb's 3rd grade curriculum. Right now we are learning about the parts of a story: the who, what, where, when, why, and story details.
Because I didn't want to take 20 minutes to cut out and create the suggested magnifying glasses (heaven forbid I should pull out the construction paper and scissors – every one of them would be a different shape and that would bother me), I spent an hour creating the Story Detective printables instead. (In my defense, there are more than magnifying glasses in the pack.)
Story Detective Printables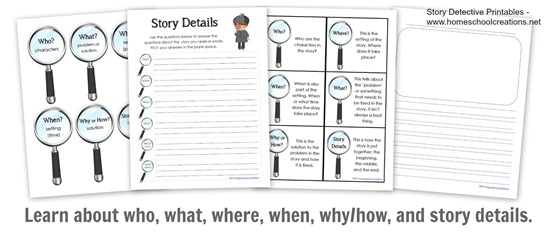 Inside the Story Detective printable set you will find:
Story Part magnifying glasses: who, what, where, when, why/how, and story details
Story detective worksheet: use this to go along with stories your child creates or reads
Take-along cards: quick notecards to hang up or use as a reference

Story sheets: write and illustrate your own story

Draw and Journal Pages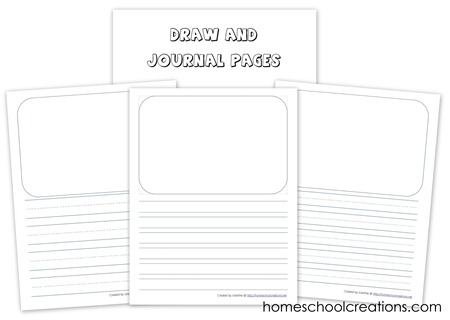 If you like the story sheets that are in the pack you can find additional Draw and Journal pages here.
Essay Outline For Older Children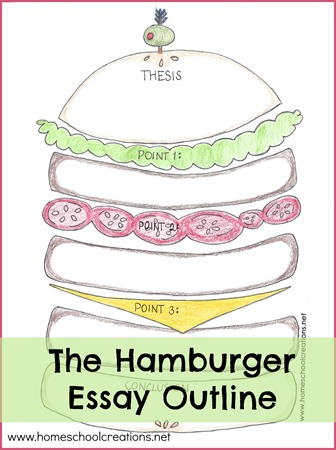 If you have older children that are at the essay stage of writing, download a free copy of the Hamburger Essay Outline to help organize the writing process.