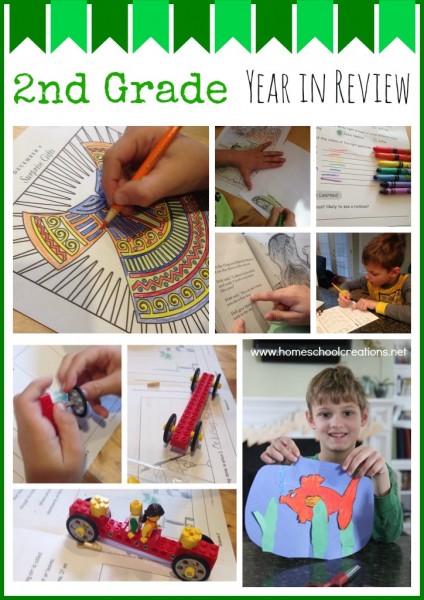 While getting all of our curriculum lined up for the year can be overwhelming, sometimes putting it all into practice can be equally as daunting. Choices that may have seemed great at the beginning of the year might not pan out by the end of the year. It's fun to see all the different options that we share when we start, but I also love hearing how programs worked out for families during the course of the year – and hope you do as well. (p.s. my friend Carisa has also been sharing her year end thoughts as well).
You can see all of the homeschool curriculum choices for the past year here, but below you'll get a good look at what we used for Kaleb's second grade year and what we will be (or won't be) using again next year – and why. This year Kaleb was still doing the bulk of his subjects with me, although we were working on him being a little more independent in some subject areas. Each year we typically add a subject for our kids to work on independently and 'phase out' a little bit of me helping. Quite honestly, it's a little harder on me, because I realize that he is my youngest and there is just something about knowing he is our last one that gets me a bit emotional.
Spelling
The plan: All About Spelling Level 2 (3 if he was ready) and All About Homophones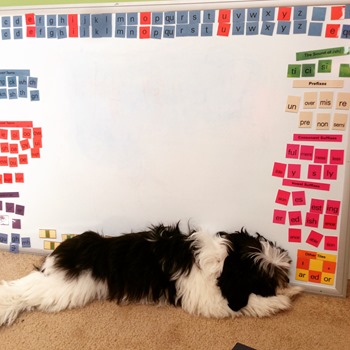 We typically worked on one lesson a week (although not always). Our focus was on Level 2 this year and we didn't worry about moving on to Level 3 this year. Working on All About Homophones was more of an occasional lesson (maybe five throughout the year based on what we were learning about). Kaleb isn't super fond of writing, so sentences weren't his favorite thing at the end of the lesson. There are still a few 'review' concepts we need to focus on for next year, but by the end of the year Kaleb was getting more into a groove with spelling and I love how well All About Spelling ties in with All About Reading. The similar formats simplify the teaching and they streamline well together. This will definitely be a program we use again next year. (For those of you who know me well, you know that it is our favorite homeschool spelling program, hands down!).
And the dog – yep. Ever since we brought her home, that is where she likes to rest during school time, especially spelling!
Bible
The plan: Picture Smart Bible – wrapping up our Old Testament Studies and 90 Devotions for Kids – morning devotions.
We did work through most of Picture Smart Bible and at the end of the year switched over to Grapevine to work on a short lesson. Kaleb liked the simpler pages for younger kids that Picture Smart Bible offers, but he really enjoys drawing, so Grapevine was the best fit for him this year. The 90 Devotions for Kids is a perfect fit for our mornings and we ended up purchasing the next devotion book because we loved it so much!
In November and December we took a break from Picture Smart Bible to focus on Unwrapping the Greatest Gift and work on another family devotional from Focus on the Family. We loved the Advent study from Ann Voskamp – those coloring pages just seal the deal!
History
The plan: Mystery of History 4 combined with Story of the World 4; Liberty Kids dvd series

Although the lessons were longer in MOH 4, the kids loved this year because we were able to add in so many REAL videos from recent events and see pictures of things as they happened. Kaleb really enjoys the coloring pages that go along with Mystery of History and is a stickler for getting those finished each day. He meticulously saves each and every one of them! We did fill in here and there with Story of the World, but primarily focused on Mystery of History.
While he doesn't always grasp as much as the older kids do in our daily readings, he is getting quite a bit out of the lessons, which is always fun to hear what he remembers. Things were fairly low-key for him this year and I didn't have him take any quizzes – just coloring pages and timelines overall. Kaleb also loves to embellish and add in his own drawings (art is another one of his favorite things), so there was a lot for him to work on this year and add in to our lessons.
We didn't use the Liberty Kids dvds as much as I had anticipated, mainly because we moved into modern history rather quickly and our time with the early colonial days ended (sniff). That may be a period of history that I am rather fond of.
Math
The plan: Teaching Textbooks 3,  Life of Fred Dogs and Edgewood; Spielgaben; Calendar Notebook Binder Printables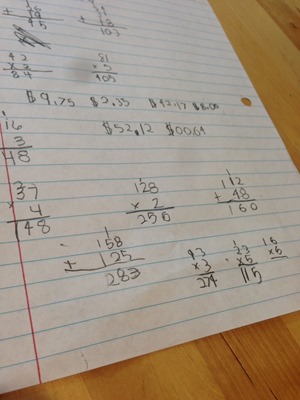 Teaching Textbooks 3 – the plan was for Kaleb to do this independently on the computer, but the stinker said that he learned better if I did the lesson with him 1:1 (He just missed spending the time with me, and who am I to say no?) We just did the lessons as they were written in the book (the same as they are on the CD-rom, and his math skills are off the charts. He loves numbers – so fun to see his little brain at work. On to TT4 next year!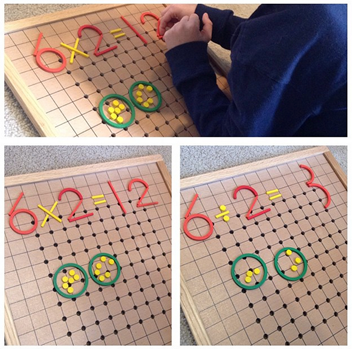 Spielgaben – while we didn't use these daily, we typically used Spielgaben at least once a week to go along with our math learning and to supplement in some way what we were learning – or look at it from a different angle.
Life of Fred Dogs – this is always a fun filler for us. Kaleb just giggles when we pull out the book and we actually worked on Dogs and also worked on Edgewood as well. There aren't a huge number of lessons in each book, so we typically did one lesson every week or every other week.
Calendar Notebook: Kaleb was able to work on this independently each day and still loves it, so we will likely continue next year with it as well, because he loves the repetition.
Science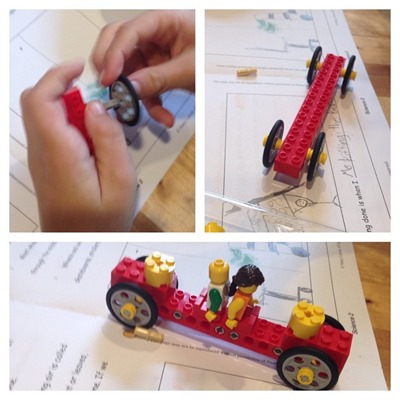 Our boys (2nd and 4th grade) both worked on Nancy Larson Science 2 together this year and loved it. We added in some fun simple machine projects using our Simple Machines from LEGO and also our K'Nex Simple Machines set (the boys LOVED these!!). The pace for the year was 2 to 3 lessons a week, depending on how they wanted to work on the lessons. If we were in a groove, we kept going with lessons!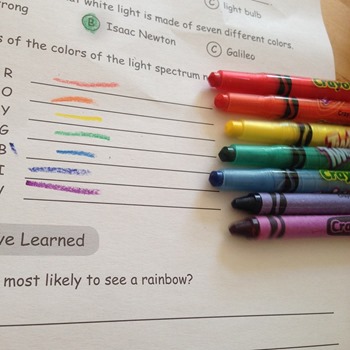 Because Kaleb isn't a huge fan of writing (a lot of complaining when he has to fill in blanks, etc…), there were times when I just let him get creative with his answers (so instead of writing out the color name, he drew a colored line).
Language/Writing
This was a new program for us this year and while it was a good go-between as we transitioned from First Language Lessons, the approach overall didn't work as well for either Kaleb or myself (both teaching style and learning). Kaleb wasn't a huge fan of the stories that went along with the program (me either), and in comparison to some of the other programs we've used, it just wasn't a favorite of mine. Next year we'll be moving on to another program, but we did finish out the year with it.
Reading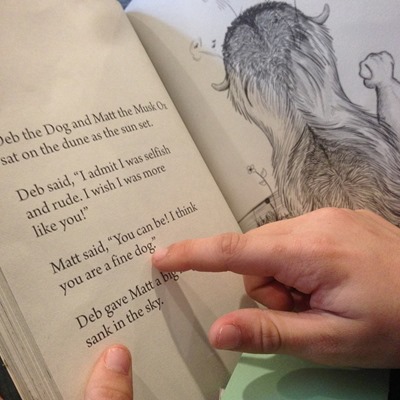 Reading is still a slow-going process with Kaleb, but little by little there are things clicking in his brain and he is doing SO much better overall. Zachary was slower in reading (and let me tell you, I am quick to beat myself up over what I am doing wrong, especially when I start comparing his reading with another child's – either one of my own or a friend's). This has been an area for me that has caused much angst the past two years, but we are just working slowly and steadily, making sure he has a solid foundation in all he is doing. He IS making improvement and beginning to enjoy it, which is so much of the process. Next year we will move on to All About Reading 3.
Handwriting
Kaleb is always quick to pull out his handwriting first thing (note the pajamas above) and get his handwriting done right off the bat. In addition to working through
A Reason for Handwriting Level B
, he also wanted to work on some cursive learning as well, so I found a few random workbook pages on our shelves from years gone by that he could add in. It makes me laugh that he hates to write (a four word sentence), but he is meticulous on his handwriting sheet!
Next year he will be moving on to cursive and I am working on a program for him (although we love A Reason for Handwriting), but it's something I've wanted to do for a bit and am finally getting around to!
Art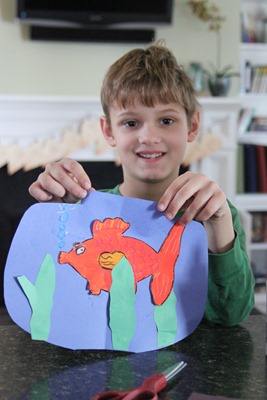 Hands down, art is Kaleb's favorite subject. This was one area that he was able to do (mostly) independently this year. When he was ready to do a lesson (usually once a week unless he asked to do more), I would pull out the supplies for him and he would pop in the dvd from
Home Art Studio
and work through the lesson on his own. He amassed quite the display wall throughout the year! Definitely planning to use it again next year with him, but the 3rd grade program.
Additional Learning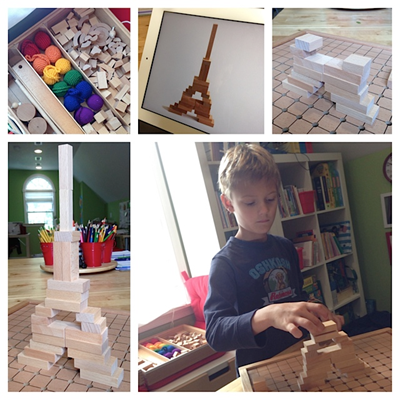 One of the things that I really wanted to do this year for Kaleb was intentionally add in learning time with Spielgaben (a few of the other kids want in on the fun too). To give you an idea of how we tied it in, one week he worked on creating the Eiffel Tower (we were talking about France during one of our history lessons). We used the manuals from Spielgaben that come along for this project, but he also spent time creating a few other fun things as well. This learning was in addition to using the manipulatives with math.
Co-op
PE, Art, and other electives
We participated in two different co-ops this year, and overall they were a lot of fun for Kaleb. Although our kids are active with swim team and life in general, PE at co-op is always fun, art is an added bonus for Kaleb, and one of our co-op rotates through various electives (Kaleb really loved the sewing on burlap this year). Our second co-op had the kids learning Spanish together, doing some fun science projects, and also getting active and learning some different games that are a little harder to learn with only one or two kids.
I'll be sharing our year end review of 4th, 6th, and 8th grade soon, so be sure to check back!
New to Homeschooling?
If you are new to homeschooling and aren't sure where to begin in choosing homeschool curriculum, please don't let this post overwhelm you! Here are a few posts that you might find helpful as you discover what is best for your family. Be sure to check out the entire Homeschool Basics series for answers to more frequently asked homeschool questions.
Additional Resources: Unfamiliar with some of the curriculum choices above? Follow the links below to learn more about the companies and resources:
Curriculum Choices from Years Past…
If you'd like to see what curriculum we've used in years past, click on one of the posts below. Grade levels taught each year are listed with the posts.
2013-2014 Curriculum Choices – grades 1, 3/4, 5/6, and 7
2012-2013 Curriculum Choices – grades K, 3, 4/5, and 6
2011-2012 Curriculum Choices – grades PreK, 2, 4, and 5
2010-2011 Curriculum Choices – grades PreK, 1, 3, and 4
2009-2010 Curriculum Choices – grades K, 2, and 3