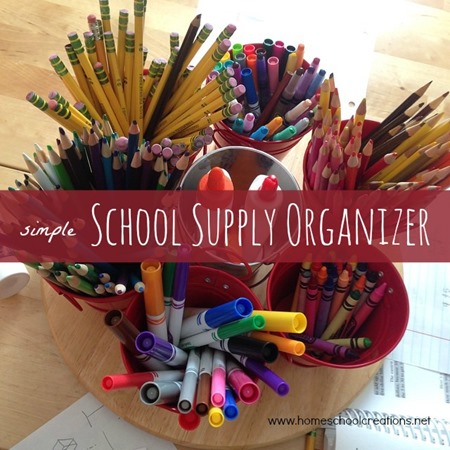 School supplies seem to multiply like rabbits at our house. Although our kids each have their own set of colored pencils (and yes, I color code my kids), we have a community set of supplies that stay in the middle of our school table. These are the pencils, crayons, and supplies that we use when working on history and other group subjects.
Our school supply organizer has been in our school room for almost five years and only required a little time and a few supplies: a lazy Susan, mini metal buckets or pails, magnets, and hot glue. The original idea for this came years ago from See Jamie Blog and is really super simple to make! Be sure to see her quick tutorial.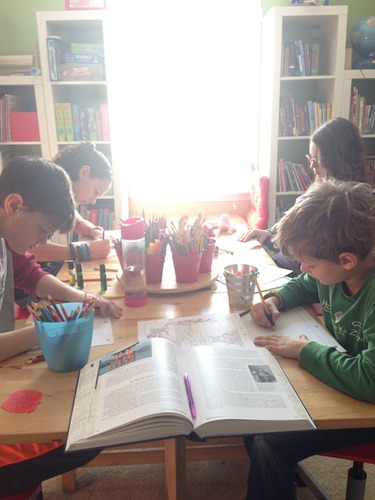 Every now and then I change out the buckets when I find some cute ones at Target…or the kids smush one of them (yes, it happens). The small buckets are handy to grab and carry around the house and my organizing heart loves that the kids know exactly where things need to be put away.
Before you wonder how the buckets stay in place – magnets. Rather handy, especially when one kiddo decides to give the Lazy Susan a fun spin. The buckets usually stay in place (notice I didn't say always). And in case you were wondering, if you children attempt to use the Lazy Susan as a miniature sit-and-spin, they will crack (ask me how I know).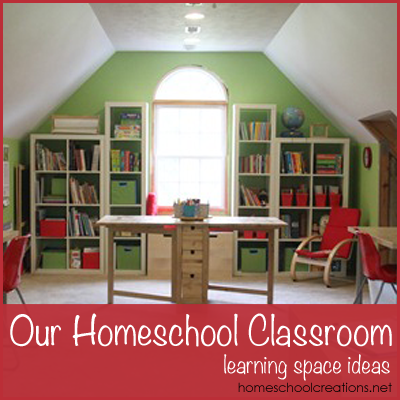 This is just one of the ways that we keep things organized in our schoolroom and it really has been such a huge help over the years. Take a tour of our entire homeschool classroom (video and pictures!) and see a how our schoolroom is laid out.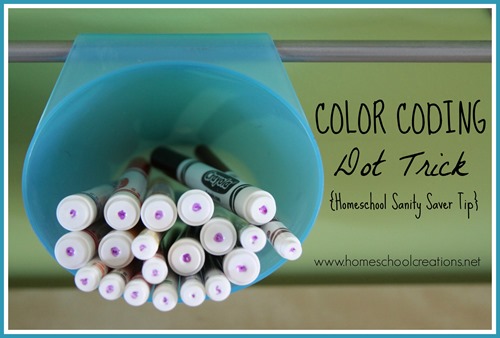 Learn more about the simple color coding dot trick too – it's a sanity saver for mom!