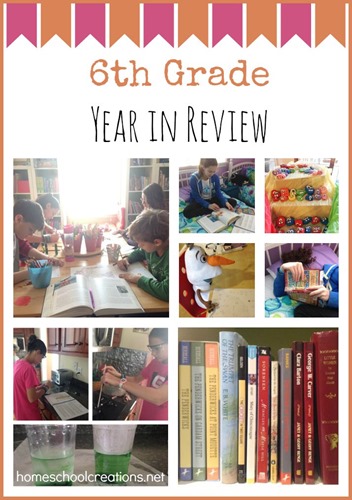 McKenna's sixth grade year was one of great growth for her, both academically and otherwise. Many of her subject areas were independent, so learning to manage her time wisely was important (she is doing well in that area).  You can see all of the homeschool curriculum choices for the 2014-15 here, but below you'll get a good look at what we used for McKenna's sixth grade year and what we will be (or won't be) using again next year.
Science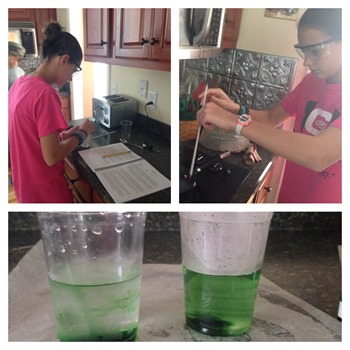 McKenna was a bit mixed on science this year. There were things she loved (the hands-on days) rather than the reading and blah, blah, blah (her words).  Her typical schedule was supposed to be 2 lessons and 1 lab each week, but somehow she managed to get herself on a daily schedule, resulting in her finishing up the program rather early. That may also explain her feeling like it was too much. Next year she will be following the right schedule and finishing the second year of the program.
History
The plan: Mystery of History 4 combined with Story of the World 4; Liberty Kids dvd series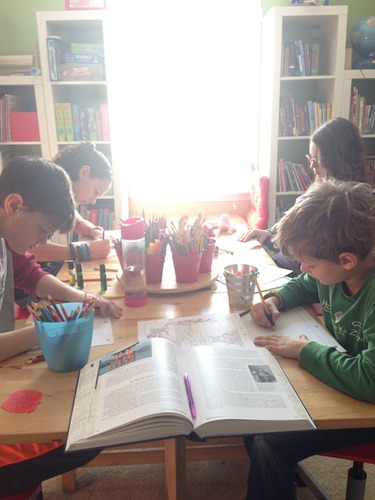 Although the lessons were longer in MOH 4, the kids loved this year because we were able to add in so many REAL videos from recent events and see pictures of things as they happened.  McKenna used the coloring pages some to keep her occupied, but her best learning came when she would make cartoon strips of the history lesson as we went along (in part thanks to Grapevine Bible). She would draw stick figure scenes from key points in the lesson and then re-tell us all the lesson when we were done. Hugely effective for her!
Spelling
The plan: All About Spelling Level 5-6
We are in level 6 now, and lessons this year were fairly laid back. The initial plan was one lesson a week, but it became more of an as we need it.
Grammar
The plan: Growing with Grammar 7 and Daily Grams Grade 7
This program is a great fit for McKenna, although I may not always be crazy about going through all the paperwork each week. The above picture is from one lesson I came across.  The assignment in grammar was to write five sentences – and she didn't do it, claiming it "Takes forever." Granted, it was the last time she did that, but still. (grins)
Vocabulary
The plan: Dynamic Literacy Word Build Elements
This year we switched to the online version of WordBuild and while price-wise it worked out well (and I appreciated the fact that the lessons were graded for me online and I could access the grade book at any time to see progress). McKenna prefers the old pencil/paper route though (after I asked her partway through the year). For her the pressure of having something timed made it harder for her to focus in on the assignment. Typically each lesson takes a max of 15 minutes.
Writing
McKenna's writing has grown immensely in this last year. I am so completely in love with the WriteShop programs and know that she is getting a solid foundation in all she is doing. Her papers have a different twist than Laurianna's and it is fun seeing her personality come through in the things that she chooses to write about. Looking forward to using the 2nd year of this program next year with her.
Reading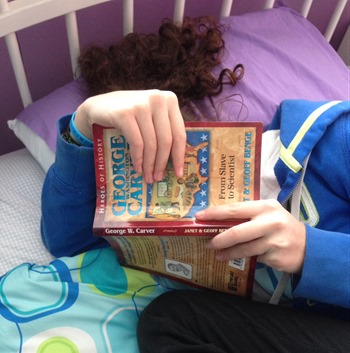 With the exception of three books on the additional list that I put together for her, McKenna finished all of her required reading for the year and found a few new books to love. She wasn't super thrilled with Little Women, but muddled through that one. Usually she and I sat down weekly to talk about the books she was reading (plot, characters, questions on story progression, etc…). We didn't get around to doing any lapbooks, but based on our discussions, I was ok with that. Overall, a great year and I loved the book suggestions from Reading Roadmaps.
Math
The plan: Teaching Textbooks 7
Obviously not McKenna, but taking pictures of math is so boring otherwise, right? Olaf was a frequent guest in the school room, so it seems appropriate. McKenna finished up Math 7 this year and will be moving on to Pre-Algebra this next year.
Bible
The plan: Picture Smart Bible – wrapping up our Old Testament Studies and 90 Devotions for Kids – morning devotions; also Apologia's Who Am I? and notebooking journal (6th grade); Who Is My Neighbor? and journal (when finished with previous book/journal)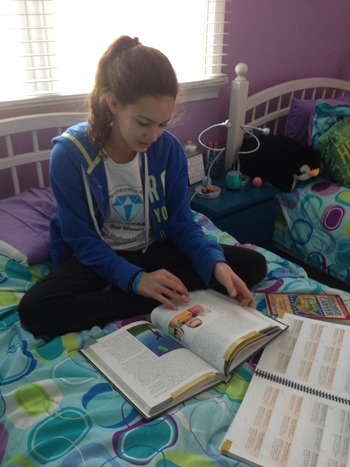 We did work through most of Picture Smart Bible and at the end of the year switched over to Grapevine to work on a unit on the book of Ruth. All of the kids were in agreement that they want to do more Grapevine next year again. It's not that we don't like Picture Smart Bible, but Grapevine is just a better fit overall, and if the kids enjoy it, I'm all game!
The key part of McKenna's day was the Apologia series. She finished up the remaining two books in the set this year. This is one of her favorite subjects overall. When we would get together for our weekly meetings we would talk about her lessons and what she was learning (although she is one to typically share every day what she is reading – grins).
In November and December we took a break from our regular lessons to focus on Unwrapping the Greatest Gift. We loved the Advent study from Ann Voskamp.
Art
McKenna wasn't as keen on doing art with Zachary this year, so the bulk of her art time was completed during her co-op time and classes.
Co-op
PE, art, mini-society, LEGO Story Starters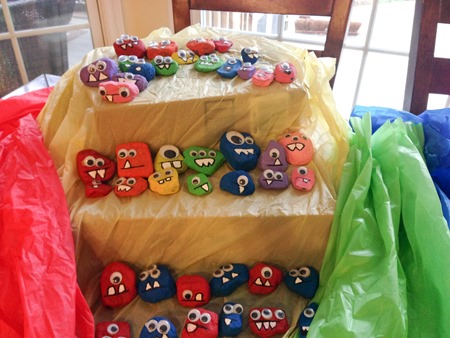 We participated in two different co-ops this year, and McKenna especially loved the one that included a mini-society class. She and a friend developed their own business plan, products, and sales strategy. This was actually a great class for her because there are a few things that you can't learn until you actually are in action. Something could also be said for not believing what your mom is trying to explain to you, but that's a story for another day.
McKenna and her business partner created pet rocks, t-shirt bracelets, and bookmarks. Hours and hours were spent painting, twisting, and folding to get it all done. The two girls had a blast together and it was a wonderful experience to discover what works with marketing a product, how much time to budget for projects, and what products are worth the time/effort and have the best cost/effort ratio.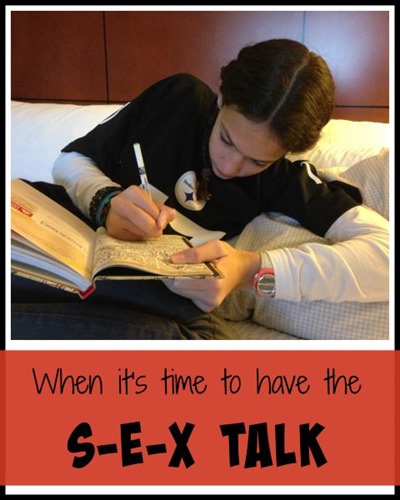 This was also the year that we had a
sex and dating talk
with McKenna. I recently
shared a post on the resources we used
. Let me say this – if you have been dreading it or are scared to death – DO NOT BE!! I promise, it can be a wonderful time together and there are some great helps out there to walk you through the panic!
New to Homeschooling?
If you are new to homeschooling and aren't sure where to begin in choosing homeschool curriculum, please don't let this post overwhelm you! Here are a few posts that you might find helpful as you discover what is best for your family. Be sure to check out the entire Homeschool Basics series for answers to more frequently asked homeschool questions.
Additional Resources: Unfamiliar with some of the curriculum choices above? Follow the links below to learn more about the companies and resources:
Curriculum Choices from Years Past…
If you'd like to see what curriculum we've used in years past, click on one of the posts below. Grade levels taught each year are listed with the posts.
2013-2014 Curriculum Choices – grades 1, 3/4, 5/6, and 7
2012-2013 Curriculum Choices – grades K, 3, 4/5, and 6
2011-2012 Curriculum Choices – grades PreK, 2, 4, and 5
2010-2011 Curriculum Choices – grades PreK, 1, 3, and 4
2009-2010 Curriculum Choices – grades K, 2, and 3