Some of the most enjoyable and memorable times in the years of our homeschooling have revolved around reading together and learning through literature. When Compass Classroom asked me to take a peek at a new video series,
Homeschool Made Simple with Carole Joy Seid
, well – let's just say I was excited. Literature-based learning is something that speaks to my heart and we've seen such great results in our own family because of it.
The Homeschool Made Simple Video Series
In the
Homeschool Made Simple video series
, Carole Joy Seid's heart comes through as she speaks to parents on how to focus their learning on great books and keep reading as the core of their learning. Through literature, whether a biography, classic literature of a period, or books about a historical period, we can learn a variety of subjects – and learning can be as uncomplicated as we make it.
For families new to homeschooling or seasoned homeschoolers, there is something for everyone in the series. Think of it as a seminar that comes right to your home to refresh you. There are many different methods of homeschooling available to us as families (and I am so very grateful for that!), and many of us will agree that books and stories are the base of so much that we learn together. This series from Carol Joy Seid is so much more than showing how literature can be the core of all we do; it is also a huge encouragement to parents and a model of how homeschooling can be done simply, be enjoyable to everyone, and also affordable.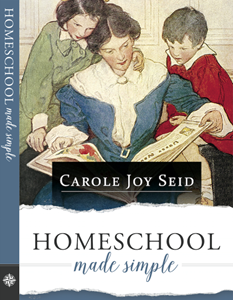 Workshops in Homeschool Made Simple:
There are six workshops in the Homeschool Made Simple series, available in either DVD format or as a download, and an included book list. You can watch when you have time, take notes, and revisit later through the months and years if you need encouragement or a refresher.
Introduction
1. Children & Reading
2. Choosing Books
3. Building Character in Children
4a. Math, Writing, Science, Art & Music
4b. Bible & A Typical Day
5. Children & Media
6. Teaching History Using Literature
I love that the setting of the series is 'intimate' – not videos taken at a large conference, but rather in someone's living room and almost in a more 1:1 format – you feel like Carole is talking and encouraging you personally. Watching these videos (and I'm still finishing up the series!) has been a great reminder to me to slow down and re-evaluate plans – and simplify in a few areas.
Take a few minutes and watch a trailer of Homeschool Made Simple with Carole Joy Seid and get a feel for the class. You can also view a one of the workshops,
Children and Reading
, for free.
I would SO encourage you to watch the Children and Reading workshop today and rediscover the love of reading and learning through literature! How have you integrated reading into your curriculum for learning?