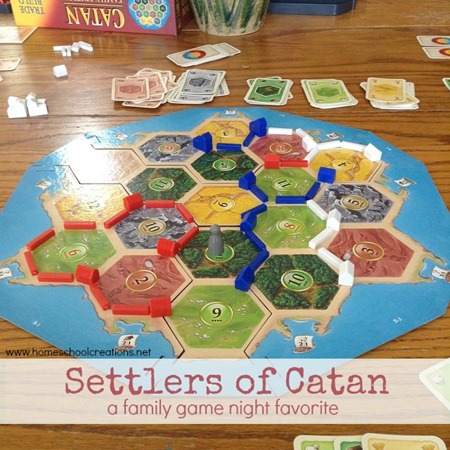 The girls and I have a new game that we are in love with – Settlers of Catan. It's been one that was recommended to us for ages, has been sitting in my Amazon cart, and two weeks I found it at a scratch-and-dent sale of sorts for an amazing price. To help you understand how much we are enjoying it, the game sits out and has been played nearly every single day since it came through the door of the house.
How to Play Settlers of Catan
The game board is built in a hexagonal shape and there are two sides to choose from to give players a variety when replaying. Each small hexagon on the board represents a different resources: forest, sheep, rock, grain, and brick. There are four different colors that can be used (up to four players) to build 'settlements' on the game board.
During the game, players collect resources based on where their first settlements are built, expand their territory by building roads and cities, and try to strategically 'take over' the island. The first person to reach 10 points earned by building road, settlements, and collecting special cards wins the game.
There is a great overview on the Catan website and even a game assistant app you can download to help learn the rules (love this!).
Once you really start getting into the game, there are additional extension packs that build on the main board so you can grow and expand on the base game: seafarers, cities & knights, traders & barbarians, explorers & pirates – and so much more!
Skills Catan Works On
There are a few things that Catan has been great in working on with the kids (and me too!)
Thinking strategically – while you want to get settlements and roads on the board, you definitely have to plan and think ahead on where you place your pieces so you are able to collect resources. You earn resources based on the number that is rolled (there are numbers in the center of each hexagon). If you have a settlement on that number, you earn that resource. Resources are then traded in to build roads, cities, and armies.

Probability – you never know how the die is going to roll. While each number on the board shows the likelihood of that number being rolled, you may have a game full of different numbers.

Negotiation – It's frustrating to not have the resources you need to build something and players are allowed to trade/barter with each other. You can be stingy or kind (and I think we all can use a little kindness, right). Players need to think strategically in terms of trading, but it's been neat to watch how relationships play into the game and are being built.

Decision-making – during the game players have to make various strategic decisions on how they will build their settlements and take over, based on their resources. Is it wiser to build a larger army or put up more settlements?

Value/Risk – As we play the game more and we begin to get used to how the game is played, there are more things I am noticing. Based on how you are doing, you can choose to sabotage another players settlements to prevent them from winning (by using the robber or stealing resources), block them from growing their territory – you need to weigh what is most important to you and if it will help you out in the long run.

Settlers of Catan is recommended for ages 10 and up. So far we have only played it with our 12 and older crew because the younger two discovered Battleship and have been playing that constantly. The game is built for four players, but you can add a 5 and 6 player extension, as well as multiple variants of the base board to make the game last longer. There is also a junior Catan version targeted toward younger children.

The game typically takes us between 30 minutes to an hour and a half to play, depending on how strategically pieces are placed, how ruthless players are with each other, and often just by chance! Overall we have LOVED it.

That's what we've been busy playing lately.

What games have you been playing and would you recommend – should we ever peel ourselves away from Catan?
A Few Other Games We Love