The last two months my reading didn't go quite as planned. I thought I'd have SO much time to squeeze reading in, and then life hit a major snag – and well, happened. My reading pile for April was fairly ambitious, and one would think in two months I might have read more…but not so much. And that's ok. Because my main focus was family and spending focused time with my mom. I definitely don't regret that!
Our recent car trip was when I planned to cram in a bunch of reading, but there is an audio series the kids and I have been listening to that kept me hooked for almost TEN HOURS in the car. No book reading for me, just listening.
Usually bedtime reading is where I start logging lots of hours, but most nights the past few months I only get a few pages of reading done on my Kindle and I am OUT. It doesn't matter how much I like the book! I've woken up so many times sleeping on my Kindle or still holding it in my hand. Have to love it!
What I Read (and Finished) in April and May.
The Best Yes

by Lysa Terkeurst – highly recommend this one!! If you are a 'yes girl' and need to learn boundaries, this is a great start!!

An Honest Heart

by Kaye Dacus – love her historical fiction and this one was about the Great Exhibition. Fun read

Love's Fortune

by Laura Frantz (finishing up another trilogy thanks to the library!) – Loved this one again…and finally finished the trilogy!

Jennifer

by Dee Henderson (a prequel to the O'Malley series) – short and sweet. Makes me want to read the rest of the series all over again!

Harry Potter and the Sorcerer's Stone

by JK Rowling (read-aloud) – the kids loved it and are very much looking forward to our trip to Universal in September so they can see much of it brought to life.

Forgotten God

by Francis Chan – been reading this to go along with our homegroup study. Really enjoyed this one on how we neglect the Holy Spirit.

Fair Play

by Deeanne Gist – a Kindle bedtime read

The Bible – My goal for April was to hit 55% – I didn't yet.
Books in My June Reading Pile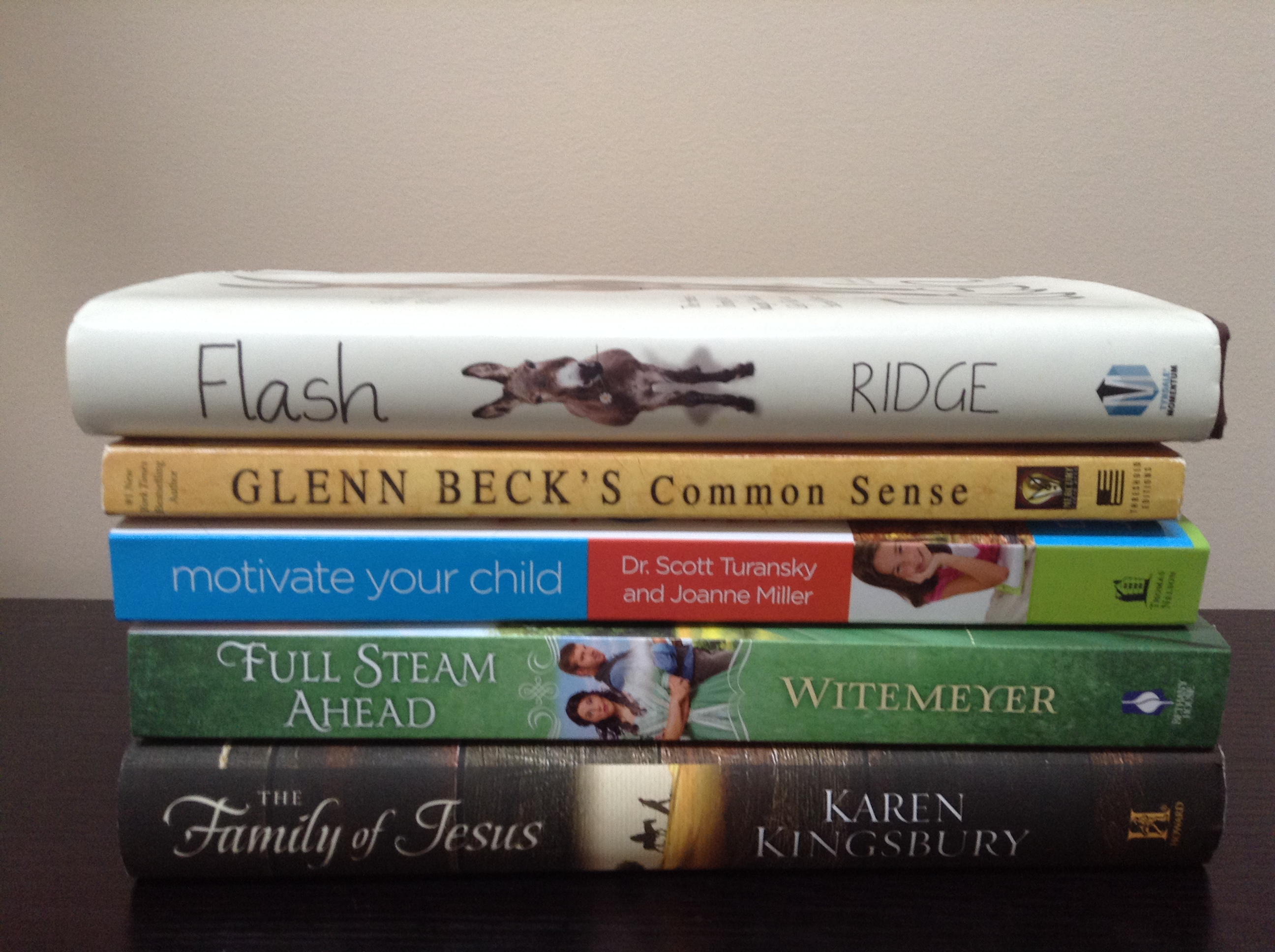 Flash by Rachel Ridge – I just need to finish up a few chapters in this, but later this month I'll be flying to Texas and will get to put my arms around Flash's (the donkey) neck. I'll also get to hug the neck of Rachel – which will be wonderful!!

Motivate Your Child

by Dr. Scott Turansky (comes highly recommended – and I have a few that can use motivation at times…)

Common Sense

by Glenn Beck – almost done with this one. Still in my 'to finish' pile

and of course The Bible – our church is reading it in 90 days, but I'm not even going to attempt that!
SO – what are YOU reading for you this month? And what books do you have to recommend and totally distract me from my pile?