In a few days I'm planning to share my book list for the upcoming year, but until then there is one book that you need to add to your reading pile as soon as possible. Own Your Life, a new book by Sally Clarkson, is releasing today and there is a webinar tonight you won't want to miss.
One of my favorite writers for encouragement and godly insight is Sally Clarkson. She is one of those women that you want to invite yourself over for tea, sit with her, laugh, and just SOAK in the years of wisdom she has to offer. Her honesty, transparency, and love for others shine through in all that she says and does.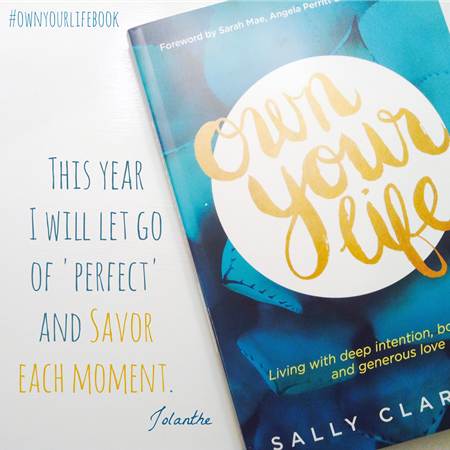 Over the last bit, I've been reading through Own Your Life, crying through bits, nodding in agreement, and underlining the heck out of my copy.
This book has spoken to my heart on so many levels and is prompting me to make intentional changes in my life and renew my personal vision in several areas of life. It isn't a book that will leave you feeling 'not good enough' or guilty by any measure. Rather it is full of encouragement, refreshment, and challenges for your heart.
It's something that I needed at this moment and this time. I'd say Sally wrote it just for me, but I'm certain Own Your Life will resonate and speak to you as well. It's really that good.
From the Author…
Do you ever long for days full of joy and energy –

days that bring out the best version of you?

In a world that's moving fast, it's easy to lose your sense of purpose. Sally Clarkson's Own Your Life offers a breath of fresh air into the life and soul of busy women. Like a faithful friend, Sally journeys with you to explore what it means to live meaningfully, follow God truly, and bring much-needed order to your chaos. Each page offers deeply personal, authentic, and practical guidance to help you build an intentional life. Discover what it means to own your life. And dare to trust God's hands as He richly shapes your character, family, work, and soul.
Join Sally in a Webcast – ANYTIME!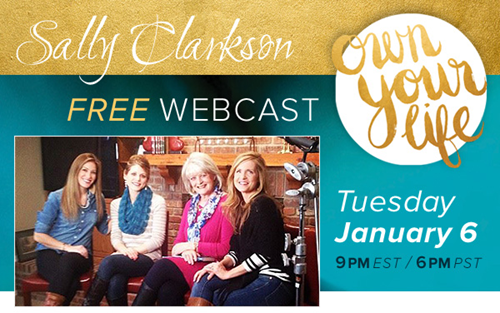 Sally Clarkson, along with a few other fun ladies – Sara Mae, Crystal Paine, and Angela Perritt, put together a FREE one hour webcast where you can hear personal stories on overcoming daily struggles. I know this will be a huge encouragement to many – view it anytime here. (Just ignore the original date above – I promise, you can view it now!)
How will you live with intention in 2015?