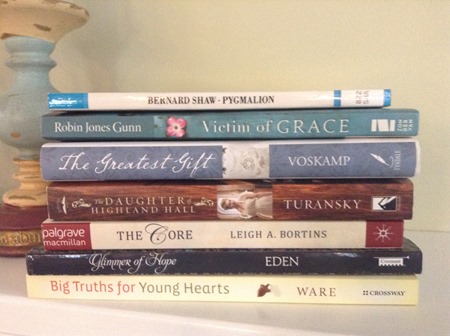 Books on my nightstand – and a few are on my Kindle
My November book pile was actually a lot of fun! This is the last month of the year to finish up the books on my 12 Books to Read in 2014 list. I'm hoping I will make it, but there have been quite a few books that I've added to the list over the course of the year – and I'm so glad I did. Almost there! 
At one point I did try reading on the treadmill – and while that was ok, I think I'd rather save that time for catching up on my favorite shows and let that be my incentive. Somehow reading and trying to keep up with turning pages weren't the best combination.
Books I Hope to Finish in December

Pygmalion by Bernard Shaw – reading this for the high school lit class

Victim of Grace by Robin Jones Gunn – this one has been on my bookshelf for a bit and caught my eye.

The Greatest Gift by Ann Voskamp – I started it prior to December 1st and am really loving it, especially since it ties in so nicely with Unwrapping the Greatest Gift, which we are using as a family. Cannot say enough about the books!

The Core by Leigh Bortins – this is a homeschool-related book that talks about the Classical education model (and highly recommended to me by a friend).

Big Truths for Young Hearts by Bruce Ware – this is a book that was recommended for talking to our kids about theology and 'bigger' issues. Looking forward to it.

Fiction reading for fun….

Daughter of Highland Hall by Carrie Turansky

Secret of Pembrooke Park by Julie Klassen

For Elise by Sarah

Glimmer of Hope by Sarah Ladd

A Soft Breath of Wind by Roseanna White
Books finished in November

Here's the short list of books that I finished reading this past month.
What books have you read lately and enjoyed?
I'd love some suggestions on what you're reading!