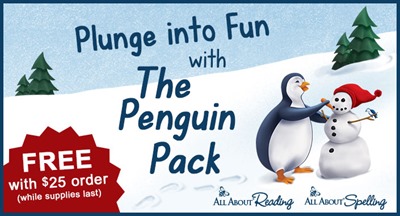 My laminator is getting a bit of a workout this week! All About Learning Press is offering a fun, new Penguin Pack that includes 30 pages of reading and spelling activities for kids of all ages and abilities, so all of our kids will have a little something to do over the next few weeks before we break for Christmas.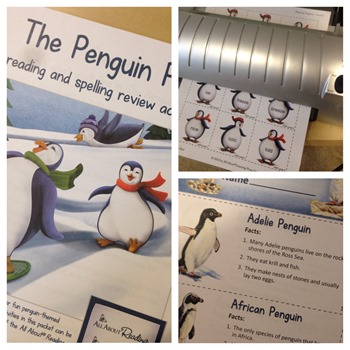 This special penguin pack is available for FREE during the month of December with every order of $25 or more from All About Learning Press (while supplies last). We are HUGE fans of both All About Spelling and All About Reading (you can read our spelling review and reading reviews).  Both are programs we've used for years and recommend highly – we love them so very much!
Included in the Penguin Pack:
Penguin ABCs – for pre-readers and beginning readers/spellers
Penguin Word Search puzzles – seven levels, one for each level of AAS
Rhyming Penguins – four levels of reading and spelling skills
Fun Penguin Facts – sixteen penguin species for a penguin fact book
Positively Penguin Lunch – hands-on lunch plans
Playful Penguin Stickers – a little sticker fun for your kids!
How can you get your Penguin Pack?
The Penguin Pack is available for FREE with every order of $25 or more from All About Learning Press while supplies last. All you need to do is place an order now and you'll be sent this wonderful, full-color resource – printed and ready to use!
A Few Fun Penguin Crafts & Activities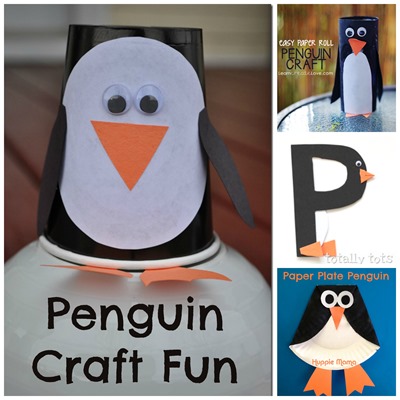 Win a Penguin Fun Kit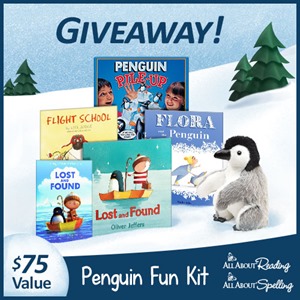 Head over to the All About Learning Press blog and enter to win a penguin prize pack valued at $75. It includes some fun books, a learning game, a DVD, and a penguin puppet.