Ahhh, March. How you blessed me with two lovely, long flights on my way to Teach Them Diligently  where I could sit and read without interruption. Is it sad to know that I packed lots of books in my suitcase to read? (say no). And woo hoo – another flight in April! It's going to be a lovely month!!
Some of the books really gave me some food for thought and others made me literally laugh out loud – apparently I had a great group of books on hand! Here's a look at what I finished (or almost did!) along with my goals for the month of April 2015. You can see all the books that I've read so far in 2015 on my Pinterest board. So far I'm making GREAT progress on my 20 Books to Read in 2015 list.
What I Read (and Finish) in March (and my thoughts)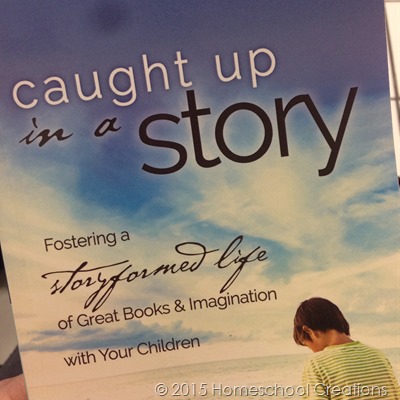 Home is Where My People Are

by Sophie Hudson – Oh my goodness. I literally laughed out loud on the plane and immediately wanted to try Popeye's Chicken all at the same time. Sophie is just absolutely hilarious and writes the way that my brain thinks – just cracks me up!

Caught Up in a Story

by Sarah Clarkson – cannot tell you how much I loved this book. Sarah touched the English geek in me and tied in a child's imagination with the rising/falling action in a story, gave some great book recommendations, and gave my hubby and I some fodder for talking about a book series that we'd been holding off letting the kids read (but decided to read a few out loud to them now). Love her insight and her heart in this book!

Flourish: Balance for Homeschool Moms

by Mary Jo Tate – if you are looking for a great book on balancing life, grab a copy of this. One of my talks at Teach Them Diligently is on this very topic and I was nodding my head in agreement all the way through. She especially has some great tips for single and work-at-home moms too.

The Hiding Place

by Corrie ten Boom – cannot even begin to tell you how much we all enjoyed this one. It tied in nicely with the time period we are learning about in history and was even more interesting because my mom worked for her as a secretary many years ago.

After a Fashion

by Jen Turano – another cute book that tied in with several of her prior books. A great quick read and just fun – grab it for summer reading!

When Love Calls

by Lorna Seilstad (via Kindle) – another light read at bedtime

Glittering Promises

by Lisa Bergren (via Kindle) – the last of three books in a series. I'd already read the first two and wanted to find out the ending!

The Saturdays

(audiobook) – the kids and I found this one at the library and absolutely loved it. We recently grabbed two more books in the series to listen to this month!

The Bible – My goal for March was to hit 40% read – and I hit 37% (via the app).
Books in My April 2015 Pile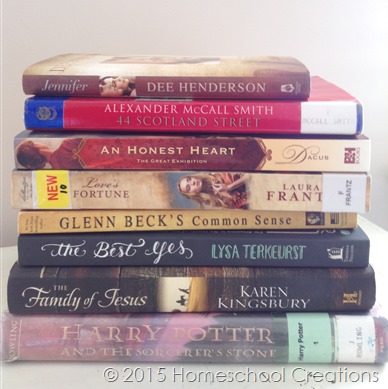 Now don't think I'm crazy, but I do have some travel time that should give me a bunch of reading pockets this month too. The hardest thing for me are the non-fiction books, but these are all ones that I'm reading along with a friend this month.
That's my ambitious pile for this month – what are YOU hoping to read?