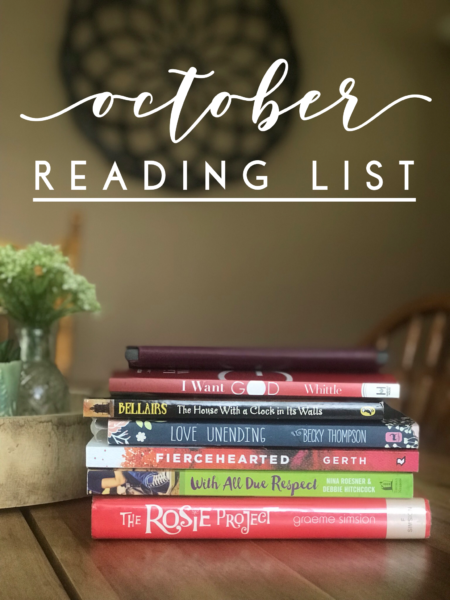 So what have you been reading lately that you can't help but talk about and have been recommending to everyone?
We're back into a reading swing with each other and I love the feel of that. It isn't perfect, but it's something everyone has come to expect as a part of each day, and that's fabulous. Yes, there are sighs some days, but by the time we are about five minutes into reading, the boys have settled down and are (secretly) enjoying the reading.
My 2018 Reading List is slowly decreasing, and as is typical for me, my Amazon cart is filling with books to read in the future. I'm really trying not to get distracted, but it is SO VERY HARD.
Feed readers can click here to see my books for October.
*all links are referral links
While I had hoped to finish Love Unending – I didn't get as far as I'd hoped. It's laid out as more of a day-by-day book, but I'm going to read through instead so I don't forget about it. There are also so many great non-fiction books to read right now – I really need to stop adding things to my pile (my Amazon cart is filling up as I am earmarking books to read next year).
What the Kids are Reading
We wrapped up The Wednesday Wars by Gary Schmidt with the boys – and I cannot tell you how much I personally enjoyed this book. I purchased another book by the author for Zachary to read later (focused on a different character in the story), but it had me both laughing and crying. Such a great read!
This month we're moving on to a new read-aloud, The House With a Clock in Its Walls by Bellairs and considering seeing the movie when it hits the dollar theatre near us. I've been reading mixed reviews on the movie, so we'll have to see.
What I Read the Last Two Months (and Quick Thoughts)
Free of Me: Why Life Is Better When It's Not about You by Sharon Hodde Miller – Truly enjoyed this one which focuses more on letting go of a me-centered focus and understand how self-focus impacts other areas of our life. (5/5 rating)
The Kremlin Conspiracy by Joel Rosenberg – I've enjoyed past series by Rosenberg and am interested to see where he takes this series. Several of his past political thrillers have centered around the Middle East, and this new series focuses on Russia and North Korea, so it definitely holds some intrigue. (4.5/5 rating)
An Hour Unspent by Roseanna White – Another book that swept me up last month – and I made myself hold off on reading it until I knew I could savor it! This was the last book in a 3 book series by White and wrapped things up rather wonderfully. Each of the books in the series can be read independently, although I definitely recommend reading all three. (5/5 rating)
Below are a few others read:
You can follow along with me via the Goodreads app where I share my reviews and additional thoughts. What have YOU been reading this month?