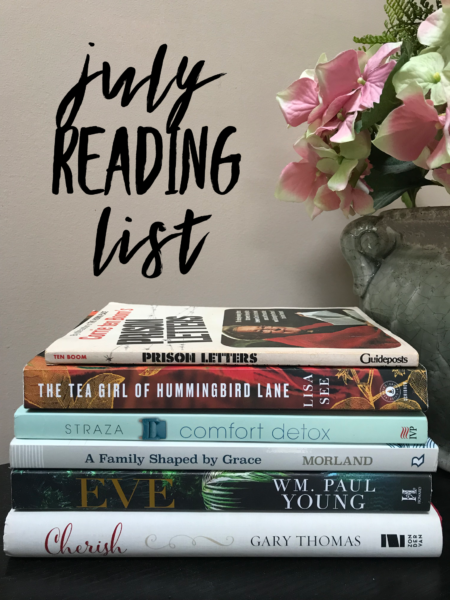 It's been a bit since I've shared what's in my reading pile. Sitting by the poolside in the summer is often one of my favorite times to get some light recreational reading. Focusing on anything that requires more brain power is hard with the kids running (well, walking…) around and wanting to spend time chatting with friends.
My bag was full of books to read on our trip overseas, but we were fairly busy during our time there, so I didn't read as much as I expected, especially since the kids were with me on the plane. I have read a few great books lately (see below) and have a few I'd like to finish up as well.
My 2018 Reading List has had several books added to it. I'm still slowly working through the books I wanted to initially read, but there have been some newly released books I immediately added to my "must read" pile. So technically, I'm doing well! I absolutely LOVED both Just Open the Door and Raising World Changers. Both books offer much discussion around the dinner table and their focus is right where my heart is at the moment.
Feed readers can click here to see my books for July.
Prison Letters by Corrie ten Boom
The Tea Girl of Hummingbird Lane by Lisa See
Comfort Detox by Straza
A Family Shaped by Grace by Morland
Eve by Wm Paul Young
Cherish By Gary Thomas
So far, Comfort Detox has giving me some great "thinking points" on what I turn to when things get tough. I'm also determined to get through Cherish this month – it's good, but I keep leaving it all over the place and forget about it!
What I Read the Last Few Months (and Quick Thoughts)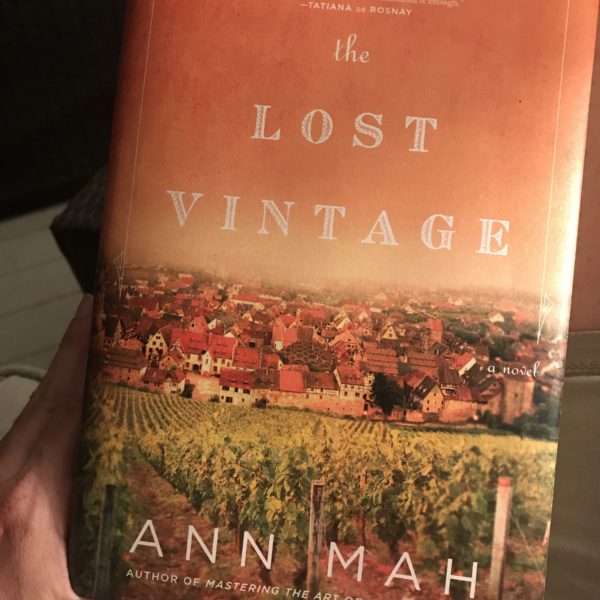 The Lost Vintage – A friend handed this off to me as some poolside reading, and I finished it in about 24 hours. For me, that's a great read. :) Lately I have been loving books that flip between present/past and intertwine the stories of a present day family with the past – and keep you guessing until the end. This story follows a present day wine maker in France and had flashbacks to their family during WW2 and the secrets that have been hiding for over sixty years with their involvement in the war – both good and bad. (5/5 rating)
The Life-Giving Parent – Another great book from the Clarkson family. This one is written more by Clay Clarkson, but offers some great wisdom for parents. (5/5 rating)
Just Open the Door – So many words of encouragement and gentle nudges to help us get over our fears of inviting others into our spaces and sharing the gift of hospitality. It doesn't have to be a scary and overwhelming thing! Jen shares practical insights, each chapter is full of heartfelt advice and ways to "elevate the ordinary" in our hosting adventures. I love that it is chocked full of honest looks into their family (mistakes and laughter), making it relatable and do-able. So many great ideas and ear-marked pages and inspiration to invite others in. (5/5 rating)
Raising World Changers – One of the things I love most about Kristen's writing is she doesn't shy away from sharing about the struggles that exist in situations – she is real. Authentic. Something I struggle with (and many other families do as well) is finding that balance in protecting/sheltering our kids and preparing our kids to do GREAT things – and be in situations that are tough. At times that means going against the "norm" in making a difference. Throughout the book, Welch offers practical advice and activities for family members to get started serving (and get out of your comfort zone) to make changes in the world around you. The books doesn't leave you with an overwhelming feeling of judgement, but rather inspiration. Raising World Changers is a book that will leave you mulling thoughts, revisiting passages, underlining a lot, but most importantly – raising world changers. (5/5 rating)
Also read the following:
The Hiding Place – Corrie ten Book (5/5 rating – I cried)
The Lost Girl of Astor Street (4/5 rating)
On Mystic Lake – (4.5/5 rating)
Giver of Wonders by Roseanna White- (5/5 rating)
The Weaver's Daughter by Sarah Ladd – not my favorite by her by far. Actually a bit disappointing since I have loved her other work. (3/5 rating)
The Summer Before the War – a new to me author (not Christian), but fairly clean and sweet (4/5 rating)
You can follow along with me via the Goodreads app where I share my reviews and additional thoughts. What have YOU been reading this month?