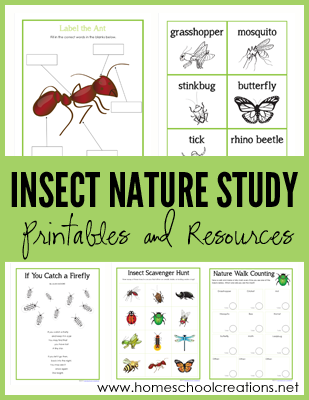 Spring is almost officially here – and that means lots of beautiful weather to enjoy nature walks and exploring of the various insects we come across. While bugs aren't always a favorite of mine (I'd much rather be looking at birds, thank you very much), they all still have a purpose. Except for stinkbugs. I don't know what their purpose is…
If you have kiddos in your house that are willing to search and discover different bugs and have some learning fun, head out doors and get up-close and personal while using these go-along printables!
What insects do you see frequently in your area? Are there any that you get excited to see (or is it better to say scream over)?
Insect Nature Study Printables

The Insect Nature Study Printables include the following:
Nature walk counting sheet – mark a tally every time you see one of the insects on the sheet
Backyard Insect counting – mark a tally when you see an insect in your yard
Insect scavenger hunt – for younger children, take this scavenger hunt sheet on a nature walk or when sitting outside
Blank insect observation sheet – record data and information on insects you find
Label the parts of an ant
Story writing prompt – write a short story using four of the words provided
Firefly poem and coloring page
Fact and coloring cards – color the image and write facts you know on the back

Interested in the Extended Insect Nature Study Pack?
Interested in a larger set of the Insect Nature Study Printables? There is an extended pack with additional labeling sheets (for ant, dragonfly, and bee) as well as individual observation sheets for the following insects: ant, bee, dragonfly, firefly, fly, grasshopper, ladybug, luna moth, monarch butterfly, mosquito, rhino beetle, scarab beetle, stinkbug, and tick.
Additional Learning Ideas and Inspiration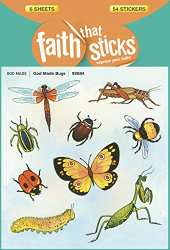 The inspiration for this pack initially came from Tyndale's Faith That Sticks insect pack and my past Bird Nature Study Printables pack. The stickers feature nine different insects (several that are focused on in this nature study pack (along with a MANY others) and will be a fun addition to your nature study.
Here are a few things you can do with the stickers. There are six sticker sheets in the set, so plenty to use for a few of the following ideas including:
· Using two sheets to create a matching game. Simply cut 18 3×3 squares of cardstock and put a sticker on each piece. Then have fun matching them up.
· Use the stickers as a guide and have your child sketch their own image of the bird. These stickers have some great colors that are eye-catching!
· Write a story using the stickers. Have your child write their own story picking 2 or 3 of the stickers or have them dictate one to you.
· Make some fun spring cards using the beautiful birds and let your child create a 'scene' to put the birds into!
· For older children, put each of the 9 stickers onto a 3×3 cardstock square and let them practice alphabetizing the birds.
· Make popsicle stick puppets with each of the bird stickers.
· Create a simple windsock and use the stickers to decorate. The stickers are light enough that they won't add extra weight to the windsock.
· Make a fun bracelet with a few of the stickers and wear it on a nature walk. See what birds you find as you walk along!
Learning About Insects: Further Resources
Don't miss these additional printables and helps for your insect nature study!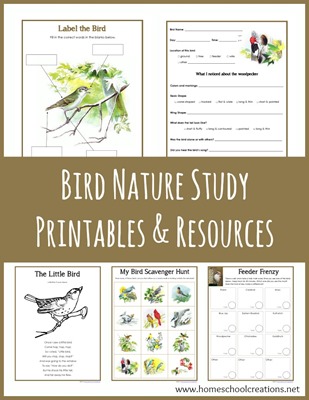 Like this pack? Don't miss the Bird Nature Study Printables found HERE.