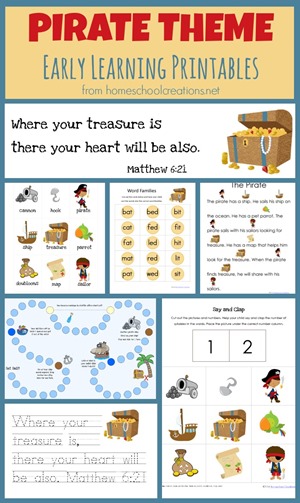 A few years ago I shared a pirate theme lapbook that we used with our oldest son and it was recently updated to include more printables! Of course, I figured you all might enjoy the chance to use it too!
Rather than a lapbook style, the Pirate Theme Early Learning Printables pack includes some of the familiar favorites: vocabulary cards, a story sheet, verses, beginning letter sounds as well as a few 'new' printables that don't fit in pockets: mazes, tracer pages, and more.
Download the Pirate Early Learning Printables HERE!
Fun Pirate Reading Adventures
Pirate Lapbook
The original Pirate Lapbook is still available to download as well, and includes a few extra printables that are not a part of the expanded Pirate Pack.
Enjoy!