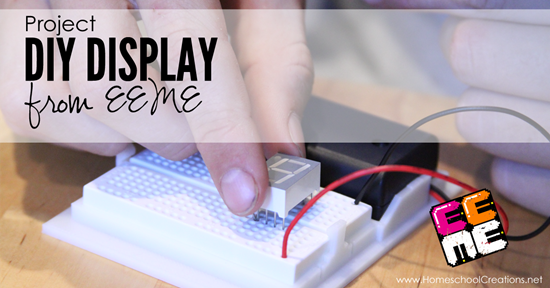 Zachary has been having far too much fun getting his fingers working on electronic projects from EEME. After working on the Project Genius Light recently, he was more than ready to jump into a new project and see what he could create with circuitry! When that little brown box showed up, it was immediately on his desk and he was ready to start! He is definitely our build and create boy, and any STEM project something he is more than happy to focus on (if only we could bottle that attention for other subjects too – grins).
EEME has been blog sponsor for the last several months and sent us the Project DIY Display (ages 7-12) to work on together. When I say 'together' that roughly translates to me observing Zachary as he creates the project himself and explains the different concepts to me. It has been the perfect 'hands-off' for me, but opportunity to watch him learn.
Project DIY Display

The DIY Display project focuses on segmented LEDs. Remember the scoreboards way back in the day (maybe I'm dating myself talking about our high school scoreboard)? In this project, kids learn how to wire their own switch panel and make numbers display on a mini board. Project build time is approximately 1.5 to 2.5 hours and 38 short lessons or modules.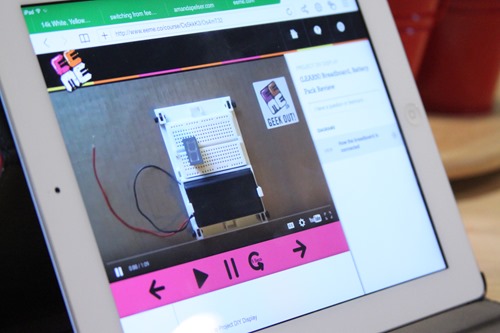 We used the iPad this time to work through the free instructional videos and Zachary took a little over 1.5 hours to complete this project. He's not one to get up and leave it alone, so once he started, he was on a mission to get it finished and working.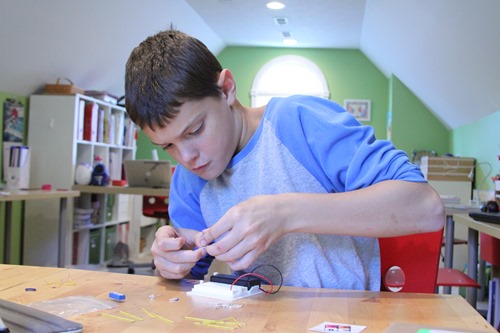 Compared to his last EEME project, I was able to sit back this time and observe while Zachary worked. If he had any questions or needed help with something, he just asked. At one point he needed a wire stripped (he may have broken one), so I helped with that and he was back working in just a few minutes.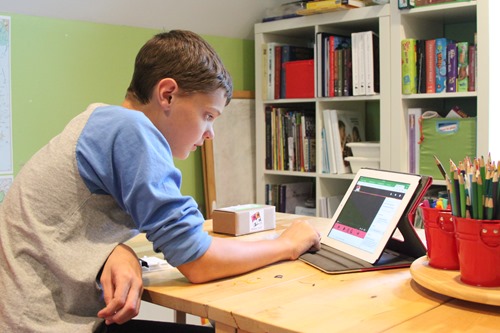 He answered comprehension questions in between the short instructional clips – a huge help to see how much kids are understanding. Some of the questions he answered verbally rather than typing in his longer answers.
Inside an EEME Kit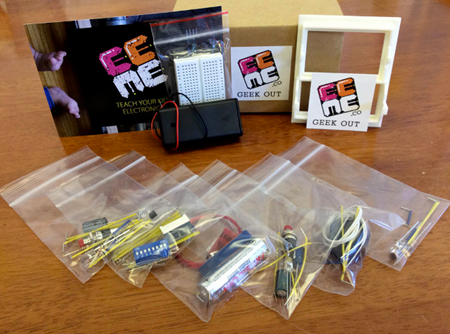 Unfortunately Zachary was well into building his kit before I realized that we didn't have a picture of what came in it this time! However, each of the EEME project kits contains all of the components needed to build the monthly project.
Our first kit (or the first month in the subscription) contained a project kit with all the base pieces need to build that project. Future projects are built using those components as well:  a baseplate, breadboard, and a battery pack. These pieces are reusable. Our kit for the DIY Display included additional components that were necessary to complete this specific project. All curriculum is online and your children can watch and re-watch the videos at anytime.
Projects build in difficulty and are geared for children ages 7-12.  If you have an electronics lover in your home, this is a great monthly subscription plan to teach them more about LED's, resistors, transistors, capcitors, and much more! If those words are all foreign to you, don't worry – EEME explains everything in the lessons and you don't have to be a whiz at electronics for your children to succeed in building and understanding!
If you don't want to wait for the once a month shipment, you can take advantage of their 6 month project bundle HERE and receive free shipping as well.
How the DIY Display Works
Here's a quick little peek at our completed Project DIY Display from EEME. It's a short clip, but shows it in action…
Finished the switch panel from @projecteeme – here's a quick peek at how it works. Depending on which number is flipped on the switch panel, Zachary can make different numbers light up. This project used the base from our Project Genius activity last month. #projecteeme #Homeschool #hsscience #science

Posted by Homeschool Creations on Tuesday, 15 September 2015
Feed readers can watch the video here.
When each switch is toggled on, there is a closed circuit allowing current to flow from one end of the battery to the other end. When toggled off, the circuit is opened and the segment is turned off (or the current cannot flow). Each of the switches is wired so you can toggle them on and off with other switches to create different numbers.
What You'll LOVE About EEME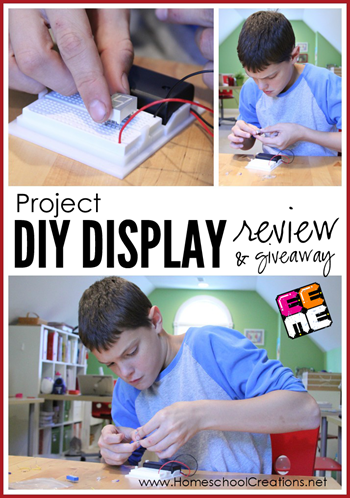 Aside from the fact that all the supplies are included in each of the EEME project kits, the video curriculum is well put together and explain the building process in detail. Each of the videos is between 2 – 10 minutes long. In addition:
videos explain the step-by-step process AND the principles involved (how/why something works) – a huge help for parents who don't know the answers themselves (cough)

shorter videos help those with limited attention spans

comprehension questions ensure kids are understanding what you are doing

videos can be stopped/paused if needed during the process
We have honestly LOVED these projects from EEME. It has been the perfect fit for Zachary to work on independently. The projects would be wonderful extensions to current curriculum or even as after school learning – or even make a great gift! We've learned so much working through two projects already.
There are different purchase options available, including a basic monthly subscription, individual projects, and a 6 month Project Set. They have different purchase options, but we've completed the first two projects so far from the basic subscription basic subscription.  You can find more information on the EEME website, or follow them on Facebook, Pinterest, Instagram, or Twitter.
Win a Project Light Link from EEME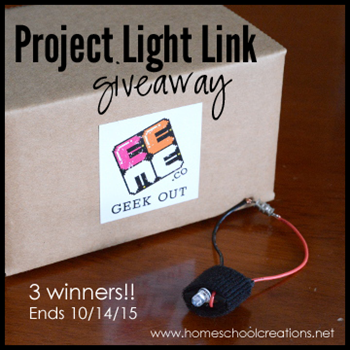 EEME has offered Project Light Link as a giveaway to THREE of my readers! Project Light Link is the best way to get acquainted with EEME's hands-on building and learning experience. This giveaway is open to US readers only and will be open through Wednesday, October 14th at midnight. Use the Rafflecopter widget below to enter!

But I'd love to know – what age is the child you would like to use EEME with and learn about electronics? Leave a comment below!