Helping our kids have a deep understanding of what the science, technological, electronics, and math (STEM) principals are behind various technology is so important in life! If you are one that isn't familiar with circuitry, but have a child who is – read on, because your children will LOVE the projects and lessons we've been covering recently.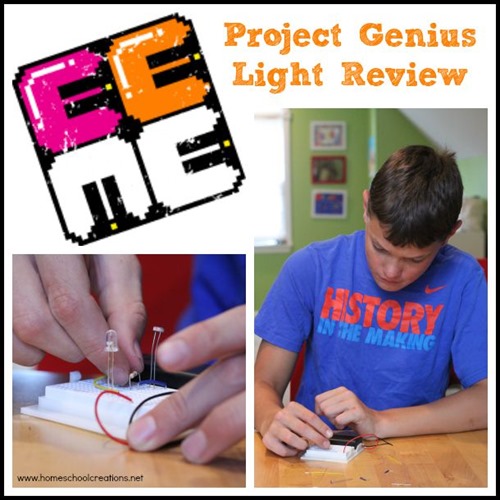 Zachary is our hands-on, loves to learn about electronics kid. He is constantly trying to figure out how things work, sometimes to the detriment of things in our household. Note: That doesn't mean I'm always happy when he tries to 'fix, aka mangle' something.
The Project Genius Light from EEME
EEME offered us the chance to work on the Project Genius Light (for kids ages 7-12), an LED circuit board that teaches kids about electronics in a meaningful and engaging way. Can you guess who was excited about helping out? From the moment the box arrived in our house, Zachary was ready to start.
Here's a look at the Genius Light project:
With the Genius Light project, you will assemble a simple LED circuit system that does the smart thing – lights up when it is dark and dims when it is light. (30 lessons)

Your family will learn about:
– LED light bulbs
– Resistors
– Photoresistors
– Breadboards
– Project build time: 1.5 – 2.5 hours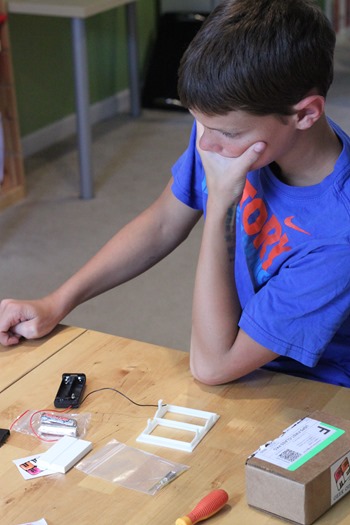 I'll be honest and tell you – I was a little hesitant on pulling it out for Zachary though and put it off to the side for a bit because I didn't want him to get started and then forget about it or get distracted. But then I forgot and the box got pushed aside until he found it and held the box in front of me every day until I opened up the laptop to have him watch the free instructional videos and let him work on the project.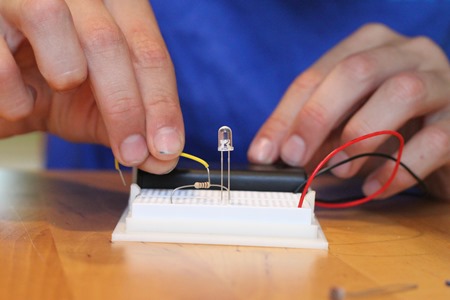 Although he wanted to work on it by himself, I hung around in case he needed any help. Sometimes he can get ahead of himself and want to do the lessons out of order. For the most part, I tried to stay out of what he was doing and he quickly figured out that the lessons are in an order for a reason. As he began going through the lessons and tried to skip ahead, he went back and picked up where he should have followed along.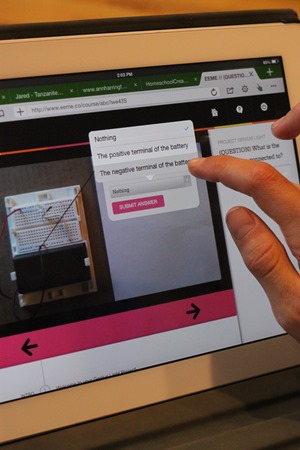 In between the short video clips on the projects, there were comprehension questions to answer so I was able to see how much Zachary was understanding. Rather than having him try to type in the longer answers, he gave me an oral answer (we were watching via the iPad and it was much harder to type answers on for him).
RSS Feed subscribers can click here to watch the video
Overall, the videos, lessons, and building took us a little over an hour to complete (allotted time is 1.5 to 2.5 hours). Above is a video clip of Zachary explaining one of the circuits he built and why/how it worked. I may have learned a few new terms and things about circuits in the process!
What is in an EEME project kit?
Each of the EEME project kits contains all of the components needed to build the monthly project. The first month you receive a project kit with all of the base pieces you will need to build future projects on, including a baseplate, breadboard, and a battery pack. These pieces are reusable. All curriculum is online and your children can watch and re-watch the videos at anytime.
Projects build in difficulty and on what children are learning and are geared for children ages 7-12. And psst – they have a 100% satisfaction guarantee. If you have an electronics lover in your home, this is a great monthly subscription plan to teach them more about LED's, resistors, transistors, capcitors, and much more! If those words are all foreign to you, don't worry – they explain everything and you may learn a thing or two before your child is done.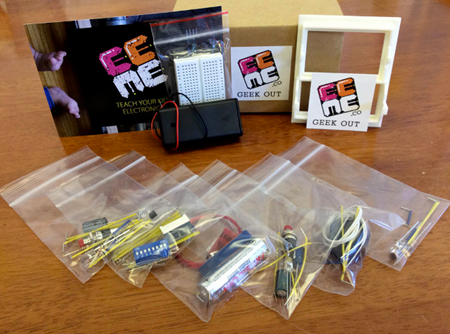 If you don't want to wait for the once a month shipment, you can take advantage of their 6 month project bundle HERE and receive free shipping as well.
What I Love About EEME
The videos from the EEME project kits are well put together and explain the building process well. Each of the videos is between 2 – 10 minutes long. In addition:
videos explain the step-by-step process AND the principles involved (how/why something works)

the shorter videos help those with limited attention spans

comprehension questions ensure kids are understanding what you are doing

you can stop/pause a project if needed during the process

if the words LED, resistor, transistor, and capcitor are foreign to you, don't worry – they do all the teaching!
Try a FREE Project from EEME.co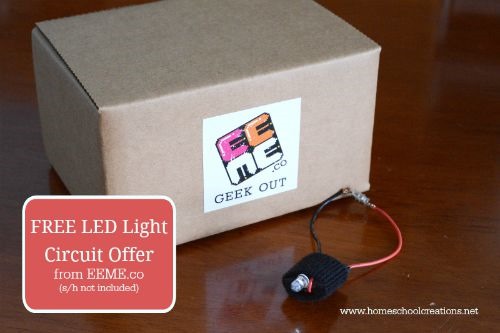 EEME has a FREE LED light circuit introductory offer for readers of Homeschool Creations. Build an LED light circuit and learn how it works with Project Light Link and the online curriculum. The project comes with everything you need to start building – batteries, wires, etc… This is normally $14.95, and all you have to pay is s/h for the project. Click HERE to get your FREE kit from EEME.
Win a Project Genius Light from EEME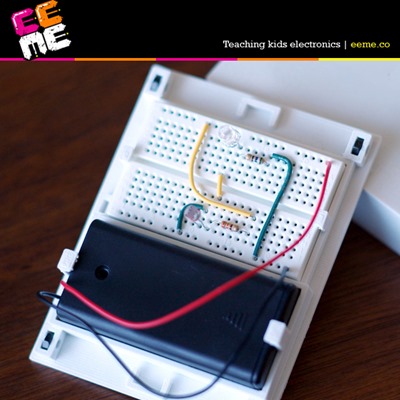 EEME has offered a Project Genius Light as a giveaway to one of my readers (a $49.95 value)! This giveaway is open to US readers only and will be open through Wednesday, August 12th at midnight. EEME is hosting this giveaway, so click below to enter!
But I'd love to know – what age is the child you would like to use EEME with and learn about electronics? Leave a comment below!