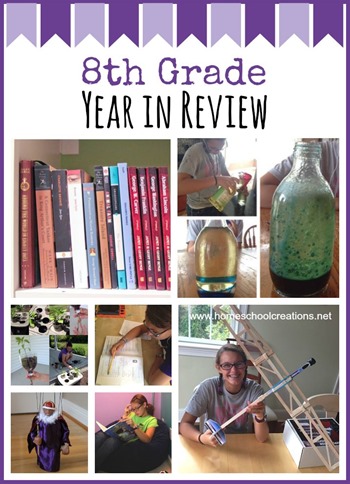 Laurianna's eighth grade year was enough to make me break out in a cold sweat. Seriously. Somehow the start of last year really had me realizing that every little thing mattered. We were on the verge of HIGH SCHOOL, deciding if she would be taking high school credits and the panic set in.
The bulk of Laurianna's work was independent, although there were several classes that we did in a co-op setting, because we have some fabulous friends and it was much fun interacting with a few other high schoolers (and commiserating together on their science or literature woes). Laurianna is very dedicated and responsible in managing her time, so although we had talked about what programs she would use, she put together her own schedule for the weeks and years. There were a few times we had to review her plans and reorganize things, but otherwise we met weekly to go through her work, correct papers, and look at what was coming up next.
You can see all of our 8th grade homeschool curriculum choices for the 2014-15 year here, but below you'll get a good look at what we used for Laurianna's eighth grade year and what we will be continuing on with in the upcoming year.
Geography
The plan: North Star Geography (1 credit) and Wondermaps
Email subscriber can click here to watch the video clip.
Hands-down, North Star Geography from Bright Ideas Press was the BEST addition to our curriculum and Laurianna's workload. If there was one thing I heard constantly, it was how much she absolutely loved the program and it was her favorite. She earned a full credit for the program, and I rather loved the grading sheet that was a part of the program (and did all the computing for me).
There were many hands-on projects that Laurianna worked on throughout the year, and I hope to share her hydroponics project with you all soon. Between mapping, learning country facts, and the well-laid out program, it was a definite win for our year.
Science
Physical Science from Exploration Education (1 credit), The Fossil Book and The Cave Book from Masterbooks (1/2 credit)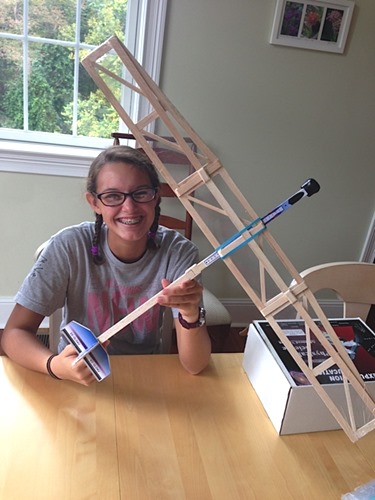 Science was one subject that we worked on with a very small co-op this year (four kids). One of the moms took on the weekly teaching and the kids were responsible for the reading assignments during the week and working on their lab projects (these varied from building a glider, a miniature house, solar-powered fan, or other projects). The kids each brought their assignments during the co-op meeting and ran additional experiments together and had their lab booklets checked out as well.  Overall, Laurianna really enjoyed the program, especially the hands-on projects.
Her second semester she started working on the two Masterbook science classes for a total of 1/2 credit. Both of these books are counting toward her elective classes.
Literature
Introduction to Literature (1 credit)
Literature was another class that we opted to work on together in our small co-op. This was the class that I taught and having the small group worked very well. Each week we spent time talking about various writing techniques and reviewing the most recent assignments together. Writing is one area that is so important because it covers so many different aspects of life and will follow the kids wherever they go! This year we focused on putting together a strong essay (see the fun hamburger essay outline that Laurianna drew for herself and friends).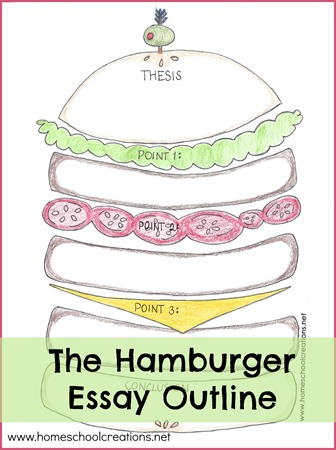 Next year we will be working through the next book in this literature series. We read some fabulous books together (see Laurianna's reading list here) and at the end of each unit we watched a movie version of the book to compare/contrast if it followed the book or completely digressed (more often then not it was the latter – but it was still fun).
The best part in working with the small group was the opportunity to work on peer reviews and share different writing styles with each other. Having someone else read, edit, and review your papers can be very intimidating, but the kids all handled it so well.
It is also here that I remembered why I though teaching high school English was not the direction I wanted to head. While I love many of the aspects of the class, having four papers to grade each week was crazy enough and I cannot even imagine having a crazy amount of papers to review each day/week.
My only 'complaint' with the program was the not-so-clear-cut grading scale/rubric. For my sanity I ended up creating a grading rubric for each type of paper, along with checklists for the kids to review before handing papers in. These were similar in style to the ones that I was familiar with from WriteShop, giving the kids and parents a clear idea of what was expected and how they could improve papers.
Grammar & Spelling
Easy Grammar 180 Daily Teaching Lessons, All About Spelling Levels 6 & 7
This was a fairly 'light' area for Laurianna this year. The Easy Grammar lessons were overall review for her, and we did spelling lessons sporadically throughout the year. She is a very proficient speller and we will finish up level 7 with her next year.
Math
Algebra 1 from Saxon Math (1 credit)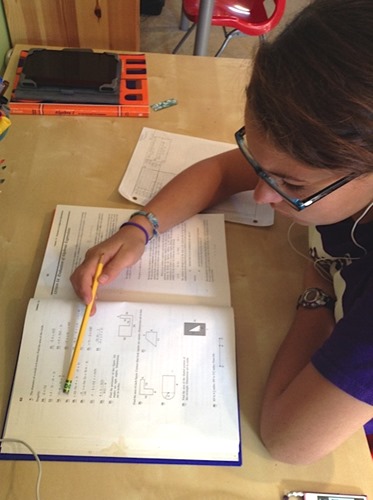 Algebra is probably one of Laurianna's least favorite subjects overall. She is still muddling through two tests and reviewing some of the material – it just isn't her favorite area. While she didn't struggle completely, it was the subject that took her the longest to complete each day and made her eyes want to gloss over.
Next year she is still debating on using Saxon for Algebra 2 or moving back to Teaching Textbooks. The main reason for the switch to Saxon was one of her friends was using Saxon, so she wanted to as well. We'll have to decide in the next bit, but fortunately have both on hand just in case.
Elective
Greek Myths from Memoria Press (1/2 credit)
Laurianna really enjoyed reading the Percy Jackson series, so she thought that Greek Myths would be along the same lines. It wasn't quite what she expected and while it started out okay, she now wishes she would have chosen something else as a 1/2 credit elective. (grins) She did finish the class during her first semester and earned the 1/2 credit, but has mentioned to her younger sister that it might not be the best option for her. Overall a good lesson in perseverance and finishing what we start.
Foreign Language
Spanish Tell Me More program (1 credit)
We didn't quite get the first year finished and had a glitch in our software. When the program was initially purchased, Tell Me More was their own company, but they were bought out by Rosetta Stone. Trying to figure out how to get past our glitch was put on the back burner since we weren't sure where to go for customer service. Fortunately, because we started it her 8th grade year, we have a little bit of wiggle room and will finish it up and move on to year 2 shortly.
Vocabulary
Dynamic Literacy Word Build Elements
Although we intended for Laurianna to work on this, we ended up shelving it because she was working on so much with literature and Daily Grams.
History
Mystery of History 4 combined with Story of the World 4 (see below); Liberty Kids dvd series
Laurianna worked primarily on taking good notes this year and getting ready for an independent class next year. She took the quizzes to go along with the class as well but decided to skip the coloring pages (grins).
Bible
Picture Smart Bible – wrapping up our Old Testament Studies and 90 Devotions for Kids – morning devotions
The Picture Smart Bible coloring pages were something Laurianna enjoyed, although our switch back to Grapevine Studies was her favorite study overall.
Co-op
PE, Art, and other electives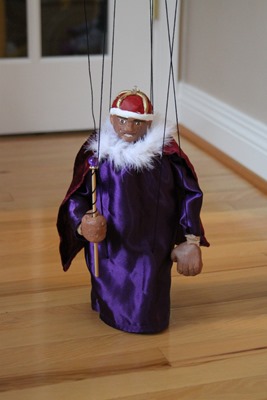 The other co-op we were a part of included an art class that Laurianna really enjoyed. This year they worked on creating marionettes and decided to make characters from the book of Esther. When they were finished, they helped sew the costumes, created scene backdrops, wrote a play, and put on a 15 minute presentation for the co-op.
Click the images below to see our 2nd Grade Year in Review,  4th Grade Year in Review, and 6th Grade Year in Review. Stick around too – I'll be sharing our curriculum choices for the upcoming school year soon!
| | | |
| --- | --- | --- |
| | | |
New to Homeschooling?
If you are new to homeschooling and aren't sure where to begin in choosing homeschool curriculum, please don't let this post overwhelm you! Here are a few posts that you might find helpful as you discover what is best for your family. Be sure to check out the entire Homeschool Basics series for answers to more frequently asked homeschool questions.
Additional Resources: Unfamiliar with some of the curriculum choices above? Follow the links below to learn more about the companies and resources:
Curriculum Choices from Years Past…
If you'd like to see what curriculum we've used in years past, click on one of the posts below. Grade levels taught each year are listed with the posts.
2013-2014 Curriculum Choices – grades 1, 3/4, 5/6, and 7
2012-2013 Curriculum Choices – grades K, 3, 4/5, and 6
2011-2012 Curriculum Choices – grades PreK, 2, 4, and 5
2010-2011 Curriculum Choices – grades PreK, 1, 3, and 4
2009-2010 Curriculum Choices – grades K, 2, and 3