It's hard to believe, but we are already getting close to finishing our first six weeks. Not because I'm looking at the calendar, mind you. A friend had to remind me of that!
The last few weeks since I share our first two weeks of homeschool update – well, we've been busy! In addition to our regular homeschool time, starting up with both of our co-ops, and swim team practice most weeknights, we also took a trip to Florida for the Family Forward event at Universal Studios.
Needless to say, there is a lot to share with you all, so I'll try to highlight all the best stuff from the last (almost) four weeks. I've been trying to post on Instagram as often as I can, but I have a love/hate relationship with having my phone in the schoolroom. Trying NOT to get sucked in and distracted by different apps can be so very hard, but it is also fun to share what is happening as it happens.
LOTS of Family Time in Florida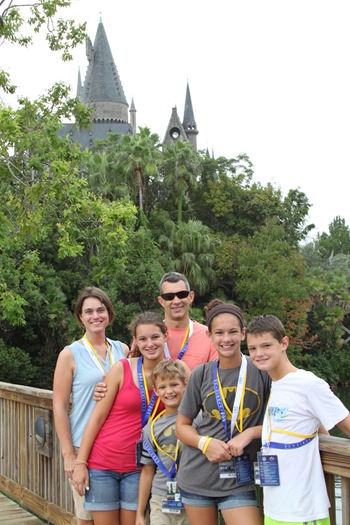 We were at Universal  from Thursday through Monday and had an absolute blast. It was partly a conference, but the kids were so excited because they were able to be with me the entire time. Workshops were geared toward the kids, we enjoyed some special perks (like a nighttime visit to Hogsmeade with a dessert smorgasboard), a special VIP tour, and we rode practically every roller coaster at both parks (again and again). I'll admit I have a hard time with the 3D rides though. Our favorite ride was definitely the Hulk, and we spent more time in Diagon Alley and Hogsmeade than anywhere else – they were both absolutely amazing. Between butterbeer (a cream soda and butterscotch flavored drink) and the candy shops, we were on a sugar high much of the weekend!
A highlight was watching the kids jump right in and make NEW friends quickly. We spent our last day at the park with two other families – the adults chatting while the kids ran around and rode their favorite rides. Just wonderful.
Extracting DNA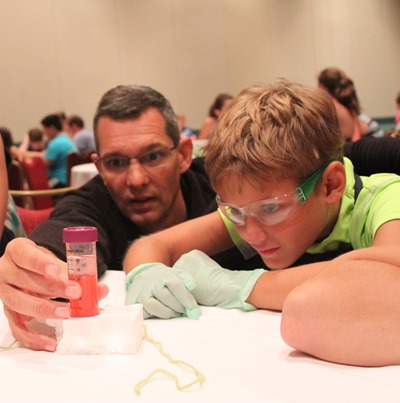 Rick and Kaleb had fun working on a DNA science project while we were in Florida as well. Kaleb helped separate a strawberry's DNA. It was funny because the actual DNA clump looked a whole lot like something that might come out of your nose.
Another Electronic Project
Zachary has been having a BLAST building with EEME. His most recent project was a switch panel (we'll be sharing more on it next week), but above is  a quick peek at what he did.
Dictionary Skill Learning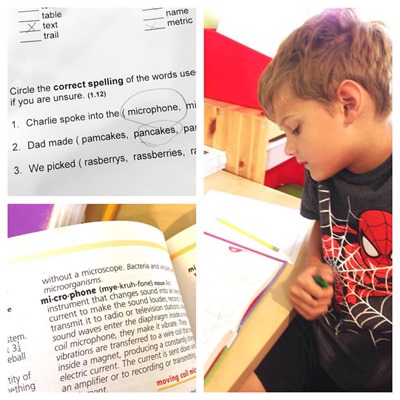 One of the things Kaleb has been working on during his grammar time is finding things in the dictionary, either by saying if a word will be on a page between two key words, or looking up the correct spelling of a word when given three choices. I have to say it's nice using a good old-fashioned dictionary.
Learning How the Earth Rotates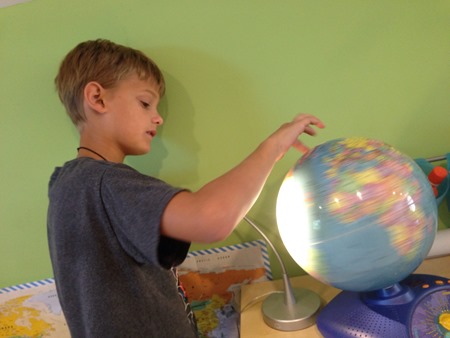 During our science time, we've been talking about the rotation of the earth. We pulled out our desk lamp and the globe to show how day and night work based on the earth's rotation. Spinning it repeatedly is just a bonus.
Group Subjects…Finally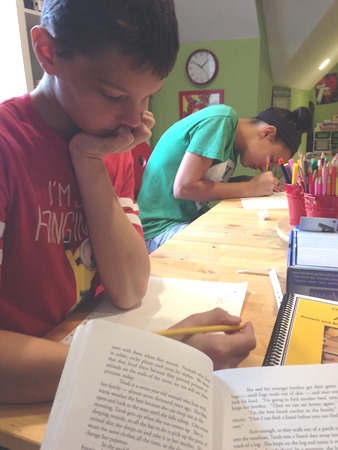 We waited a few weeks and eased into our group subjects last. History and Bible were the last two that were added in. It's a little strange not having Laurianna at the table with us this year though (sniff). While we work together on our group subjects (vocabulary, history, and Bible), she is working on her own schoolwork.
History Galore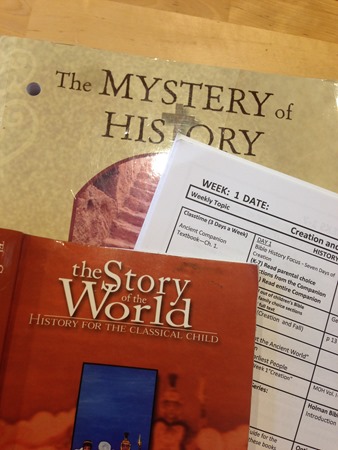 This year we are combining two programs together (Mystery of History 1 and Story of the World 1) using Biblioplan Ancients Family Guide. Several of you have asked how we are doing that – and I promise I will share soon! We did this some last year and are really enjoying this approach so far. We love both programs and each offers a different style, so it makes it more fun.
Hands-on History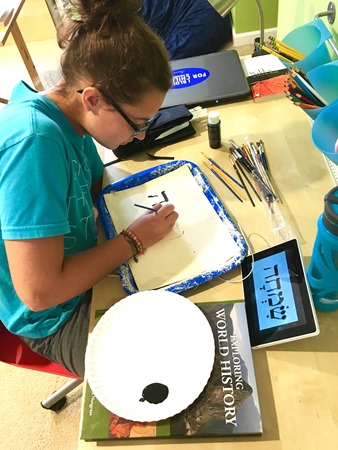 Laurianna is 100% in love with Exploring World History from Notgrass. The hands-on projects are something she is having so much fun with (and she is learning a lot history-wise as well). Above she is working on a project from unit 5 and painting a picture of how the Israelites felt after receiving the Law. She chose to make the Hebrew word for 'joy' and is making her paper look like parchment.
Chalk Pastels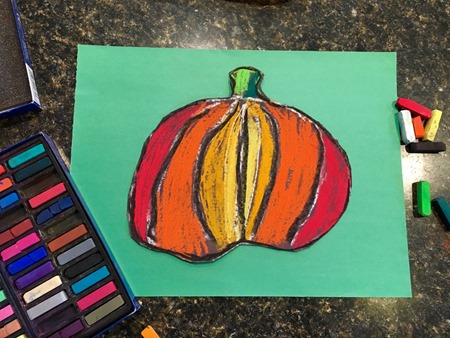 Kaleb is getting back into his art projects now too with Home Art Studio. The walls of our classroom are needing some color as well! His project prompted the rest of us to work on some art as well – I love that!
A Messy Desk is the Sign of…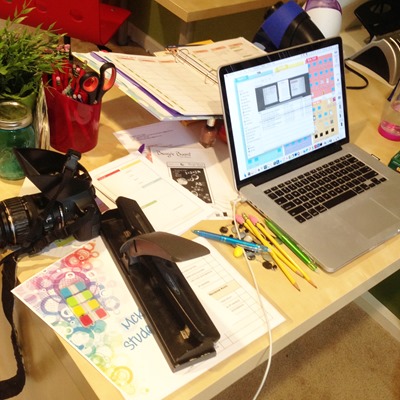 Typically my computer stays out of the classroom, but lately there have been a few things that needed to be transferred to Kindles for the girls or re-printed because I managed to miss something. But the above was enough to about drive me crazy. A messy desk makes me just want to stop everything and fix it and pushes me to distraction.
Mind you, after taking a picture, I had to take five minutes and just clean it off.
A Little Spielgaben Fun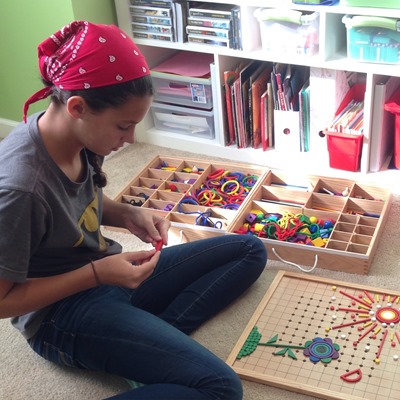 Our Spielgaben set is typically used by Kaleb for hands on math or to work on some fun projects, but McKenna is one that I find often like this – designing something fun with the manipulatives. Just makes me smile. Her final creation was so detailed!
Enjoying Co-op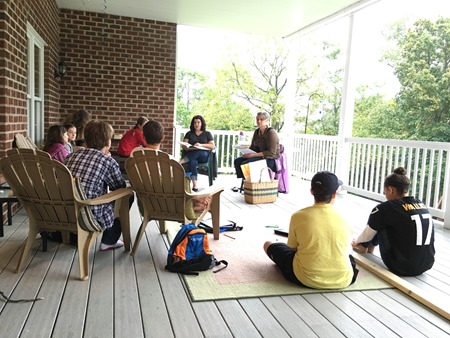 We are back in the swing of co-op now and our kids (especially McKenna and Zachary) are so excited about their two classes. This year we carved out space for a middle school group and they are working on Mad Scientists Club and a judicial class. Both have been a blast so far.
Egg-speriments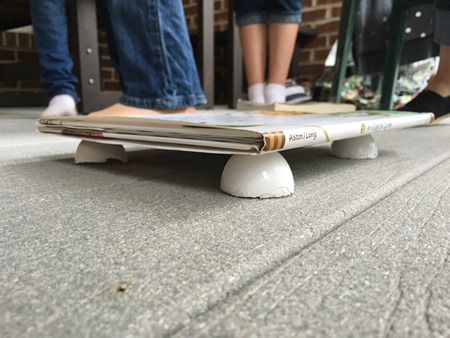 To go along with the story, The Big Egg, they read this week from Mad Scientists' Club, the kids tried some fun experiments with eggs. Using just half shells, they put them down to see how much weight four half shells would support.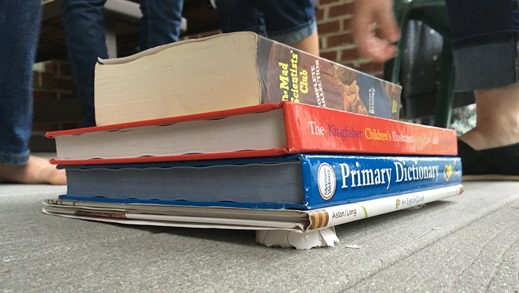 The managed to get three books on, but when they added the hefty Mad Scientists' Club book, the cracking started. We have a few more experiments going on at home too that we'll have to share with you all – we're just having too much fun trying different things.
Fun with Life of Fred Readers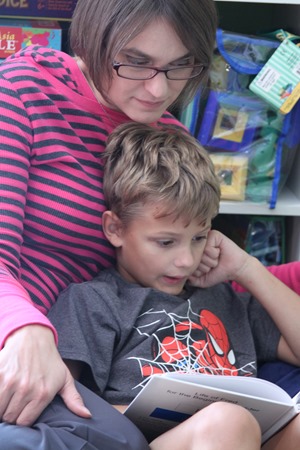 Earlier this week I shared our thoughts on the Life of Fred beginning readers that Kaleb has been using along with his reading program. If you haven't seen the post, don't miss it (there's a giveaway and an additional 10% off coupon!!). Kaleb is a hesitant reader, but every day he pulls out several of these to read to me. And the laughter begins. It has been so wonderful hearing his giggles and to see the LIFE being infused into this little boy all due to the pages of a few readers. (The readers are so silly and fun!!)
That's the abbreviated version of the last four weeks. How is your homeschool time going?
Our family attended Family Forward at a discounted rate as a part of a family social media conference. All opinions expressed in this post are solely mine. I was not compensated for my time or post.