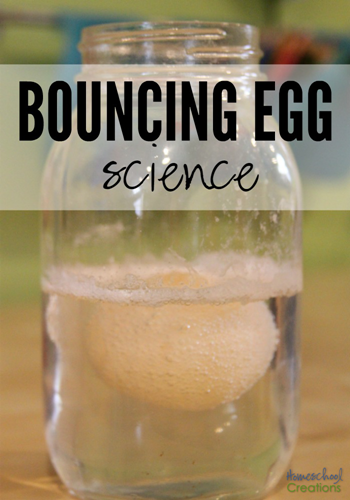 Before you go and think I'm crazy nuts, our bouncing egg science experiment involved a safe acid (grins). Zachary has loved all the hands-on projects to go along with his Christian Kids Explore Chemistry this year, and this one to see how acid interacts with calcium carbonate was no different.
That said – it was super easy to pull together and one that every family should do (did I mention it was easy?). Aside from learning about chemical reactions, what's not to love about an egg that can bounce?!
Bouncing Egg Science Experiment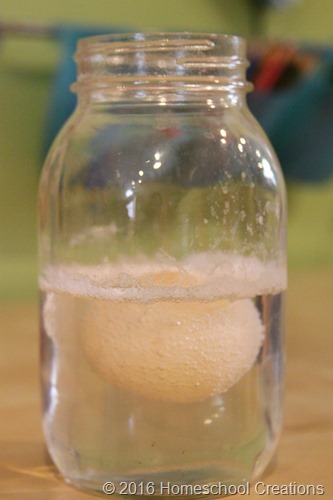 The main purpose of this experiment was to test the reaction of a weak acid (white vinegar) with calcium carbonate (CaCO3 – an eggshell). If you'd like to try this at home, you only need a few items:
Here's the quick science explanation:

An egg shell is made up of calcium carbonate, so when the egg is soaked in vinegar (about 4% acetic acid) a chemical reaction begins. Carbon dioxide is released (the bubbles you see on the shell) as the vinegar begins to dissolve the shell. The membrane of the egg will remain (the rubbery part of the egg).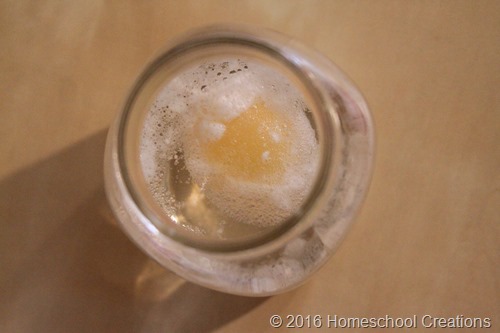 The egg was supposed to soak for 24 hours and then observations were to be tracked. Ours ended up soaking a bit longer (as in four days) because it stayed in the schoolroom over the weekend and we completely forgot out it. It was a lovely stink come Monday morning. (grins)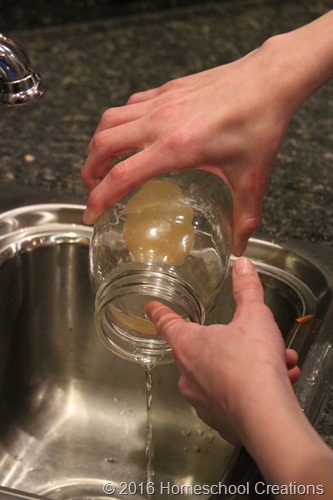 The vinegar was carefully drained from the egg and GENTLY rinsed off under clean water. (May I stress gently again?)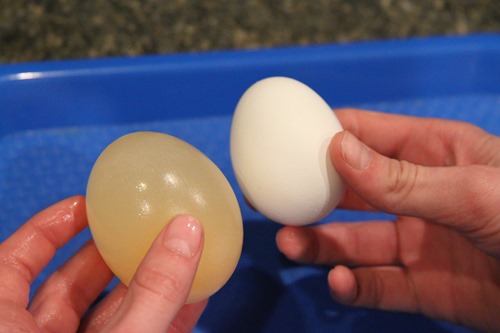 We pulled out another raw egg to compare and contrast to our experiment. The egg that had been soaked felt completely rubbery and could be gently squeezed (again with the gentle). The entire shell had dissolved thanks to the chemical reaction with the vinegar.
Size-wise there was a significant difference as well. When the egg soaked in the vinegar, some of the vinegar and water in the vinegar moved through the membranes of the egg and into the egg. Egg membranes are semi-permeable so water can move through them (an example of osmosis).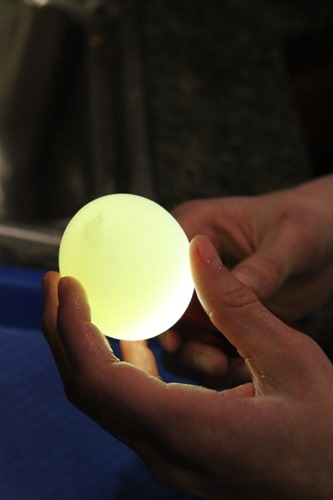 Trying to find the yolk now the shell was missing, we grabbed a flashlight as well to see how translucent the egg was.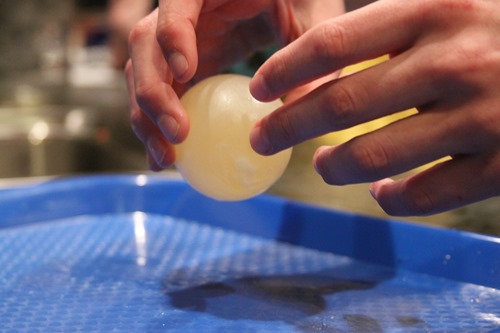 The fun part came in the bouncing of the egg. To keep the counters clean, we pulled out a tray and tried dropping it from different heights to see if it would break. You can see a short (and slightly blurry – sorry!) video here or below.
Once we were done bouncing and playing with the egg, we popped it with a fork to feel the membrane of the egg. (And yes, we all thoroughly washed our hands when we were done!).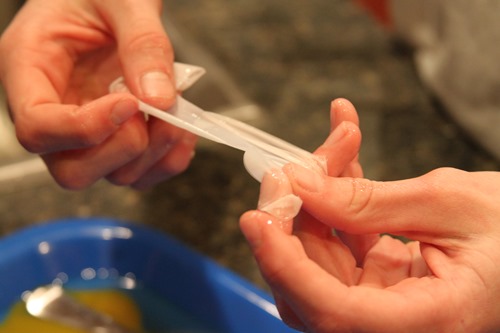 This is one of those experiments we would like to do again, but this time with several eggs in different jars and then try a few variables when we are done soaking them all in vinegar: moving one to plain water, one to cornstarch, and letting one sit out on the tray to see what happens to them all.
There's so much more we could do, but this was a fun start to our egg experiments.
More Science Fun
If you have some time and need a few ideas, we worked on both of these projects this year and had a blast with them (especially the cookie skillet!).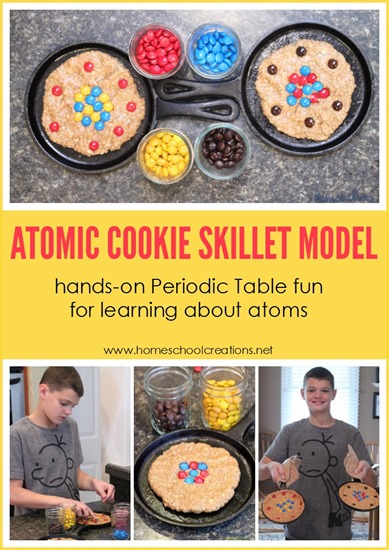 Atomic Cookie Skillet Models – learn more about the Periodic Table and how what atoms consist of with this fun (and edible) project!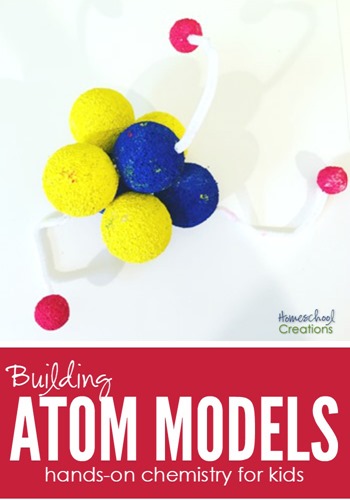 Building Atom Models – build simple atoms together and make chemistry hands-on for your kids with this easy activity.