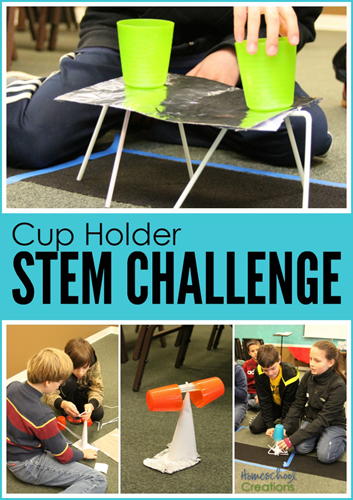 If you were given a piece of paper, tinfoil, six straws, two paperclips, two pieces of string, two pipe cleaners, three mailing labels, and an envelope – and then had five minutes – would you be able to build a structure that could support two cups while getting both cups off the ground and as far apart from each other as possible? Years ago our girls did this same Cup Holder STEM challenge together with much success, so I thought it would be fun to try again on a larger scale.
This semester I am working with a group of six graders in our co-op in a STEM or building class. One of the things that our family (and another co-op class) enjoyed in the past were Instant Challenges. Essentially, the children are given a set of objects and a challenge to build something specific within an allotted amount of time. The bulk of our Instant Challenge STEM ideas come from this site and we tweak them to make them work for us. The main thing I love about these challenges are they involve simple (and inexpensive) items that are easy to find and give some fun results in a short amount of time.
The Cup Holder Challenge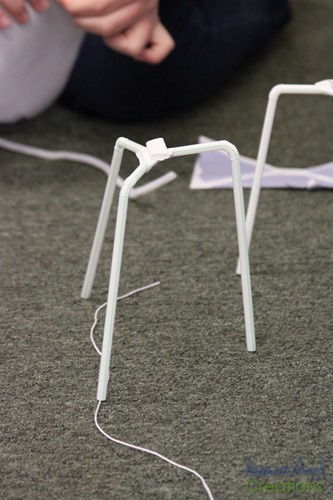 For our first class, we introduced the overall structure of what we would be working on and broke the kids up into four teams (class of eleven, so one team has only two). Each team had at least one boy and one girl to balance it out. The kids were 'scored' on teamwork first and then based on completion of the challenge.
In all honesty, the challenge didn't go quite as easily as I (or the kids) thought it was – a bit of a surprise to me, but I do think we figured out the why behind our issue…read on!
Breaking Up into Teams
Each team (between 2-3 children) was given 2 minutes to come up with a design, 6 minutes to work on their cup holder structure, and then show how their structures worked, compare designs, and make improvement suggestions to other teams or for their own structure.
Challenge: Create a structure that holds two cups as high as possible and as far apart as possible. Each team has 2 minutes to design, 7 minutes to create, and 1 minute to test their structure.

Materials: 6 straws, 1 piece of paper, a piece of tinfoil, 3 mailing labels, 2 paperclips, 2 pieces of string, 1 envelope, 2 pipe cleaners, and 5 pennies
The Results
One of the things that I love about these challenges is seeing the creativity and difference that each group comes up with in their designs. Even though they each have the same set of supplies, their brains are all whirling in different directions and putting those items together in alternate ways.
As each of the groups were working, the other mom and I walked around the room observing, offering suggestions if needed, and giving time updates.
Group 1

Out of all of the groups, Group 1 was the only one to have a completed structure at the end of the original challenge time period. They were able to transfer their structure to the middle of the room, set it up, explain their building process, and support the two cups.
They wrapped their paper in tinfoil and added the envelope for extra support on the main 'shelf' of their structure. Pipe cleaners and string were used to hold the straw legs together.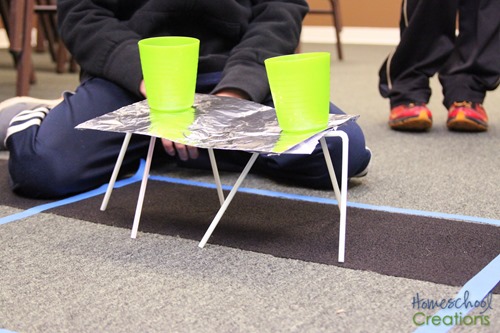 Their main focus was the base support, which definitely worked to their advantage. While it wasn't raised from the floor as much as they wanted, it was a solid structure as long as the straws were all balancing properly.
Completed structure: cups were 6" off the floor and " apart.
Group 2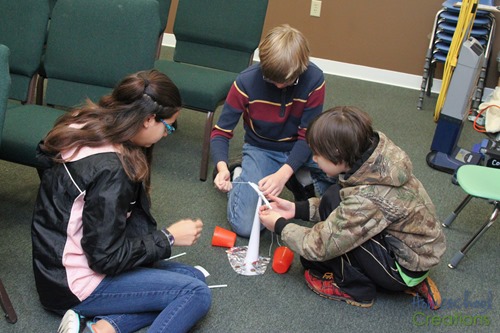 This group almost had a structure that supported the cups, but the moment they let go of the cups, their structure tipped over. They built for height, but had a base that wasn't sturdy enough, despite the tinfoil, to support the two cups.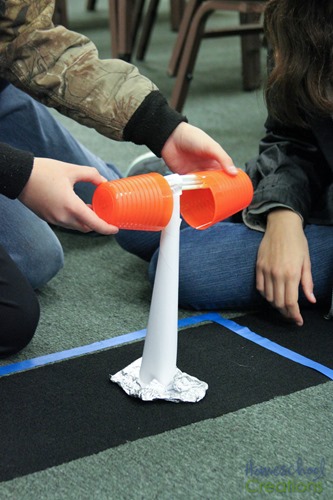 Their paper and envelope were rolled in a cone shape, with tinfoil as their base support. The straws were then adhered to the cone using the mailing labels.
Overall their concept was good, but not quite there. Their 'aha' moment came during our group suggestion time (see below) when they were able to modify it a bit based on a recommendation from another team.
Completed structure: cups were 0" off the floor and 0" apart.
Group 3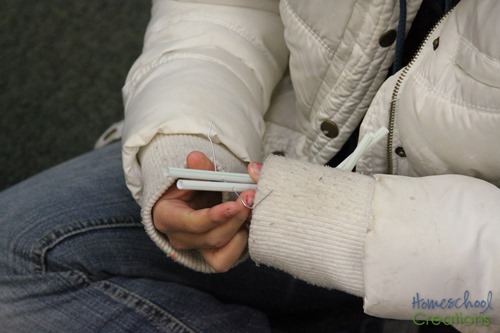 This team had some fun ideas and creative ways to hold things together (paper clips pushed through the straws), but their overall structure ended up with zero height. They tried to connect the straw and have them in an elongated "U" shape, but then they couldn't get their straws to stay up and support weight.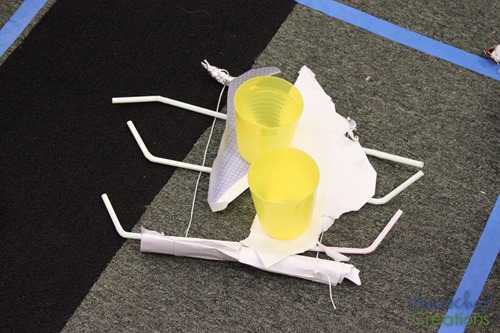 They also used up several of their supplies (by rolling or crumpling), so there really wasn't much help that could be given to create a working structure. They had a great attitude about their mistakes.
Completed structure: cups were 0" off the floor and 0" apart.
Group 4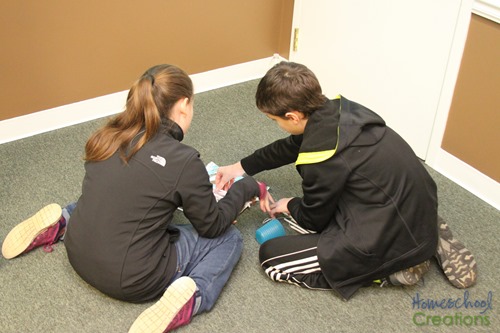 This team was the smallest of the four, and while the two started out with a good idea (again wanting to build it as tall as they could), they quickly realized they didn't have enough base support when it came time to balance cups on either side of their structure.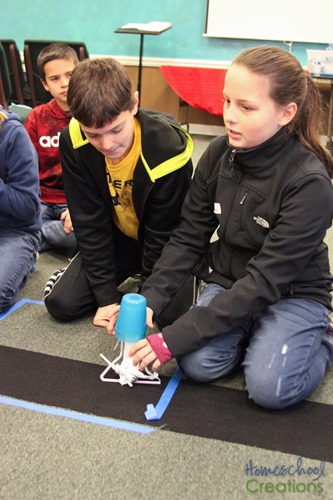 They ended up trying to use the straws in a triangle-shaped base, which did work well to give support, but they weren't able to get any distance between the two cups and instead stacked them on top of each other.
Completed structure: cups were 3" off the floor and 0" apart.
Making Improvements and Suggestions
As we came together as a group, some of the kids were a bit frustrated their structures weren't completed. Three of the teams were given an extra six minutes to continue building – and they still had nothing that really worked. Many of them had already used the bulk of their supplies in a way that couldn't be recycled (tinfoil crumpled up or paper ripped), so they were stuck.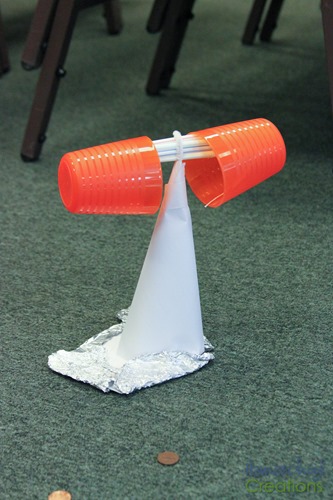 Each team was given a chance to explain their initial idea and what they thought worked best or didn't work how they envisioned. We then talked through what they could have tried differently and what may have been a better use of their resources. Overall it was a very encouraging time for the kids and they definitely walked away with some ideas to build it better. One group (Group 2) took a few minutes to tweak their design by cutting the bottom of their cone and spreading out the bottom of the paper and returned a few minutes later with a working structure!
What We Realized
While the bulk of our groups didn't have a completed structure at the end of the challenge (which was puzzling to me at first), we realized that many of them were over-thinking their designs. Rather than focusing on a stable structure, they focused on making their structures be the one that put the cups the highest off the ground so they could earn more points. They could have kept it very simple (made a more table-like structure) and even gotten it done more quickly.
We also spent some time talking about how in real life things are built and require support in various ways (bridges, pyramids, etc…). The kids thought for our next challenge they need more time to design and build, but I'm honestly leaning more toward the lesser of the time so they can keep their designs simple and get done what needs to be accomplished. We'll keep you posted on further challenges in the upcoming weeks!
Additional STEM Challenges