With the start of the new year, my book list of things I'd love to read is growing. As I sort and choose the different books to see what will make the list, there are two that I'm reading at the moment and really enjoying.
The Well-Versed Family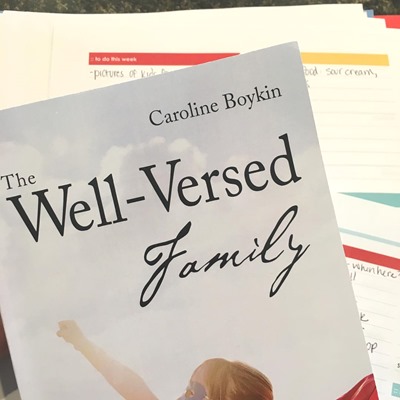 Scripture memory is something that I believe is not just important for me personally, but I especially desire to instill a love for God's word in our children. Confession – this is an area that I've let slide a bit as the boys learn verses at church and the girls work on their own devotion time. From my own experience and life though, I understand how pivotal different passages have been to me and have created many Bible verse printables for our children in the past.
This year the boys and I have been reviewing many of the verses we've learned and together the kids and I are working on new passages together. The Well-Versed Family (aff link) has been a gentle and wonderful reminder of WHY we are doing it and is also full of resources, tips, ideas, and key verses to learn together as a family.
A funny sidenote: there was one section of the book where the author recommended Seeds Family Worship (aff link) and while reading an excerpt of a mom who adores Seeds, I was nodding my head along and thinking "This is EXACTLY how I would say it too!" – turned the page…and realized it was a quote from one of my blog posts! HA!
Teaching From Rest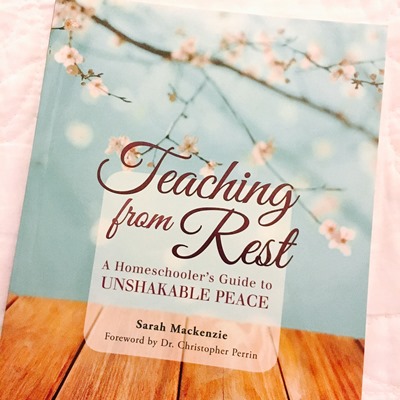 I started reading Teaching from Rest the end of last week and immediately ended up purchasing the companion journal and audio downloads to use as well. So far I am really enjoying Sarah's writing and the book overall. We all have in our heads what the 'ideal' homeschool day looks like, and trust me when I say – mine often is FAR, far, far from that ideal. This has been a gentle reminder of the surrender that is needed from me – and the rest and peace that are available.
These are the first two books on my list for the 2016 year (I'll share my full list soon), but I am so glad that I started the year off with these two and my focus is moving in a better direction overall. Both were exactly what I needed at this point in our school year as well. (I love it when that happens.)
What are you reading and enjoying right now!