One of the things that I didn't do a great job of implementing the first half of the year for Kaleb were some of the 'fun' projects that aren't necessarily tied into any curriculum we're using, but still add in an element of learning or creativity. Kaleb is one that easily gets focused on what needs to be done and doesn't give himself much slack because it's not 'school'. (It's true – he's a pretty focused kid.)
After our mid-year review, I decided to put together a list of weekly challenges for him to work on, rotating through a few different things, specifically KEVA planks and our Little Bits set. You all – the boy just needed it to be called school, and he has been in HEAVEN.
The most fun has been watching his creativity and curiosity take over. While each of the sets have specific projects to build, once he has finished a few, he likes to experiment and see what he can create.
Little Bits Fun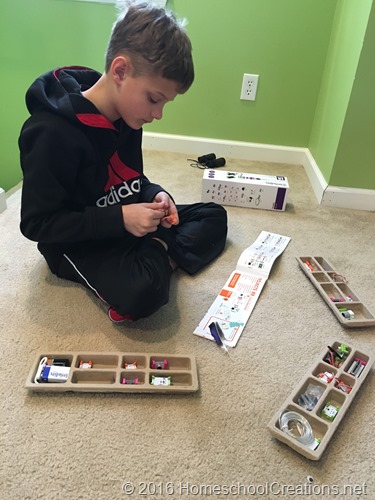 Although Zachary has been eyeing the Little Bits set (and managed to find them and try them before I knew it), this was one thing that was put aside specifically for Kaleb to do 'first' (mainly because he is the youngest and usually gets to do everything after his brother). So, even though Zachary did play with them for a bit, they where shelved after (see what I mean?).
While his older brother has been working on breadboards and real, hands-on wiring with EEME, this angle to learn about circuits has been great for Kaleb (who gets frustrated easily) because the pieces are magnetic and they 'snap' together to form a circuit.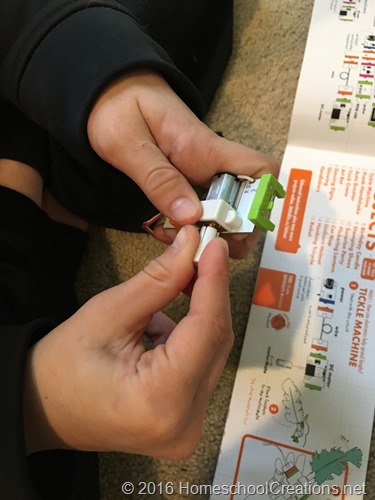 We have the Little Bits Deluxe kit that includes a booklet with 18 different modules and 15 projects to work on, or kids can design their own creations. The nice part is, there is no soldering or wiring for him, so for kids that are interested in the early stages of circuits and how things work, these are a great stepping stone.
There were two projects planned for him to work on the day we pulled them out, but he was so sidetracked with the kit he kept playing and tweaking things. The art bot project has been his favorite so far, since it had him stumped in a few parts (he had to figure out how to substitute parts we didn't have on hand). The above video shows it in action. Feed readers can watch the 20 second clip here.
Needless to say, the boy is hooked and ready to work on more with little prompting!
KEVA Planks Building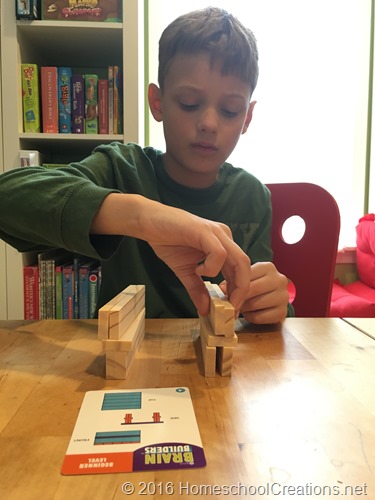 While the kids in our co-op have been enjoying some weekly challenges with the KEVA Brain Builders set, Kaleb has been equally enjoying them at home. Although we don't have quite the extensive resources our co-op does with the planks, we do have a small set to use that were included with the Brain Builder cards.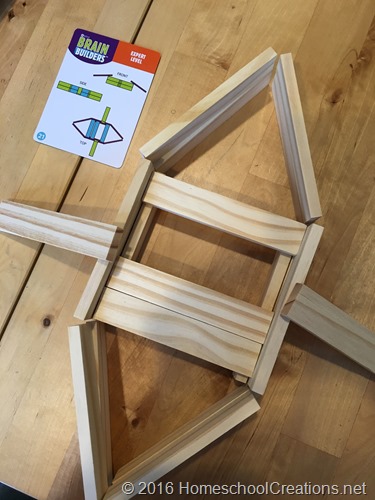 Each card offers a two-dimensional view of a project from three different angles.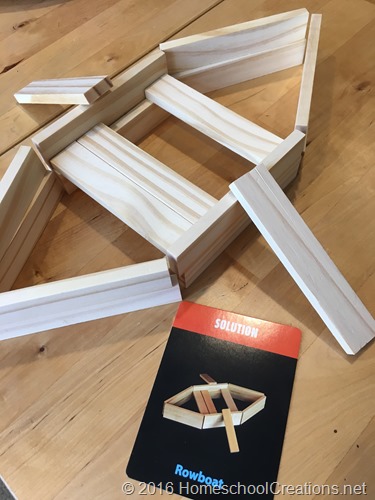 On the flip side you can see an actual picture solution of what the project should look like. These cards have really been great for Kaleb (again because he gets frustrated easily), but he is very focused on details and getting everything 'just right'. The planks and building challenges are giving him a different way to look at projects for building.
So far after break, my personal goal to have Kaleb work on at least one project a week has been a definite success for Kaleb. And that's a win for both of us!