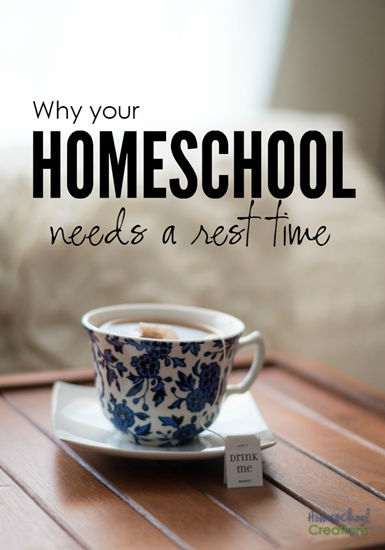 When hearing the words 'rest time,' it takes me back to my years as a preschool teacher when the kids all had a nice mat, a warm blanket, and sleep drifted over (most of) the kids. There are always a few rowdies in the bunch!
As we started our homeschool journey, rest time was ALWAYS a part of the equation. Our kids were young. I was exhausted with the little ones (we had 4 kids 5 and under) and it was definitely a non-negotiable in our day. Now we are years down the road, our oldest is 14, and rest time is STILL a part of our day.
Here's the thing – as homeschoolers, our family is around each other all.the.time. Pretty much 24/7. That can be exhausting, especially for kids (and moms) that need quiet to recharge. So much surrounds us that can overstimulate and push us over the edge, so to speak. For kids that are extroverts, well, it always good to practice giving others space as well – and they need the down time too.
Think we're crazy? I promise you, I'm not! You NEED a rest time in your day, moms!! We can't keep up a crazy pace and not feel like we're going crazy ourselves!
Somehow the last few months we've gotten out of the habit of having our afternoon rest time. And it has truly shown in attitudes (mine and the kids) and mental states (that would be my sanity – keeping it real!). While I've had people ask how we can afford to take the time out of our day, I can honestly assure you, if anything, it has made things run so much more smoothly in our house.
What Rest Time Looks Like for Us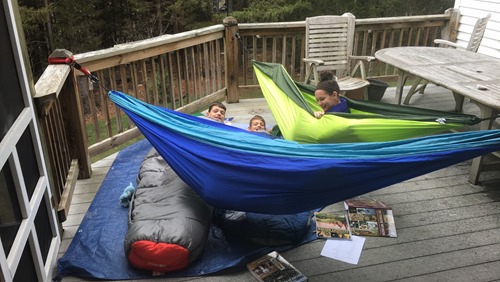 Rest. Sitting down. Feet up. That should sum it up, but each of the kids typically heads to their bed (if they want to sleep, go for it!). Rest time an opportunity for everyone to slow down and have a break from each other. I'm guessing my kids aren't the only ones who can get on a sibling's last nerve (or mine). The break and space apart is very beneficial to attitudes all around.
This includes mom! My spot is a cozy chair or under a blanket on my bed with a nice cup of coffee or tea. Books are almost always a part of my rest time, especially since I have a wonderful pile of books to read! I might even sneak in an episode of my favorite show without the kids peeking over my shoulder (Shhh!! PBS fans will understand, right?).
The kids are encouraged to grab a book (for fun – not school), listen to audiobooks with a sibling (or with headphones), listen to music, or play – QUIETLY. It's not a time to be rowdy and fool around. The boys pull out a bin of LEGOS on their beds and dig through that while they listen to audiobooks they picked out from the library or build with some other fun toy.
Puzzles, quiet games…think of all those hardly used manipulatives you've stashed away. Pull out art supplies and sketch pads. You know what things are special for your kids (or hiding in your closet).
The impact of rest time was especially apparent to me today as I declared the hour of 2 – 3 pm sacred and the kids pulled out sleeping bags and hammocks and set up camp on the back deck (the girls may be a bit excited about their hammocks). They had books and stayed outside snuggled in their blankets (it was 48 degrees) for almost 2 hours. And do you know what happened the majority of the time – laughter. It literally brought tears to my eyes because we had a ROUGH morning. ROUGH. When rest time was well-past over, the kids all came in and attitudes were great toward each other. I may have also been completely relaxed because of hearing the calm and camaraderie between the four of them. My time was spent curled up reading two great books:  The Life-Giving Home and Raising Grateful Kids in an Entitled World.
A complete win-win all around. (And my hubby may be extremely grateful for my sanity too).
What Our Rest Time is NOT
Catch-up on housework is a no-no. Rest time is NOT a time for me to scramble around the house doing all those little things that I've been putting off and finally remember to do. I have a list next to me where I can jot down notes if something comes to mind, but otherwise, computer is off.

Schoolwork is put aside. Yes, the kids sometimes get behind, but this isn't a punishment time for them when they need to catch up on every last little thing. The breather is from all things that bog us down mentally and physically. The schoolwork will still be there when we're done (much to their dismay).

Rest time is NOT a time to fight and argue. It's a time to play or rest quietly (or see any of the above. Noise levels need to be minimal. If a fight erupts…well, that would definitely cross a line (it has happened a time or two) and there are repercussions. Don't mess with the resting mama (grins).
Plan Your Own Rest Time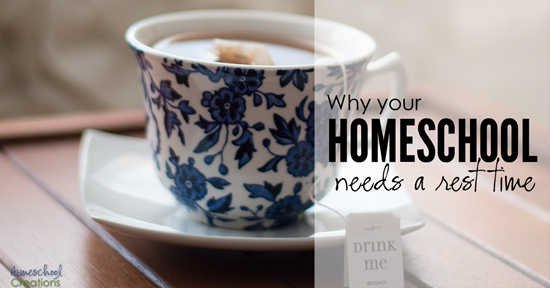 Does a daily rest time sound like something your family (and you) could use? Here are a few suggestions to get started.
Decide what the 'guidelines' for rest time will be. Is it resting on beds? Playing quietly allowed?How long is the time? How loud can the kids get? Where do kids need to stay (in rooms, a playroom, etc…)?

Figure out your routine. When during your day will you have rest time? Each family has a different rhythm, especially during different seasons of life. If you are making it a daily ritual, maybe you could end it by having a snack together? (There was a period of time where I made homemade cookie batter and froze it in small balls. Each day before rest time I took out 2 cookie balls per kid and popped them in the oven for a yummy treat at the end of rest time).

Make it special. For younger children, it may be helpful to put together a basket of activities, or busy bags, audiobooks, and more that will keep them occupied. Some days the kids take turn cuddling up with me and just chatting over a cup of hot chocolate.

Be consistent. I promise – it is worth every moment. Whether it be 30 minutes or 2 hours, a little bit of breathing room allows everyone a chance to reset, relax, and approach the rest of the day with more energy!
Laundry and housework can wait (I promise, it will still be there when you finish resting – it's sad, but true). You though, will be in a much better mental state to tackle those piles!
Rest time in your day ultimately puts you ahead in the long run. We aren't sprinting toward an invisible finish line – we're in this for the long haul! And I promise – you CAN do this!
Share Your Thoughts!
Does your family have a rest time? What tips do you have to offer or what routines do you have in place?
Another post you may enjoy…10 Things to Eliminate from Your Homeschool.