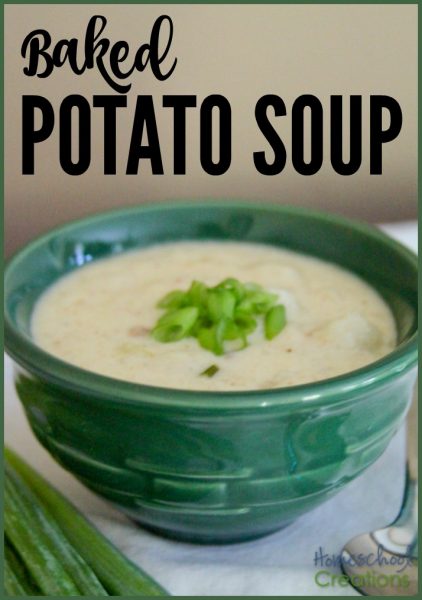 One of the things I love right now with our kids (especially our boys) is their wanting to help me cook a real meal. Not just a simple side or snack, but they want to help out making our dinners. They have their definite favorites, and one that is requested often is our Baked Potato Soup recipe. This is our go-to dish when we have a group of friends coming over because it is filling and makes a huge pot (which means leftovers if we make it just for us!).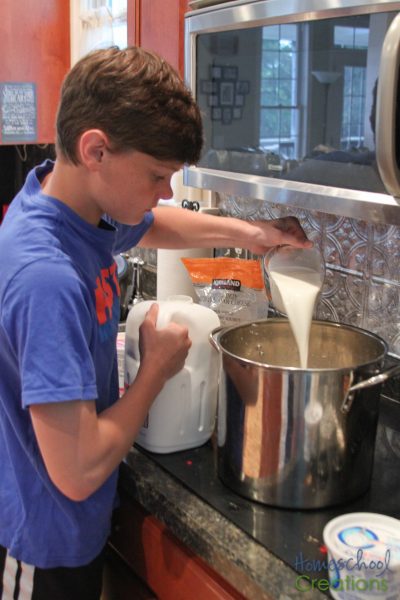 Even though the weather has been warming up in our area, there was a unanimous vote for baked potato soup and I have to admit I didn't complain about it! It's basically a whole load of comfort food mixed up into a pot: bacon, cheese, potatoes, more bacon…what's not to love about that? Several of you have emailed and asked for me to share our recipe, so here's a quick card for you to print and make.
Baked Potato Soup Recipe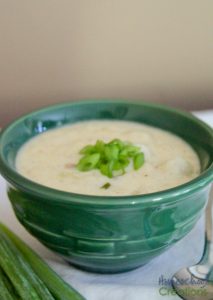 Baked Potato Soup
2016-06-08 19:31:56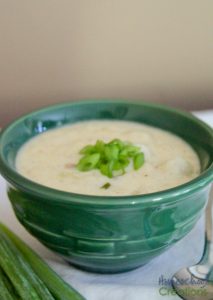 Warm and filling soup - perfect for a cold night or to share with a group of friends.
Ingredients
2 sticks of butter (1 cup)
1 cup flour
12 cups of milk (or more)
8 cups baked potatoes, diced
1 lb. cooked bacon, crumbled
3 cups shredded cheddar
2 cups sour cream
1 bunch of green onions, thinly sliced
1 Tbsp. salt
1 Tbsp. pepper
1 Tbsp. minced garlic
Prep
Bake potatoes until done. Let cool slightly, then cut in half and scoop out middles in small chunks and put aside in bowl.
Cook bacon according to directions, drain, and crumble.
Slice/cut green onions, including the small bulb.
For soup
While bacon and potatoes are cooking, start soup base. Melt 2 sticks of butter of medium low heat. Whisk in flour when butter is melted.
Pour milk in slowly, whisking while adding. Continue stirring over medium heat (so milk doesn't scald and burn to bottom of pan).
When milk has started to thicken over heat, add in sour cream, salt, pepper, green onions, and garlic.
Turn to low and let soup simmer. When potatoes are ready, add them into soup along with bacon and cheese.
When cheese is melted, serve with extra sour cream, green onions, and bacon.
Notes
:: More bacon is always wonderful and enjoyed by everyone.
:: Depending on how thick or thin you like your soup, add a little more milk. This soup is on the thicker side, but can be thinned down.
Homeschool Creations https://www.homeschoolcreations.net/
Hope your family enjoys this baked potato soup as much as ours does! (And you really can't go wrong with bacon and garlic…or cheese…or green onions.)