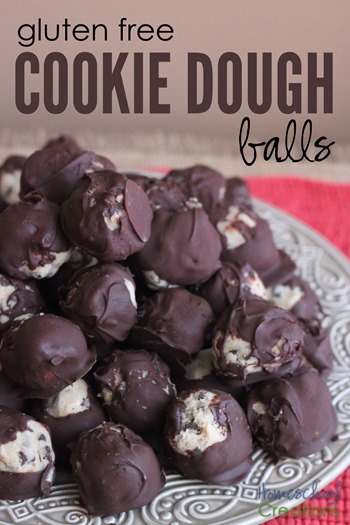 While they may not be the most stunning looking, let me tell you, these gluten free cookie dough balls didn't last long once they made their appearance at a youth group Christmas party. Granted, we are talking about teens and their eating pretty much anything put in front of them, but the two I tried were delicious and we've only heard wonderful words about them. (And the teens didn't care that the balls weren't 'dipped' perfectly).
Although our family isn't gluten free, we have several friends in our co-op and youth group that are, so we try to make snacks everyone can enjoy. Some gluten-free batters taste great in their cooked state, but let's just say there are a few brands of mixes that are nasty in their raw form. After searching through a few recipes, I found a blend from this site and played with the measurements of the flours a bit to come up with a gluten-free dough that is very tasty when raw.
And people, cookie dough is one of those things that should be eaten raw every now and then!
Before you get all upset with me about using eggs with cookie dough, this recipe (either gluten-free or not) does not use any eggs and still tastes just as yummy since there is no baking involved. It's a win-win for all!
Typically we use this gluten-free flour blend we have purchased at Costco in the past, but they don't always carry it. We are blessed to have a well-stocked bulk food store that sells many of the flours we need in a discounted quantity and have also found them in the specialty area of our supermarket as well. I've included both the gluten free version and a non-gluten option in case you would like to make them as well.
Gluten Free Cookie Dough Ball Recipe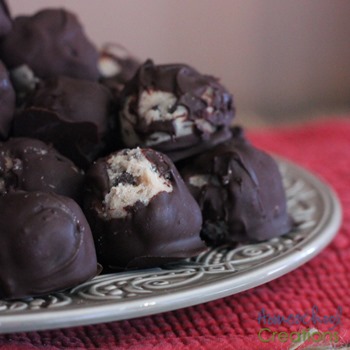 Makes 4 dozen balls (or sort-of ball shapes, depending on your patience)
Ingredients
1.5 cups white rice flour
1/2 cup tapioca flour (or tapioca starch)
1/4 cup potato starch
(can use 2 1/4 cup flour in place of above if not gluten free)
2 sticks of butter (1 cup)
3/4 cup brown sugar
3/4 cup white sugar
1 tsp vanilla
1/4 tsp salt
1 bag mini chocolate chips
2 cups chocolate chips + 1tsp coconut oil (set aside)
Note: if you'd prefer to use a pre-mixed gluten free blend, we also recommend this one. You can also use a fancier chocolate for dipping for a 'smoother' look, but I'm not a food blogger and my kids don't care.
Directions
Mix rice flour, tapioca flour, and potato starch together in a small bowl.
Cream together butter and sugars in a separate bowl. Add in vanilla and salt.
Slowly mix in gluten free flour blend. You may need to use your hands at the end since it seems a little drier. It will stick together though.
Mix in mini chocolate chips. From into 48 1" balls using a small cookie scoop and place on cookie sheet. Place in freezer for about 30 minutes to firm up.
Using a double boiler, melt the 2 cups of chocolate chips with 1 tsp of coconut oil and when melted, dip each ball into the chocolate mix, setting on parchment paper when covered.
Place back in freezer for about 30 minutes to firm up again. Remove from parchment paper and store in fridge to keep cool.

Enjoy!
One of my friends whose son is gluten free HIGHLY recommends the book Cooking for Isaiah and the flour blends and recipes included in that book. Here are a few items that we use and love…