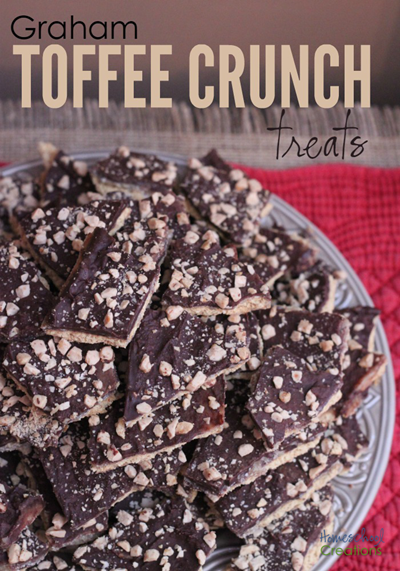 One of the Christmas recipes we've really enjoyed this year is Graham Toffee Crunch Treats. These are a bit of a twist on an old recipe, using graham crackers (something we had an abundance of from camping) in place of saltine crackers. We also added in an extra sprinkle of some toffee yumminess to the top and the kids have been gobbling it up!
With just a few days left before Christmas, this is a super quick and easy recipe to make, especially if you need a last minute gift to drop off for a neighbor or a yummy dish for a party. You'll have nothing but tiny crumbs left!
Graham Toffee Crunch Treats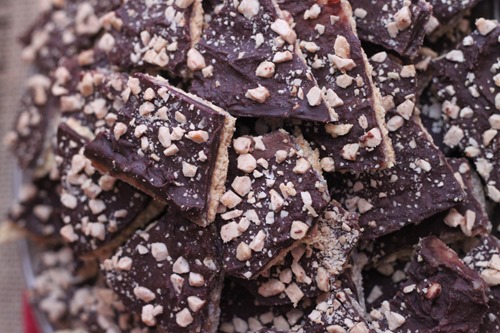 Ingredients
2 sleeves of graham crackers
1 cup butter
1 cup brown sugar
2 cups semi-sweet chocolate chips
1/2 bag Heath toffee pieces
Directions
Preheat oven to 325°F.
Line a jelly roll pan with parchment paper.
Lay the graham crackers on the jelly roll pan, filling in around the edges as best as you can. Making them neat is pretty to start, but in the end it won't matter.
Melt the butter and sugar together in a pot over medium heat, stirring continually. Once the butter has completely melted, bring the mixture to a boil for 2-3 minutes, continuing stirring.
Remove from heat and pour evenly over the graham crackers. Spread over crackers using a small spatula.
Bake for 6-8 minutes. Remove from oven and sprinkle with chocolate chips while still hot.
Let the chocolate chips melt for a few minutes and then spread the chocolate over the top with a spatula.
Sprinkle evenly with 1/2 bag of the toffee bits.
Place in the freezer for 30 minutes to cool. Break apart into pieces and store in an airtight container.
Note: you can also use saltine crackers in place of the graham crackers and it is equally as yummy!
Other Recipes You May Enjoy