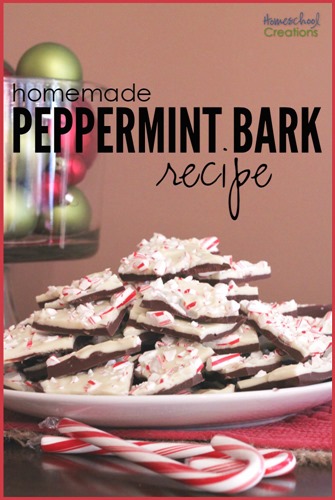 One of the things that I most look forward to during the holiday baking and cooking season is Peppermint Bark. Left to my own devices, it is highly probable that I could consume massive quantities of it because let's face it – chocolate + peppermint = yumminess. This peppermint bark recipe is one that has been tried, tested, and used for years in our house!
The peppermint bark has also been fun to make in large quantities and gift some to friends and family to share the love. The fact that we also have an excuse to lick the chocolate spatulas when we are done has no bearing on the matter.
Although recipes are not a weekly normal around the blog, we are enjoying some time in the kitchen over the next few weeks of December and getting a little more 'practical' learning on the table, so to speak. I'm not hearing any complaints from the kids, so I think we'll keep it going! While we're cooking, we figured we might as well share the yumminess (and the recipe) with you all as well!
Peppermint Bark Recipe
(make 1.5 pounds)
24 oz. semi-sweet or dark chocolate chips (2 bags of chocolate chips)

16 oz. white chocolate squares (3 boxes or 1.5 bags chips)

8 candy canes, crushed

4-5 drops of Peppermint Vitality essential oil (we use

Young Living oils

). You can also use 1 tsp. of peppermint extract, but we've found the essential oil does so much better!

1-2 tsp. of coconut oil (optional)
Note: I prefer using darker chocolate if possible – it's one of my favorites. While semi-sweet is what we typically use, if I can find a darker chocolate, I use that too!
Making Peppermint Bark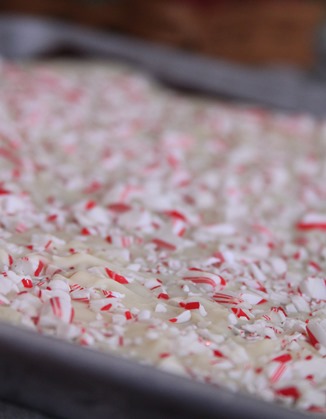 You'll need a jelly roll pan (these are our favorite ones) to make this peppermint bark recipe. You can use a smaller cookie sheet for a thicker style bark (yum) as well.
Line your jelly roll pan with parchment paper.
Melt the semi-sweet chocolate chips using a double boiler. It's harder to get the right consistency melting them in the microwave. The chocolate tends to get clumpy and hard if you overheat or do something wrong.
Stir in 4-5 drops of peppermint essential oil (trust me – so good!).
If needed, add a 1 tsp. of coconut oil to the melted chocolate to get a smoother consistency. You don't want to add too much more, because it makes the chocolate a little softer, and when it is at room temperature it isn't the right texture.
Once melted, pour evenly over the bottom of the pan and spread with a non-stick spatula. Invite a child to lick it clean – they will happily oblige.
Pop the pan into the freezer to cool it down quickly. Wait about 30 minutes.
Crush the candy canes into small pieces. I use a metal strainer to get sift the powder out of the mix (and we use it in hot chocolate). Set aside.
Melt the white chocolate over the double boiler, adding a small amount of coconut oil if needed. As soon as it reaches the right consistency, pull the jelly roll pan out of the freezer and carefully pour it over the dark chocolate and spread it with a different spatula (since your kids obviously have been licking the last one.
Sprinkle the crushed candy canes over top of the white chocolate and gently press it into the white chocolate. Pop it back into the freezer for a bit to harden.
Break the peppermint bark apart into pieces – no size is correct. Enjoy!