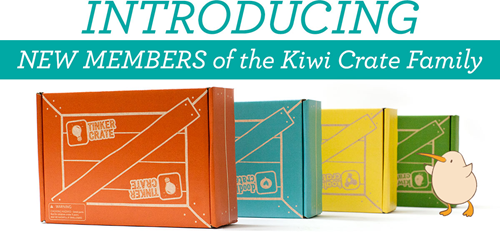 Recently our family was introduced to Kiwi Crate. We had so much fun with the Rainforest Adventure kit even though our kids were arguing over who actually got to create the projects. Now I'm not one to promote fighting between the kids, but it was great to see that our 12 year old wanted to have some fun with the crafts and games with her younger brothers! In the end, everyone was able to take part and the games are still being pulled out to play together – with no fighting (usually).
Three NEW Additions to Kiwi Crate
Kiwi Crate just announced that they have THREE new brands that are available for pre-order and will ship mid-October: Tinker Crate, Doodle Crate, and  Koala Crate. There is one in particular that our kids will LOVE (I'm thinking Tinker Crate, but I know our girls would love the Doodle Crate!).
Here's a little peek at the three new crates offered. I love that they have broadened the age base with these new kits (ages 14 to 16 now!).
Ages 9-14+
Hands-on STEM based experiments and projects that promote problem-solving.

 

Ages 9-16+
Fun craft inspiration for kids using a variety of craft mediums.

 

Ages 3-4
Monthly projects for preschoolers to play and learn.

 

Ages 4-8
Fun, hands-on activities to get kids creating and exploring!
Kiwi Crate Subscription Options

As with the original Kiwi Crates, these three new crates are subscription based. Choose a month-to-month subscription or choose the 3, 6, or 12 month subscription option. Prices vary from $12.95 to $16.95/mo based on your subscription choice.
We're looking at the Tinker Crate for our kids, especially since they would be fun projects to work on together – and a certain mom doesn't have to gather any supplies! Which of the new kits do you like?