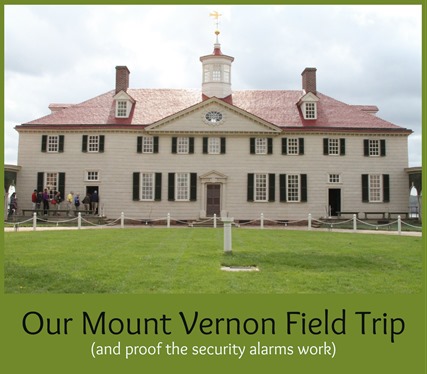 The way I envisioned our field trip to Mount Vernon (the home of George Washington), may have been a little different than how the events of the day completely unfolded – but it was still a fabulous trip.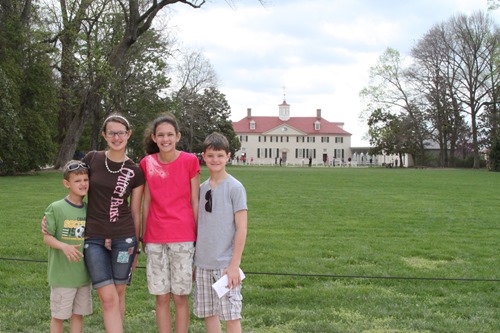 A beautiful day and four (mostly) behaving kids. Lots of friends along to wander the grounds, explore the various buildings, and learn more about a man who was instrumental in the shaping of our country.
And in case any of you were wondering, the alarms on the exhibits in the education center are working very well. And are very loud.
Well, at least the three that we managed to set off at various places in the center were working.
#askmehowweknow
That moment when you hear an alarm go off and are looking around trying to figure out who set it off – and then realize that everyone is staring in your direction. Yeah – that. Times THREE.
Just keeping it real, folks.
You apparently can't even slightly TOUCH the railings in a wrong way – not the exhibit or anything in it – the RAILINGS. You would have thought we'd learn after the first one, but it took two more times until we high-tailed it out of the center and went for some wide open spaces.
Making History Fun
Truly though, there is a lot to do and learn at Mount Vernon. The staff  – fabulous help who try to make it fun and educational for the kids – provide scavenger hunt maps for the kids to search for clues all over the estate. There's even a fun prize when the maps are completed (secret decoder pens for the older kids and a stamped penny for the younger ones).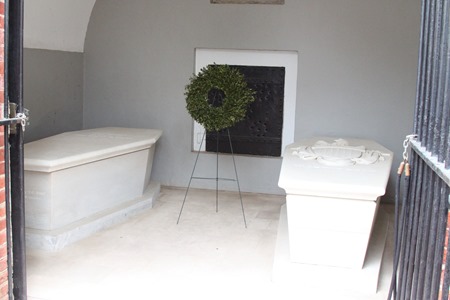 George Washington's final resting place
We toured the extensive gardens, visited Washington's final resting place, walked through the house where George and Martha lived, visited the slave quarters, and took in the views of the Potomac from the back porch of the home. There's just something absolutely amazing about walking through a huge piece of our American history – and imagining what it was like when Washington was actually there.
And (aside from screeching alarms) the education center was equally as fabulous – giving a glimpse into the details of Washington's early life up through his sudden death. This week we'll be working on some follow up history lessons thanks to the Mount Vernon website – they have some handy pre-visit and other go-along items for teachers to use. You can even take a virtual tour from your home, in case it's too far to visit in person!
Quite honestly, it's a place I'd love to visit again someday (shhh…with no kids) and soak in all the history and tidbits there are to offer.
Minus the alarms. 
Note: In our defense (in case anyone from the Mount Vernon staff is reading this), nothing  was touched, damaged, or otherwise compromised. (grins)
And p.s. – this post was in no way sponsored by Mount Vernon.