Technically we're one week shy of being halfway through our school year, but we're ready to take an extended three week break for Christmas. In years past we've taken the week of Christmas and a bit after and truthfully – well, everything just feels rushed and crazy-like. So this year, we planned in a much needed break that will coincide with a nice trip to the grandparents.
Anyway, here's a little peek at what we've been up to the last few weeks, thoughts on how our school year has been going so far, especially with the new curriculum pieces we added in. We had a laptop crash and the new laptop already had a minor mishap (how in the world??), but everything is finally re-installed on the new computer and up and running. You can view our full 2014-15 curriculum list here.
I'd love to hear what you all have been up to as well, so please leave a comment and share your thoughts on your year as well!
History
Now that our brand-spankin'-new textbook for Mystery of History 4 has arrived, we're feeling all official. Truthfully, I'm feeling so very overwhelmed in some ways because there is SO much to learn and it is hard to touch on just a small fraction of history. We do look in-depth at things, but switching into the modern era there is an overwhelming amount of information to intake.
Maybe that's just me. (grins)
We've covered the thirteen colonies, many of the early American leaders, the French and Indian War, Catherine the Great, the American Revolution, the French Revolution, Napoleon Bonaparte, the War of 1812, the Trail of Tears, Karl Marx, famous abolitionists, Florence Nightingale, Charles Darwin, and are just about ready to talk about the Civil War.
History is flying by! We are loving the lessons and occasionally adding in some dvd clips from either Liberty Kids or Drive Thru History just for variation. We haven't had as much time to add in a lot of read-alouds from the time period (with swim team this fall), but hopefully that will be back on track in the upcoming months.
Bible
We've taken a little break from Picture Smart Bible in November and December to focus on Unwrapping the Greatest Gift and work on another family devotional from Focus on the Family. We are really loving the Advent study from Ann Voskamp – those coloring pages just seal the deal. The kids love them.
Laurianna is almost done with the What on Earth Can I Do? in the What We Believe series, and McKenna is working on Who is My Neighbor?
Math
Do you all have visitors in your homeschool room? Please say yes. Olaf made a special appearance and was apparently helping McKenna with her math. Really, more like distracting everyone and causing unending giggles.
One kiddo is learning multiplication (his 1,'s, 5's, and 10's), another is starting with long division, and Laurianna is making my brain hurt with algebra equations. It's a good hurt and my brain is happy to solve things that can actually be solved.
Reading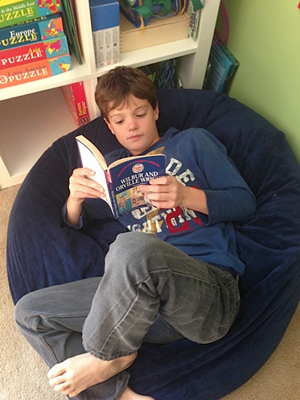 My momma's heart is so very happy in this area with all of our kids. Kaleb's reading is growing with leaps and bounds. He is working on All About Reading 2 and we've gotten into a great daily groove with lessons and review.
The other day someone asked Zachary what his favorite subject was – and the boy said READING. You all, I wanted to cry happy tears right then and there. Knowing what a struggle it's been for him (believing he can't vs. his capability), that is such an amazing thing to hear – and the biggest thing has been the first book he finished this year as a part of his language program. Since then, Zachary has finished four books on his 4th grade reading list (yay!!). In addition, Zachary is about halfway through All About Reading 4, and he is so excited about that!
McKenna has finished seven of the books on her reading list and Laurianna is almost halfway through hers as well. Unfortunately (well, not really), both of these girls are voracious readers and get sidetracked easily after a trip to the library.
Language
This year one of the things I was most nervous about was switching the boys to Learning Language Arts Through Literature. While we aren't using everything in the lessons (spelling and some reading are separate), both boys are really liking the change. The biggest thing for Zachary is the tie-in with what he is reading (more of the book study approach), but he is also learning about research papers, and more this year.
McKenna has loved the switch to Growing with Grammar and also the online WordBuild vocabulary. She discovered a love for diagramming – takes after her mom in that!
Science
The boys are a little more than halfway through Nancy Larson Science 2. Although Zachary worked on this level a few years ago, he asked to do it with Kaleb this year and has been a great help to Kaleb. They both are having fun with the hands-on aspects (we're learning about levers and simple machines right now) and tying in some fun LEGO projects. On the side, Zachary is working with Snap Circuits and K'Nex projects – we try to find a project that goes along with our lessons that week.
McKenna isn't as crazy about her science program as Laurianna was a few years ago, but it's a change from what she has used in the past. She is finally getting settled with it, but part of the problem has been moving to a more independent program. While Laurianna enjoyed that aspect, it's a little harder for McKenna.
Laurianna does much of her science work independently during the week, but once a week gets together with a small group of kids to go over additional experiments. She is loving her physical science! So far they've built a glider, a boat, and are working on framing a miniature house complete with electricity. So much fun!
Art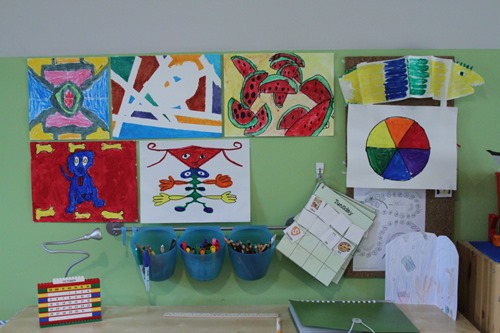 While Zachary and McKenna do an art project every now and then – they enjoy them, but don't live for them, Kaleb is the exact opposite. The boy would work on an art project every.single.day if he could.
Seriously.
When the rest of his schoolwork is done, he grabs his art DVD, all the supplies I've pulled out, and runs downstairs to work on a project. The wall above his desk is crazy full of fun paintings, drawings, and more.
The Rest of the High School Stuff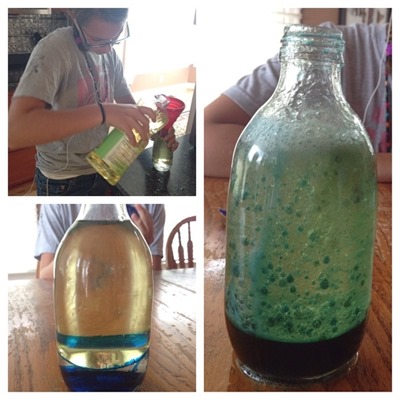 Really, there are so many other subjects! A few of Laurianna's high school credits I touched on briefly above (math and science), but a few don't fully 'fit' into any of the above areas.
Greek Myths (1/2 credit) – This was the one class she was so very excited to take this year, maybe partly due to Percy Jackson – who knows. Unfortunately, while she enjoys the main text, she isn't super thrilled with the class overall. It isn't quite what she expected, which has made the last few weeks of the class hard. She'll be finishing it up in just a few days, and it's one that she'll be happy to say goodbye to. On the bright side, it's been a great lesson in perseverance even when things are going the way you expected.
North Star Geography (1 credit) – Laurianna didn't expect to enjoy this quite as much as she has been. Overall, it is her favorite subject and the one she looks forward to each day. I'm beyond thrilled with the teacher's plans, the grading spreadsheet (that does all the work for me), and the many, many helps that come along with the course. BEST class for both of us this year!
Spanish – We had a minor snafu with our program when our laptop died. We went from two inputs to only one headphone jack and someone (ahem), kept forgetting to purchase a splitter. Thankfully, Laurianna was already ahead in her lessons, so she'll be back on track after the start of the year. (phew)
Intro to Literature – While the class has been challenging (in a good way) for Laurianna, I'm so very thankful for the years that she used WriteShop Junior. Her writing is so much stronger because of it, which has been helpful this year in her lit class. I've been reading the books along with the kids and grading papers galore. My one complaint about the program is the lack of grading rubrics/standards. While they have one generic one they use as an example, I've had to pull together my own grading sheets (but that's just me being picky). Writing is a tough area to grade, because so much can be subjective.
Phew – that's a big, long sum-up of our year so far and what we think of our curriculum (we're happy with it all!!).
How are YOU doing?