Before you all drop you cup of coffee, let me fill you in quickly. :) Today we sent one of our kids to visit a local private school with one of his friends.
You can hear a little bit more about it in the below video that sums up our week and a few other things, or keep reading – up to you.
Kaleb won't be attending other than this one day, but it's something a little fun for him to see the flip side of life. You know – the one where you have to be out the door by 7am, stay at school until 3pm and wear clothing within a specific dress code.
Since he is our one that likes to wear whatever, freaks out when he isn't done by a specific time (or feels super behind), I have a feeling that this will be a great "Hey, remember when…" moment if he starts complaining about how rough he has it homeschooling. :)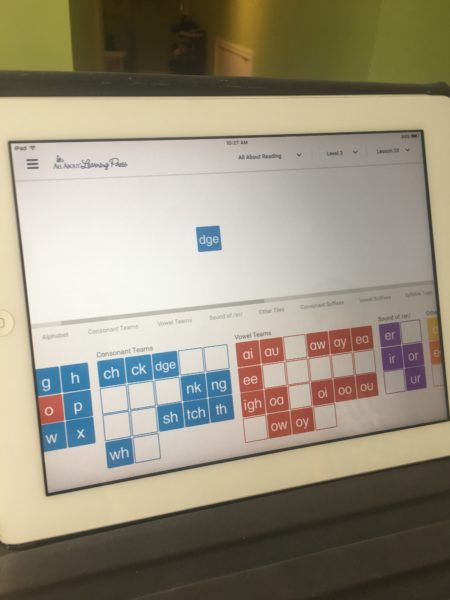 One of the highlights of this week has been reading with Kaleb. He finished up his book, Who Was Martin Luther King Jr., and now we are going back through the second half of All About Reading 3 to review some of the blends that he is struggling with.
There are some days that run more smoothly than others, much of it depending on his attitude (isn't that true of all of us?). We also started using the new app from AALP rather than our whiteboard, which is great if we want to be somewhere else in the house.
Overall though, the review of the last bit of Level 3 is definitely helping, in many areas, but especially in Kaleb's confidence levels.
7th Grade Happenings
Zachary's been working hard this week to get a little ahead so he could take a day off Friday and hang out with a friend. Our local school system has the day off, so he invited a friend over. I'm more than happy to see him motivated and definitely want to encourage that!
9th Grade Happenings
One of the things that I love (and often forget about) is how flexible we can be with our homeschooling. While we are – sometimes we aren't.
Case in point. We didn't really cover poetry in depth with Laurianna, which when she started her English class was a little bit of a hurdle. We are looking at the Grammar of Poetry class from Compass Classroom to add to McKenna's year and likely run it into next year, depending on how the class flows for her. It's also one that we will work through with another family and tie it in with our literature classes and co-op.
The flexibility of homeschooling comes in this: we aren't tied to finishing a program during one school year. We can either pace out a class over the course of a few years, or two different semesters, and essentially make it work for our family.
I mentioned in the video that the transcript we've been using for Laurianna is sorted by subject instead of the classes she took each year. Above is an example of how I've laid it out so far (you can click on the image to open a pdf file example.
11th Grade Happenings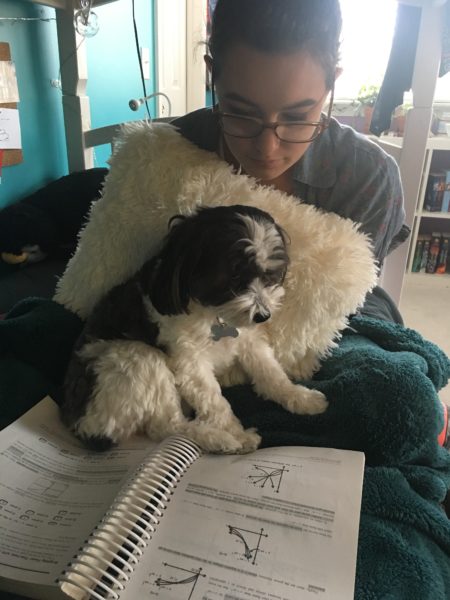 Laurianna is happily moving along with her studies, especially now that she has her English class off the table for this semester. Her classes at the community college are Tuesday, Wednesday, and Thursday, so she spends the free time that she has working on Pre-Calculus and Latin 2.
Her work schedule has been fairly light this week, so she has been cozying up in bed to work through homework and her other subjects. The above picture cracks me up because our dog, Addie, has to be right in the middle of whatever it is we are doing. Even math.
The Mom Life
I've been quiet here on the blog this week, mainly because I have been swamped working on other projects in addition to homeschooling: putting together a website for a local pool, creating lesson plans for a church class in February, dentist visits (yippee), having our wills re-done, and shuttling the kids back and forth to all over the place.
So life.
It's been a little hectic to be honest and I don't feel like I've had a lot of downtime, especially since I haven't had time for reading. That alone tells me that I need to slow down just a little bit. :)
That's about it for our week – how have you been and what was a great part of your week?