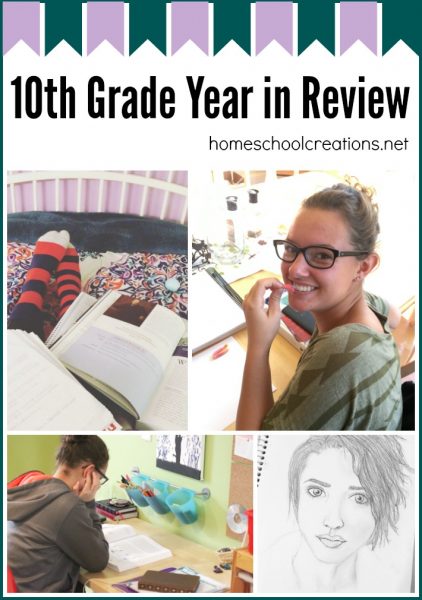 To say the least, Laurianna's 10th grade year has been short from boring. The words to more accurately describe it would be exhausting, emotional, challenging, and growing among a slew of other words. The highlight has been starting to drive and subject-wise her favorite was history.
The year started out fairly normal, but as Laurianna's health went completely out of whack and the doctor's visits started, we were scrambling to adjust her daily schedule to accommodate her exhaustion and inability to focus during the day. It didn't matter how much sleep she had or didn't have, one day she would be great and another completely opposite. What started with a tick bit has turned into a variety of other issues as well that no one can quite figure out at this point. She put subjects aside for a time in order to focus more attention on a few key ones: history, literature, and science, and still has a two subjects to finish 100%.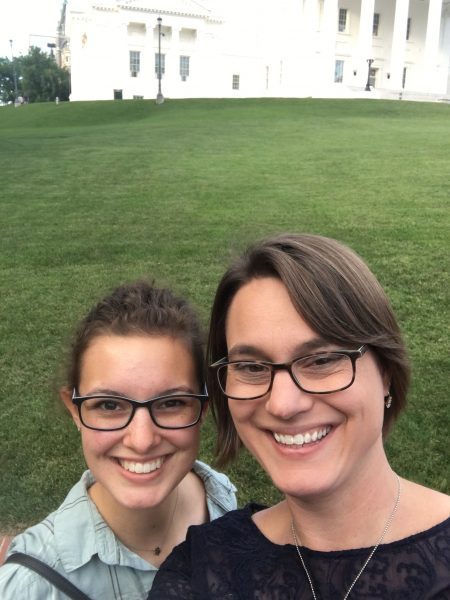 As of the end of her 10th grade year, Laurianna has earned a total of 20.5 credits toward her high school diploma. While we did bulk up her course load the first few years (and she still has two years left of school), I'm honestly thankful we did based on her health. In the upcoming two years we are focusing more on dual credit classes and upcoming college visits and entrance exams – yikes! I cannot believe we are already at this point! She attended our annual homeschool convention with me this year to check out the college fair and sit in on some SAT and scholarship sessions – HOW IS SHE THIS OLD??
Our 10th Grade Year Plan
Credits earned: 7
US History with Notgrass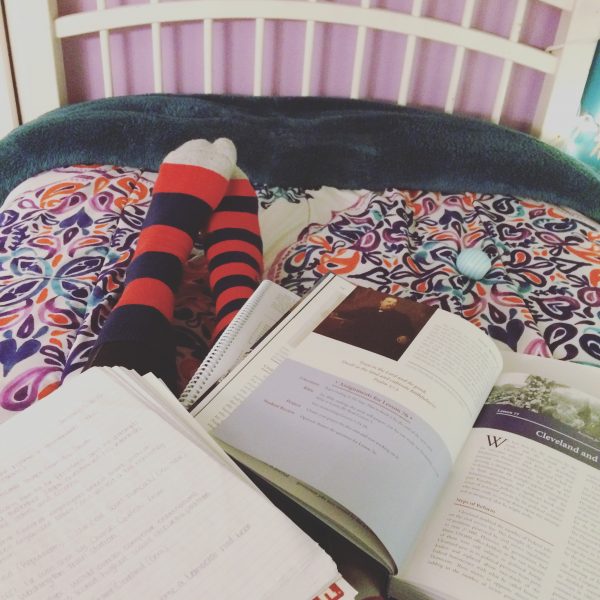 Last year we made the switch to Notgrass in history and we have LOVED it. We don't use all the components of the program (literature and Bible credits). Although the program offers two additional credits that can be earned through the year (literature and Bible), we decided not to do those. Personally I didn't feel the literature component was as strong and detailed as the program we have used in the past several years.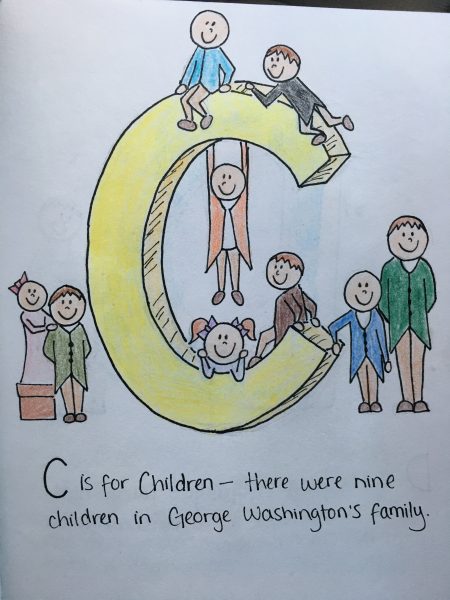 The hands-on projects are ones that Laurianna loves, especially when she can add in her own twist of creativity. Her favorite (and most time consuming) project this year was a children's book. She decided to create one based on the ABCs of George Washington – and it turned out adorable!! She wrote and illustrated the entire thing – and I LOVED it. :)
This was one subject we decided to do as a co-op class this year so the kids could also take a big field trip together to Charleston, SC in the spring. She had three other friends in her class and they got together once a week to review the lessons and cover some additional topics.
Officially she has completed all of her history and government classes for high school – yay!
Literature
There was a LOT of reading this year and we did something a little different. We used the format of the American Lit program from Excellence in Literature (we've used their program for two years prior) and mixed some of the books suggested in their guide with a few other choices and lined up the time periods with what the kids were studying in history together.
Overall it went great! I was a little nervous at first, but watching a corresponding movie with each unit was also a fun ending to each of the 600+ word essays the kids had to write. Typically for each book read (there were eight books on their American Literature list this year), the kids had three papers due: an author profile (learning about the author, time period, and influences), an approach paper (looking at a specific time period or breaking down important parts and characters of the book), and then a 600+ word essay using one of two provided essay prompts.
This group of kids is one I have been working with for the past three years and it's been so much fun seeing their growth and hearing their thoughts and ideas as they dig into literature and various themes. Sadly, this was our last year together since many of them have now met their lit requirements and will be taking dual credit classes next year.
Chemistry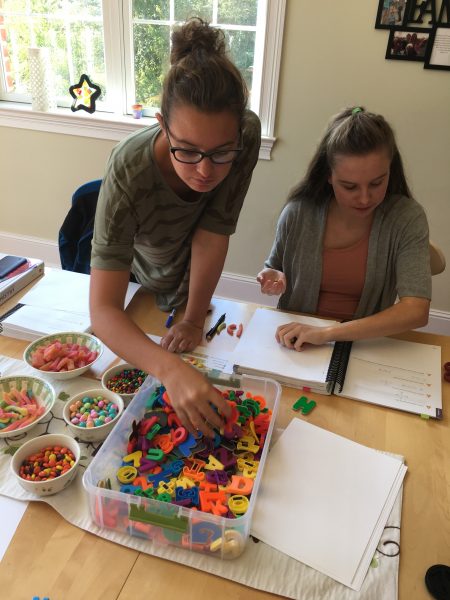 This year we again worked in a small group setting with two other families on chemistry. The mom teaching them is super sweet and always came up with fun ideas for the kids to work on during class.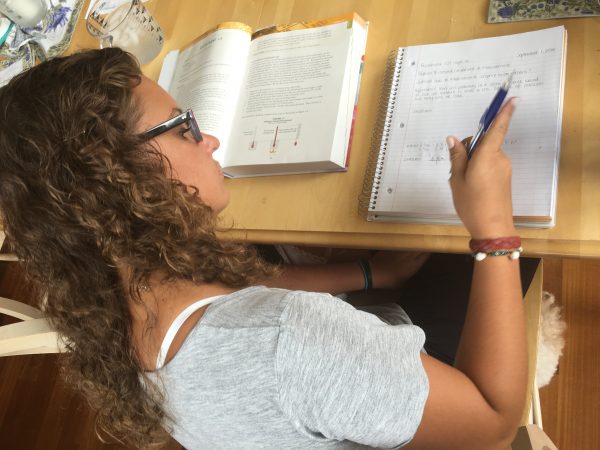 Chemistry may not have been her favorite subject (especially since more numbers/math), but this is the year that Laurianna made the decision to pursue nursing (hopefully pediatric), so there will be much more science in her future!
Math
No exciting pictures. This was one area Laurianna had to put aside every now and then when her concentration was struggling, especially since it required a lot of focus on her part. :) Next year we are looking at Pre-Cacl and possibly a statistics class at our local community college.
Government/Constitutional Literacy
Laurianna is almost completely through this class as it was one of the ones we put aside temporarily when she wasn't feeling well. I do plan to share a full review of the Constitutional Literacy program (and we really do love it). It's one I think would also be great in a co-op setting as it would bring up some great discussion.
Art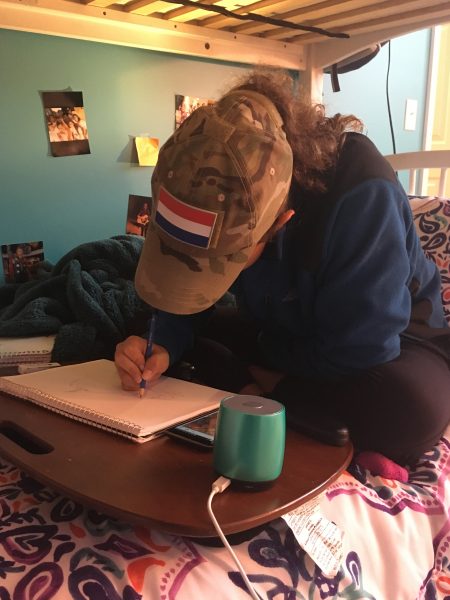 Laurianna is a very creative girl, so art isn't as much of a subject as just plain enjoyable for her. Thankfully it's one area that doesn't require a lot of energy and she can rest and relax by sketching or drawing.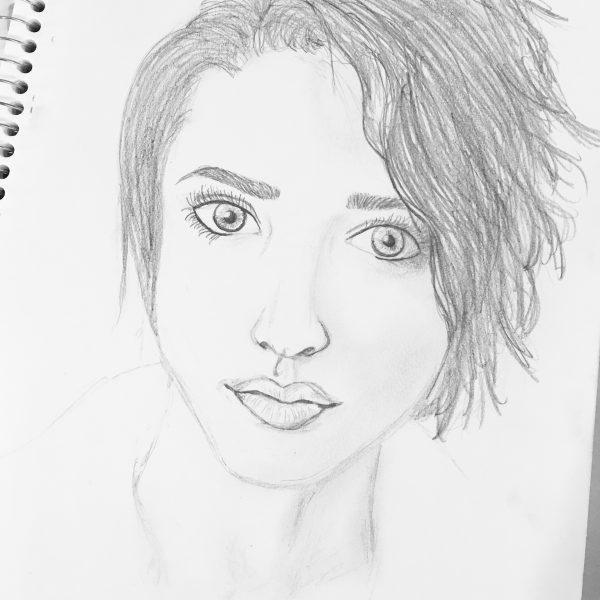 Using Artistic Pursuits Book 1 was a great fit for her this year for sure. She has a definite love in this area!
Driving!!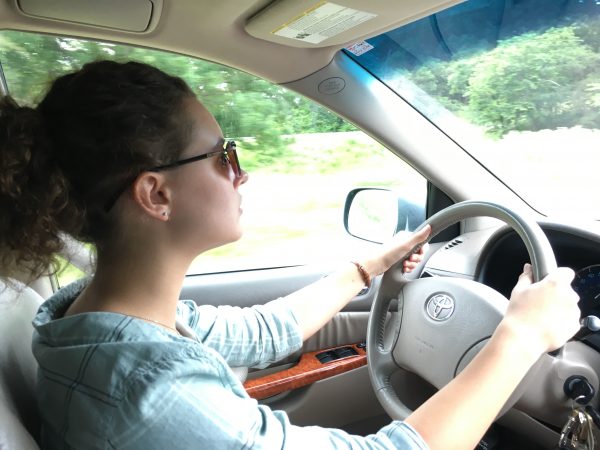 In just a few short months Laurianna will officially be a licensed driver! We are car shopping already and she is working hard to save more money toward her purchase and insurance and all the other good things that come along with car ownership! She is about 2/3 of the way through her DriversEd class (online) and has driven all of the required hours for our state. I do have to say it's rather handy and will be so even more in the upcoming year!
Swim Team
Laurianna's swim season ended a little early (November instead of end of February), which was very difficult for her. Swimming is definitely a time to decompress for her but it became something she struggled with physically when her health went out of whack. Ironically, in some of our more recent doctor's visits, the recommendation has been 45 minute sessions 4-5 times a week and also water therapy, so at this point it is full on summer league for her!
All that said, the last few weeks have been spent looking at classes that Laurianna can take at our local community college this upcoming year – specifically ones that will transfer over into several different colleges when she pursues nursing. Because she hasn't taken her PSAT yet, she will be taking entrance exams, which does make her a little nervous, but I'm sure she will do fine!
This summer she is also working through College Prep Genius to get ready for both the SAT and the PSAT this year.
Other Year-end Reviews